Futsal, an indulgence in vogue for youths has kept them off the substance abuse
Sonam Deki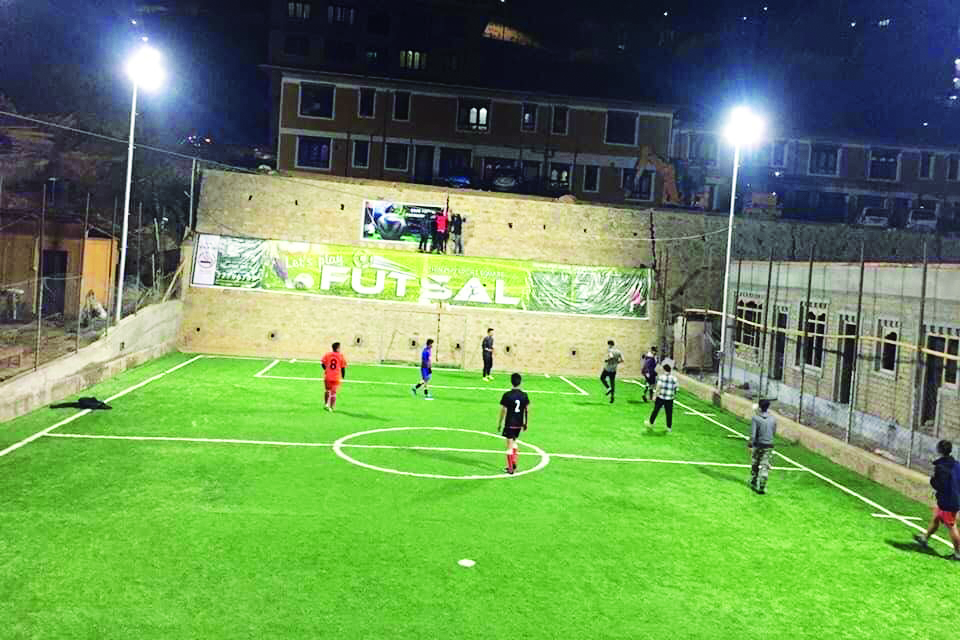 Many youths are switching to Futsal as healthy alternative and to keep them occupied in the capital.
Futsal is the game which is frequently referred to as mini-soccer which was founded in 1930 in Uruguay.
The number of Futsal players are seen to be increasing and their ages range from as young as 4 to as old as in late 50s. However, majority of the players are youths. With increasing number of players, the number of Futsal fields have been increasing too which has proved to be commercially viable for privately owned fields.     
Sangay, a regular player says, "After a mentally stressful day in the school, playing futsal loosens me up. Just after the class, I come here to play futsal".
Another futsal lover says "Before I used to play only football but after trying futsal I seem to enjoy it. Now, I play futsal as I find it safe and enjoyable to play".
"With expansion in number of futsal grounds, in almost all locations in Thimphu wherever we are staying, we find a Futsal ground. Not at all like before, futsal grounds are close by so we don't have to burn through cash to go to futsal ground", said Jambay Dhendup, a regular player. There was a time, we had to make booking for the ground days ahead or else we would not get a round, it would be already taken by some other team, he added.
Yamant Bhattarai who has been observing the Futsal trend said "When I was young we didn't know what futsal was, these days even kids between 4 or 5 years of age know futsal".
Karma who spends most of the time, loitering town with friends and engaging into petty substance abuse now, finds himself readying for Futsal game along same friends. "I have made more friends, and feels healthy and good to be playing Futsal", says Karma. "A mere game has changed my life in a big way", he added.
Proprietor, Kay Dee Futsal ground said that the most players are young. His ground remains reserved most of the time by the young players after the school and entire day during weekends.
"During the week days there are 8 to 9 games and weekend, there are at least 14 to 15 games a day. Futsal has helped youths with upgrading their ability and I have additionally seen a few young people working on everyday", he added.
Tandin Wangchuck of JiJi futsal said "We rigorously monitor youths if they are into substance abuse or any other harmful addictions before they really get into the field."
An educationist who remained anonymous said "Youths are constantly empowered through sports and we assist them by introducing healthy life style. Just after the test for summer vacation, we briefed students with encouragement to be occupied with sports and listing down trainings in sports during the break so that they are not drown to self-destructive activities".
Similarly, Sonam Rinchen of Wang Chen futsal said "To encourage more youths to play futsal we even offer the special discount for youths. The more they take part in sports, the less they are to get into substance abuse and gang fights".
Futsal grounds are privately owned and people need to pay to play. This has not dissuaded youths from enjoying this game and the trend looks promising as of now.
There are more than 15 futsal courts in Thimphu unlike football field and stadium, futsal requires limited space.