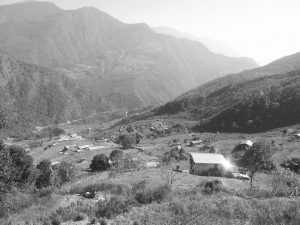 20 percent of people left in the last three years
By Kinley Yonten
Wang Gyeltshen is becoming old. At 63, the farmer of Zangthiy, Lauri gewog, cannot till his land.
Wang Gyeltshen and his wife left their village and moved to SamdrupJongkhar three years ago to live with their daughter who has a government job. They left their houseand five acres of land and never been back.
Their land has turned into a forest. The roof of the house had caved in and looks haunted in the middle of the fallow land. When it is tax time, they send money to the local leaders.
Zangthiy village had about 200 households. Villagers have to walk two days uphill from the nearest motor road to reach their village. Zangthiy is a fertile land where farmers cultivated crops such as wheat and barley.
But there is not many people left tilling the land. As of December 2016, more than 15 acres of the land in the gewog was left to fallow, as some of the villager has left the village. 20 households left the village after Wang Gyeltshen moved to SamdrupJongkhar.
With most of the farmers having to contribute Woola it's had become difficult for Wang Gyeltshen at his age. He left the village because his sons and daughter are not willing to stay in the village. They hardly visit them. "We are old and nobody is there to help us work in the field," said Wang Gyeltshen. Both his children have government jobs.
A graduate, Cheten Tshering who went to visit his village recently said that he was surprised to see many of the people missing in his village. "Most of the houses are empty and the land is left fallow," Cheten Tshering who went to his village after two years said. "People are leaving because of opportunities outside Zangthiy."
He added that the lack of modern amenities could be driving people away. His village has no electricity although a rough road has reached his village.
A farmer, Karma Wangmo, 63 said that people are leaving because there are opportunities for cash income outside the village. "Old people are facing problem in the village while the young think there is no opportunity in the village," she said,
Another farmer, Sonam Dema said that there are not many young people in the village to look after and work in the fields. "Even my son insists every time to come and stay with him in Thimphu," she said. "I came back, because there is nobody at village to look after my land and a house."
The newly elected gup of Lauri where Zangthiy is located, Pempa Gyeltshen, said that the gewog is thinking of strategies to encourage people to stay back.
The gewogstarted constructing a farm road to enhance access to market, farm inputs and other essential services for the village people.
"People are leaving because there are not enough facilities such as electricity, shops, road and hospitals nearby," he said. He added that almost 20 percent of the people have migrated to urban areas.
"I believe that after developing the facilities in the village, people will come back. "I have put a proposal to the dzongkhag administration about issues and they ensured that they will provide budget," he said.