Movement against the ban on slaughter of cows in India could affect supply of beef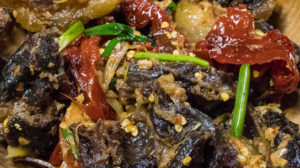 By Kinley Yonten
The meat ban month is over, but it is not sure if the flow of meat, especially beef would be as smooth as before the ban.
In recent months, there is a movement in India to ban the slaughter of cows. Cows are respected and sacred in Hindu religion. In India, gausevaks or cow police are raiding homes, fridges, hotels and beat people or lock them up when they find beef.
Beef makes over 50 percent of meat that is consumed in Bhutan and almost 86 percent of beef in imported from India, mostly from West Bengal. West Bengal is one of the few states that has resisted to the movement of banning slaughter of cows.
The agriculture ministry, according to Lyonpo Yeshey Dorji is aware of the recent clamour and prepared to deal with it. "We are prepared to deal with it just as we did with eggs during bird flu crisis," Lyonpo Yeshey Dorji said.
"Any crisis in other country is an opportunity to strengthen our resilience to deal with calamities. The current crisis on beef is man-made which can be resolved amicably," he said.
More than the concern over beef ban in India, the minister said they are more concerned in expediting food self sufficiency in the country through livestock farming as rural enterprise giving employment opportunities to youth. "Meat is not considered essential food meaning that human can live without meat," Lyonpo Yeshey Dorji said.
Cattle slaughter occurs not just for meat but also for production of leather for the tanning Industry. Given the vibrant economy that is anchored on cattle and associated Industries such as feed and leather, Lyonpo Yeshey Dorji said that banning of cattle slaughter may not happen all over India especially in the Muslim and Christian dominated states.
Besides, there are alternate source of protein such as fish, chicken and pork where domestic production are on increasing trend. Lyonpo Yeshey Dorji said that fish and chicken are noted to be healthier and more environmental friendly with less emission of greenhouse gases (GHG).
Most vendors are not aware of the movement in India. Some said meat was already short in supply before the ban and they had been selling local beef. Beef also comes from Darjeeling. A vendor in Babesa said that with the unrest in Darjeeling, they are not sure if there would be beef.
The vendor, who is also aware of the beef issue in India, said that beef is largely imported from West Bengal and the ban on slaughter of cows will not affect Bhutan as West Bengal is opposing to the ban.
Others said that local supply would increase if ever there is a ban imposed on slaughter of cows in West Bengal. Although not sure, one said cattle for slaughter are brought from as far as Nepal in the neighbouring state. The other source is from Tsirang where there's an abattoir run by a private person. But these are in very small volume.
Lyonpo Yeshey Dorji said that the minister said other options for beef would be to import from other countries through formal trading channels.
"I don't think Bhutanese people will resort to actual slaughtering in the immediate future. However, if the ban persists indefinitely, maybe few Bhutanese would resort to slaughtering. Even this would be hard to affirm," he said.