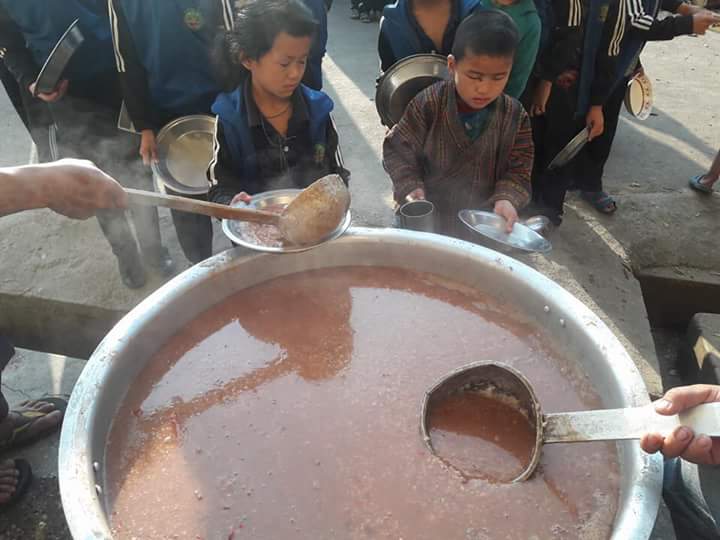 By Phurpa Wangmo
Udzorong Central School (UCS) in Trashigang is serving 'Kidney Bean' porridge to students for the first time from the beginning of this month.
This is in effort with ministry's goal of diversifying school menu to provide nutrition rich foods in schools across the country.
The Vice Principal (VP) of the school, Norbu said: "We started giving kidney bean porridge since we found that it is high in protein. We serve them as both dhal and porridge."
Kidney bean is one of the main cash crops of Udzorong village and school authorities are paying Nu 60 per kilogram.
"It can be substituted for meat," the VP added.
There is a 'nutrition movement' in almost all the schools after they were made aware of the importance of giving nutritious foods to the students. Initially, school feeding was to ensure a meal for a student to keep them free from hunger and nutritional value was not given much importance.
Tashi Wangchuk, the mess in-charge of UCS said: "After attending the workshop on 'Nutrition and Cognitive Development' organized by the School Health and Nutrition Division, our school was determined to make a change in the school menu."
"Nutrition plays an important role in child's overall development. Since kidney beans are good source of proteins and vitamins, we decided to include it in our school menu. We started serving it with rice," he added.
However, the porridge was started much later, when people started commenting in the school's facebook page to serve it as porridge.
"Today we are serving it with rice twice a week and as porridge twice a month," Tashi said.
He said that students are enjoying the menu at the moment. "But if the diet gets monotonous, they will reject it, no matter how nutritious it is."
However, Tashi said that depending on what is available locally, they will change their menu.
Meanwhile, though the kidney bean is grown in abundance in the village, school authority is farther encouraging the farmers to grow more so that it benefits both sides.
Kidney beans are an excellent source of molybdenum. They are a very good source of folate, dietary fibre and copper. Kidney beans are a good source of manganese, phosphorus, protein, vitamin B1, iron, potassium and magnesium.
Udzorong Central School is a tenth grade school with 603 students and 29 teaching staffs.