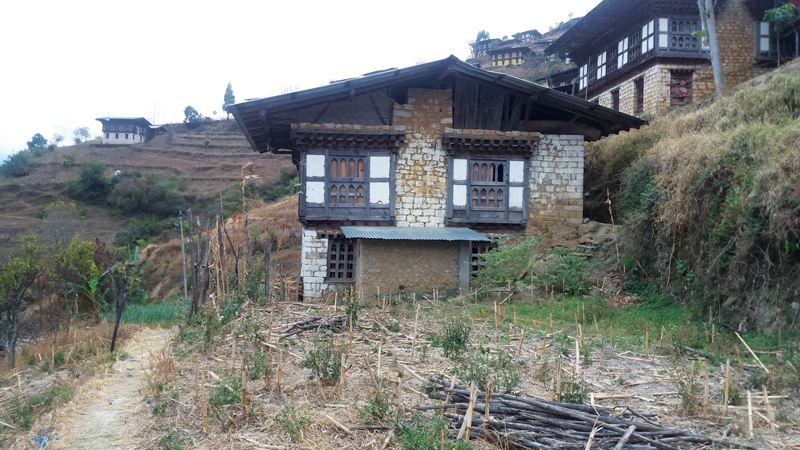 By Tshering
One of the biggest problems in Bhutan today is coping with rising rural-urban migration, also called Gungtong. The rising rural-urban migration has seen exodus of people from remote Dzongkhags in search of better jobs, wages, and higher standard of living and other facilities like scope for good education, health, transport and housing facilities. One of the reasons cited for this phenomenon is lack of opportunities back in the villages.
Although rural-urban migration has brought economic reforms and development but it has played a devil in the dark creating some dire and dirty consequences in the towns and cities especially in the capital, Thimphu.
But of late, some reverse trends have also been observed in some parts of the country where people are moving from the towns and cities to rural areas. Trashiyangtse is one of such Dzongkhag.
In 2016, Trashiyangtse Dzongkhag Administration recorded the highest gungtongs at 740, while the 2018 record reveals only 660 gungtongs, with a decrease of 80 gungtongs. There are 4,228 households in Trashiyangtse.
As per the Rural Urban migration survey report one of the main reasons for the people leaving the rural areas is lack of job opportunities. The other is inadequate service facilities at the remote villages.
According to the Trashiyangtse Dzongda, Dasho Thuji Tshering said job opportunities provided by Kholongchu project is one of the reasons for the reverse trend. He added that as the project is on full swing, the vacant homes are been occupied and people have started coming back.
The Dzongda said the other reasons for gungtongs, in Trashiyangtse were hardship that the villagers had to endure without basic facilities and human wildly fe conflict that farming difficult.
Kinga Dhendup a local businessman said "For the past few years, people have started coming back and the population is on rise and business has improved. Previously our town had countable cars and people but with recent influx, the number of vehicles has increased and business is good."
One of the KHEP officials said opportunities are open to all, but the beneficiaries of the economic development will be the local people.Many local residents as well as people from other dzongkhags had been working here in the project either on contract or full time basis.
Similarly another local resident SonamWangchuk said:"Previously I worked in Punatshangchu Hydro Power in Wangduephodrang but after the KHEP commenced, I returned home and make my living by hiring my vehicle to the project. This has really supplemented my income and savings."
Likewise Pemo, a housewife said the house rents had rose after the population boomed.
Meanwhile, rural-urban migration has resulted in shortage of farm labourers, and socio-cultural breakdown..
According to the report, most migrants prefer Thimphu (at 28 percent), while other district towns represent between zero and six percent of the immigrants leading to rapid increase in population in urban areas. The negative impact of the rural urban migration is that, the rural areas will be left with onlyold and weak people, which could eventually result in labor shortage and slower development.
But now the scenario is changing in most of the dzongkhags due of increase in opportunities,many youths and skilled labourers are moving back to villages.
Out of eight gewogs in Trashiyangtse,TongmajangsaGewogsawthe highest number of empty households, with 113gungtongs out of 383 households followed by JamkharGewog with 111gungtongsout of365 households.
Whereas YallangGewogsaw91 gungtong out of 408 households and ToedshoGewog has 91 gungtongsout of 545 households, KhamdangGewog has 88 gungtong out of 617 households and RamjarGewog has 60 gungtongs.
Tongmijangsa Gewog Administrative Officer Tendi Wangmo said that the gewog is working closely with the dzongkhag to address the gungtong issue and has also conducted a survey on the number of guntongs recently. She saidthat the acres of cultivable landin the villages are becoming fallow and unproductive. "If we want to see more development in the gewog, we need to bring our people back."
During times of labour contribution (Woola), it becomes very difficult to convince the residents to come as they refuse to come forward with an excuse that those who have abandon the villages do not contribute. Today the people who left the villages are asked to contribute in cash.
She added that now people are coming back in ones or twosas facilities like blacktopped road central schools, upgraded BHU, and improved agriculture activities due to farm roads has reached the villages.
Jamkhar Gewog Administrative Officer, Tshering Dolker said Gungtong occurred in the gewog because a member of family or spouse worked in urban areas, but improved facilities and job opportunities is attracting people to come back to the rural homes.
Though many people are moving back to villages, but there are still some places where the story is different and the numbers of gungtongs still persist.
Toetsho Gup Dechen Wangdi said few health facilities had improved the life of some villages in the gewog but still the human wildlife conflict largely contributes the rise of gungtongs.
The gewog survey report also showed that people still are migrating to urban areas.
Likewise Gup Norbu, Kamdang Gewog said people migrate due to human-wildlife conflict, lack of infrastructure and for better opportunities but slowly things are changing as people are coming back which will help in development of the gewog and dzongkhag
He added the reason for reserve migration could be free seeds, green houses, power tillers and various farm materials, provided by the government to encourage people to work on their farms and improve agriculture productivity and the hydro-power project coming in the region.
Other reasons for gungtongs, the study revealed, is to the avoid burden of gewog activities, due to peer pressure and influence, marriage, poverty, lack of market for agricultural products, increased employment opportunities in urban areas, lack of infrastructure, old age, human-wildlife conflict, family fragmentation and isolation.
Ramjar Gup Tenzin Wangda said construction of farm roads, mechanization of farm works, electricity, education and health facilities would be the initiatives to improve livelihood of the people in rural areas. He added that youth in villages should capitalize on high demand of agricultural products and easy access to rural credit facilities. "With these infrastructure and opportunities in our villages, we should not have gungtongs."
YallangGup said because of gungtong local government officials were unable to collect rural tax, which hampered socio-economic activities in the area. "People should realize that their ancestral home will be ruined and it will be easier to plan developmental activities in the gewog, if the people come back."
Last year in March during Lyonchhen Dasho Tshering Tobgay visit to Trashiyangtse, he informed the people that KHEP will benefit the locals and encouraged them to explore the means to invest in opportunities that would to be created by KHEP for their benefit.
Lyonchhen said that the government and people should work hard by providing facilities necessary in rural areas to decrease the numbers of gungtongs and to bring back the people who have left the villages.
Lyonchhen also suggested that that gewogs should explore means to convert the gungtongs into houses for the employees of KHEP as development is important in rural settings which will help in providing facilities necessary for the locality and also ease in reducing the cases of gungtongs.
Gungtongs or empty households are a rural phenomenon that is increasingly, threatening the social fabric in rural communities through rural-urban migration, because of human-wildlife conflict, tough agricultural labor and little financial benefits in return. It also leaves rural families in shambles because young, able-bodied youth leave in search of better employment to the towns/urban hubs.
In light of all this, the government has been trying to retain villagers at their native places so that they can focus on agriculture and still keep family bonds intact. In recent times, interventions like providing basic infrastructure and amenities at remote places have helped to some extent. But that is not enough. There is lotmore to be done through creating awareness among policy and decision makers. Media could play acrucial role in addressing this issue.
This story is published with support from DoIM