Sonam Deki
A friendly cricket match was played between office of Indian Embassy, Thimphu and Bhutan Cricket Team at India House, Thimphu on August 19, 2022. The match was organized in welcoming Mr. Sudhakar Dalela, the new ambassador of India to Bhutan.
The cricket match was played with the objective to strengthen the relationship between Bhutan and India. India and Bhutan share a unique and time tested bilateral relationship, characterized by the utmost trust, goodwill and mutual understanding. Mr. Sudhakar Dalela graced the friendly match.
Mr. Sudhakar Dalela, presented his credentials to His Majesty The King at the Throne Room of the Tashichhodzong this morning.
The Ambassador was escorted in a Chipdrel ceremony to the Dzong for the ceremony.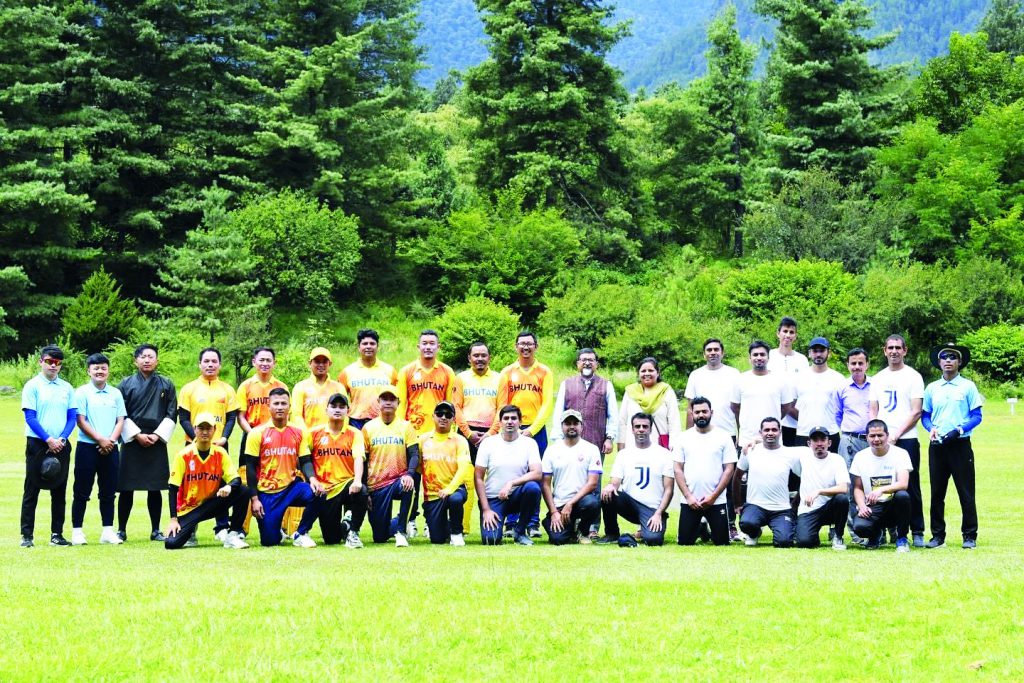 The Ambassador, his wife Ms. Namrata Dalela, and the Indian delegation accompanying him, received an Audience with His Majesty The King and Her Majesty The Gyaltsuen following the credentials ceremony. Mr Dalela was appointed the Ambassador of India to Bhutan in August this year.
Mr Sudhakar Dalela's prior to this appointment, he was the Deputy Chief of Mission at the Indian Embassy in Washington, United States of America. He has also served in significant roles in New Delhi, including Director in the Prime Minister's Office, focusing on India's engagement with its South Asian neighbors, China, and countries in the Indo-Pacific region, Gulf, Middle East, Africa, and as Joint Secretary (North), overseeing India's relations with Bhutan and Nepal.
Damber S Gurung, the CEO, Bhutan Cricket said, "this match is probably to strengthen the bond between two countries. Today is just like the practice match as we are again planning for the next match, maybe next month".
At the same time, Sh. Niteen Subhash Yeola, DCM, embassy of India said, "Sport is a good way to connect and also a good way to keep yourself fit. So cricket definitely is sports in the larger sector and definitely is fun way to strengthen its bonding between India and Bhutan".
Deepak Verma, one of the players from Bhutan Team said, "Such types of program must be organized in regular basis so that sports can grow along with the growth of friendship".
However, Bhutan Cricket Team won the match by 98 runs.