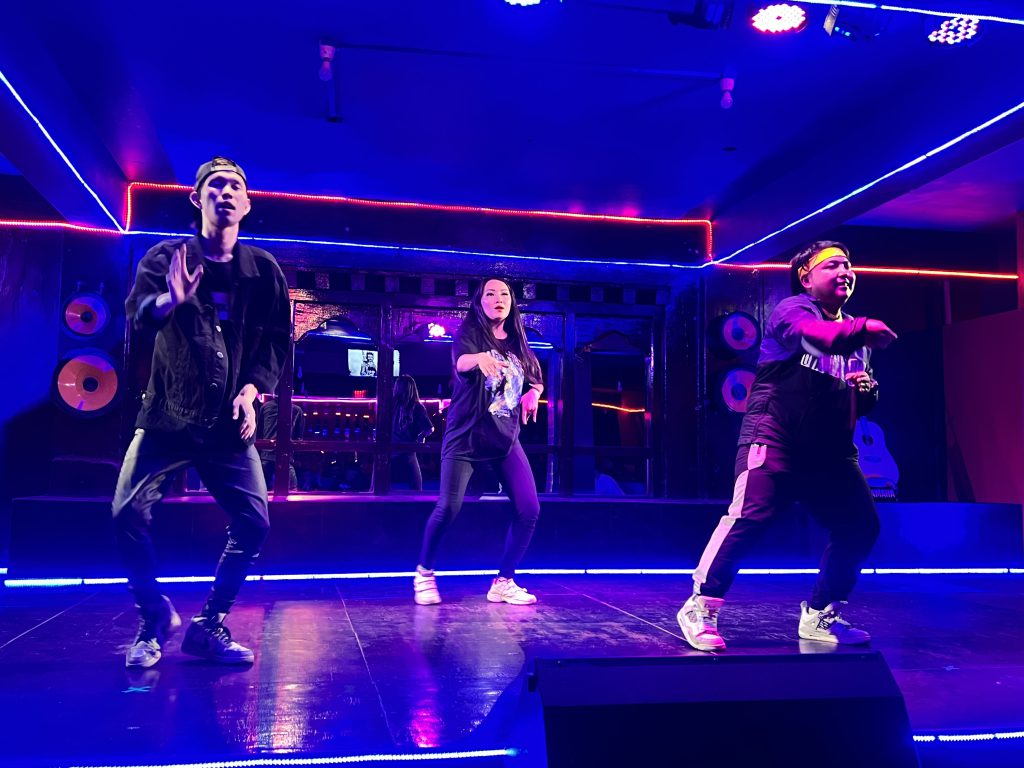 For some people, dance is a career, a source of income and for others, just a passion
By Sonam Deki

Modern dance has long been described as the type of dancing that children do for amusement. In Bhutan, dance was never considered a profession, and no parent ever encouraged their children to pursue it.
Director Pelden Dorji said "In 2006 a movie called Aum-chum was produced by Kalapingka. The theme of the movie was based on Hio-Hop dance genre which was gaining popularity among the youths of Bhutan. The review board was not happy with the hip-hop dance sequences in the movie with a reason it is not a Bhutanese culture. After a lot of bargains with the review board the movie was allowed to be released with the hip-hop dances cut to the minimum".
This was how modern dance was looked as however, as time and attitudes have changed, dancing is now a career for some people and a source of money for some. Dance is now being taken seriously by people.
Many young people are making a living through dancing; some have started their own dance studios, some work as performers, and still others are choreographers.
Sonam Parkour remarked, "I witnessed the growth of dance happening in front of my very eyes. There was nothing when we first started dancing. We didn't even understand what exploitation meant at the time. Now that we look back, we were also taken advantage of.'' He further adds, "We used to spend the entire day and late into the night practicing dance, but we got nothing out of it. However, as time has progressed, people have learned to value art and artists. Although we were interested in dancing before, there was no appropriate platform; nevertheless, we can now see that young people who enjoy dancing are supported and encouraged. Gokab Dance Studio is one such venue where young people can perform and compete in dance competitions simultaneously".
Puspa Galley said "At the age of 13, I began dancing. I enjoy dancing, but at that time, I was unable to even move my hand or hip properly. I've been dancing for ten years now. During those years, I came into contact with different people who had varying opinions about dance. Some people supported and inspired us, while others constantly criticize us. The majority of my friends who started dancing with me have since given up, but I have no regrets about my decision and am certain I will continue dancing forever. I have been a dancing instructor at Gokab Dance Studio since 2018. I instruct waacking, elementary jazz, and dance fitness. Artists, in my opinion, are on a par with doctors, teachers, and lawyers".
The Royal Academy of Performing Arts (RAPA) is regarded as having more privileges than dancers and entertainers outside the academy. The performers at the academy enjoy timely salary, benefits and perks like any other public servants.
Phub Wangdi the vice principle of RAPA said "Since it is the only government-owned institute in the nation. It began in 1964 with a single mask dance performer during the third king. They gradually introduced dance performance in the 1970s. Earlier, a girl with good voice and beauty was chosen from each home. Dancers at the time received significant pay since they would perform to state gatherings, special occasions, government functions and national celebrations. Over the time, the performers' enrolments are integrated with civil service system. Their grade now determines how much they are paid. S1 of their institute receives the same payment as S1 of a civil servant".
He further added "I believe that dancing as an profession can provide livelihood and can make living. Many of the performers have been dancing here for close to 30 years, while others have been for 25. Ten years must be minimum year that they would have spent in the Institute. They are making their living through dance. In addition to payment, the artist receives tips while at an event. They receive a minimum of 500 or 1000 Ngultrum for an hour of performance. We no longer perform for private audiences; instead, we only perform at official events. Typically, we perform for state visitors and other government-related events".
Dance is an art form that uses movements and steps to communicate and illustrate a culture and art form. It is infused with aesthetics and symbolism. When done in a social situation, it is regarded as a pleasurable and joyful expression.
Although performers who dance and those who perform in formal settings are same, they are frequently distinguished, with those who perform in entertainment hall receiving the harshest criticism. However, the performers are now regarded and valued equally as times have changed.
Dechen Selden, Thimphu club dancer said "My life as a dancer changed significantly as a result of public demand and preference. I've now chosen dance as a career. When they want me to perform at their events and promotions, I charge few amount. This, in my opinion, is the platform where you can charge, particularly if they invite you to an event".
She further added "Dance is an art and art can be perform in any ways. As far as I know about dancing, I know my dance is little wild than any other because I feel the song and perform to it. I never look at audience reaction because I would be lost in music as I concentrate more in music, lip syncing and expression. After pandemic, I started to perform on Bhutanese song and I receive good response from public. Whenever I perform I always keep focus and purpose. While selecting a song also, I make sure that people should like it and that would be my focus and purpose. There will always be 7 to 10 % who would always discriminate me but I am always positive and always focus on my purpose of making people or viewers satisfied".
Although dancing has always been difficult, it is now on the road to success. Nowadays, a lot of individuals become aware and learn to value talents and art. Nowadays, the majority of parents even sign their kids up for dance lessons. In a distance future this could be a respectable and reliable profession, a profession with an artistic flair.