Phurpa Wangmo

On January 6, 2023, the Bhutan Council for School Examinations and Assessment announced the results for Class X. The overall pass percentage is 71.58%, which is a 1.46% improvement over last year's 70.12%.

The pass percentage has been calculated based on the number of candidates who passed in Dzongkha, English and three other subjects.

Sonam Pema achieved the top position in class X with a score of 94.80 per cent at Motithang Higher Secondary School. Kinley Deki Yangzom secured the second position with 93.20 per cent at Ugyen Academy, followed by Anisha Gurung who scored 92.80 per cent and took the third position at Peljorling Higher Secondary School in Samtse.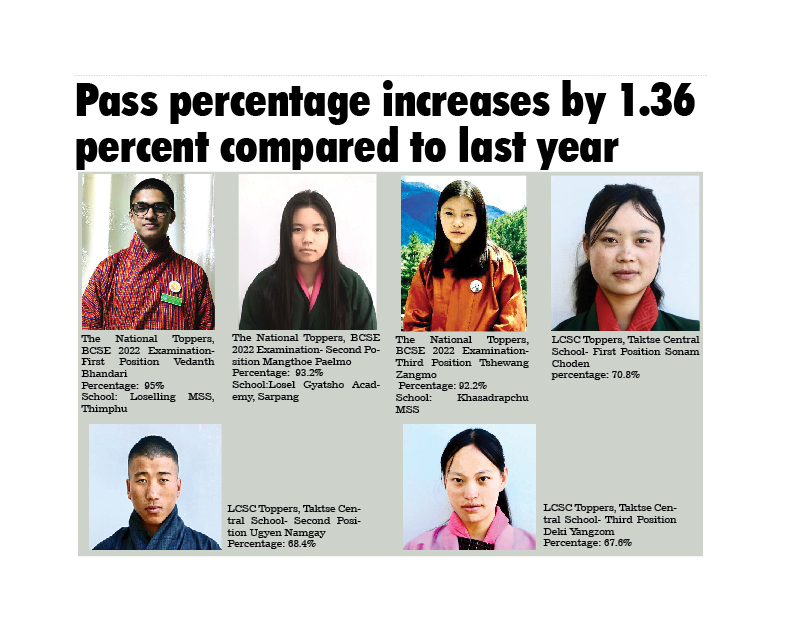 Vedanth Bhandari earned the top position in class X with a score of 95 percent at Loselling Middle Secondary School, followed by Mangthoe Paelmo who scored 93.2 percent at Losel Gyatsho Academy in Sarpang, and Tshewang Zangmo who took the third position with 92.2 percent at Khasadrapchu Middle Secondary School in Thimphu.

Vedanth Bhandari said, "There aren't enough adjectives to describe what I feel. My family and I are overjoyed at the news, though we never could have imagined that this indeed would have been the outcome".

"I would like to thank all my parents, teachers, family and friends without whom this would have been impossible. The next objective for me would be to strive to be better, and accomplish His Majesty's vision of being Nationally Rooted and Globally Competent", added Vedanth.

Mangthoe Paelmo said that she was hoping for the national topper but wasn't really expecting to get it. She is still in disbelief, but also delighted. She expressed her gratitude to want all her teachers that helped her learn from primary to middle school and thank her parents as well, especially her mom".

Tshewang Zangmo said, "I am extremely elated and I am really grateful to my teachers for their guidance, and I will always be indebted to them. I want to develop into someone who can serve the nation with the highest sincerity and commitment", added Tshewang.

In the Language and Culture Studies Certificate (LCSC) Class X Examination conducted by Bhutan Council for School Examinations and Assessment (BCSEA) in December 2022, a total of 7 candidates from 1 government school registered and 7 appeared the examination.

Similarly, in the LCSC class X Examination, Sonam Choden from Taktse Central School stood first with 70.8 percent followed by Ugyen Namgay with 68.4 percent and Deki Yangzom with 67.6 percent.

Sonam Choden said, "I was very happy during the result day as I had never anticipated such things and moreover when I saw my result, I felt extremely happy and it gave me more bravery. I want to thank all of my Taktse Central School teachers who were encouraging, and I also want to work hard to bring more colorful results and make my future bright".

Deki Yangzom said, "She never thought she would place and be among the national toppers, but now she is more determined and wanted to devote all her efforts in- serving the country".

Deki also said, "I needed to remain inspired and motivated during the academic sessions if I wanted to perform better. With the help of my family and encouragement from my teacher, I could accomplish my objectives. I was overjoyed, and was the happiest moment I've ever been. I appreciate everyone who had faith in me", added Deki.

Bhutan Council for School Examinations and Assessment conducted the Bhutan Certificate of Secondary Education (BCSE) Class X Examination in December 2022, and a total of 10,611 candidates from 144 schools (132 government and 12 private schools) registered for the examination, of whom 10,505 appeared.