Parking space rule not followed and monitored strictly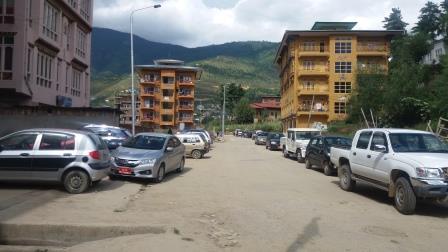 By Tshering
Thimphu city and its periphery are finding it an uphill task to adjust the increasing number of vehicles. Parking space is the biggest problem and this is congesting the already congested road.
Without building owners providing parking space, most vehicle owners are parking on the roadsides risking their vehicle to vandalism and making roads narrower.
There is a standing rule that landlords should provide parking space for tenants. But this seems only on paper given the number of cars parked on the roadside. Tenants also own more than one car.
Thromde rule has it that for every 3bedroom one parking space has to be provided and one parking space for every 2 BHK and IBHK unit. But the increasing number of cars and landlords not following the rule is not helping.
Road users are mad at the congested roads. A driver said parking space is the biggest problem whether at home or work. "It's a real headache. Authorities should not let people park on the roadside," he said.
Another said that people parking on the roadsides are causing problem. "Our roads are already narrow. How can they (Thromde or police) let them occupy public space," he said.
Pemala, a building owner at Olakha said that without parking spaces, tenants in the long run might opt for better places and vacate their apartments, which could also include shopkeepers, which would decrease their income.
Deki Lhaden, a MoWHS employee said finding a parking is even at office is difficult. "Sometime we have to park outside the office area along the road parking areas."
She said in the evening while returning home, she park along the road or at an isolated area even though there are risks of getting the car damaged at night.
A building owner in Chanzamtog said the Thromde makes it mandatory to keep the basement as parking of there is no space, but they do not follow it strictly. "As we can see, a few had followed while others have converted to residential after the drawings are approved."
Sangay Drukpa, who is constructing a building in Mothithang said it's difficult to provide parking space for the tenants, as some tenants own more than one car.
However, vehicles owners will have to be careful from next month as the thromde is going to strictly follow the rule. An official said they will penalize people who park on roadside. "From October month all the areas will be strictly monitored for illegal parking and those who do not follow will be penalized."
Thimphu Thromde earlier notified that all parking on the road carriage ways will henceforth will be stopped. Parking will be allowed in the places where it has been demarcated as a parking area by the Thromde.
They said that the Traffic Division of police will strictly monitor it with effect from May 1.
Officials from the Development Control Division of the Thromde said those who had space for parking at the basement previously and converted to residential without approval will be penalized.
Based on the records, about every seven people in the country owns a car while in Thimphu, every two persons own a vehicle. In 2001, total vehicles in the country were recorded at 22,527 of which government and corporations owned 2,666. Within a decade, the number more than doubled to 53,382. Government and corporate owned pool vehicles also nearly doubled to 4,622.
As per the records with the Road Safety and Transport Authority (RSTA), there are 88,227 vehicles in the country. Thimphu has the highest with 36,273 vehicles followed by Phuentsholing with 24,904 and Samdrupjongkhar with 4,085 vehicles.