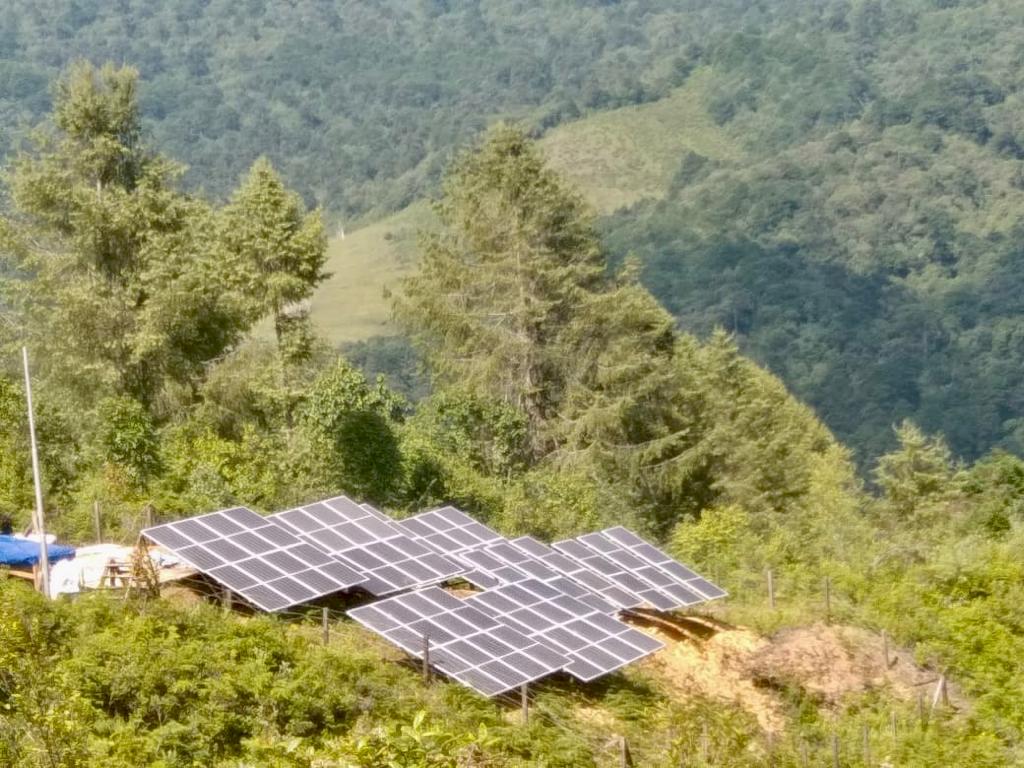 Tenzin Lhaden

Bhutan's initiative to embark on alternative renewal energy may be at a neonatal stage apparently, the country has positioned in the right place with successful commissioning of Bhutan's first grid-tied solar power plant at Rubesa, Wangduephodrang in August 2021. This 180 kilowatt solar power plant is a step towards diversification of achieving energy security and lessening dependency on hydroelectricity.

Similarly, Aja Ney community, Shermuhung gewog under Mongar Dzongkhag is situated within the Bumdeling Wildlife Sanctuary (BWS). The community is long deprived of grid-electricity due to the prohibition of forestry clearances as the transmission lines has to traverse through the protected area of BWS. The Department of Renewal Energy (DRE), Ministry of Economic Affairs (MoEA) with a social mandate to cater clean and reliable energy for all, explored other alternative sources to power the community.

The Solar Photovoltaics (PV) technology was assessed to be most techno-economically viable option over others. Galey, Project Manager, DRE, MoEA said that the advantages such as less construction time, less complicated technology and no geological complications were the key drivers amongst others for choosing solar technology for the community. "It is also first of a kind and the Department wanted to showcase and provide confidence to the general public that such technology is feasible and can be ventured," he added.

The department wanted to diversify the source at generation besides hydro which is increasingly being threatened by the melting of glaciers and drying of streams due to the impending climate change. "Importantly, this initiative can contribute towards national energy security", the Project Manager said.
The Department has already executed solar PV projects but only the Grid-tie system and which operating successfully. The Aja Ney solar PV project is first of a kind with battery storage system and it will be completely operated on off-grid modality.
The project manager said that this project would benefit more than 34 households including community guest houses, park office, lhakhangs(temples) and other regular households. "It is estimated to generate 115 mw/year during good weathers from the 80kw system. Solar generations are generally best during the winter months due to clear sky and good irradiance. It can be low during summer months if there are extreme weather events like continuous rainfall and thick clouds. However, the good thing is solar generation can also happen during mild cloudy days", he added.

Dorji Tenzin, Community Chairman said, "We are using kerosene lamp and fuel for cooking but with upcoming of solar power which we are expecting to be commissioned very soon, kerosene and fuel would be things of the past. The electric power will not only benefit the locals but also people from other places who come for pilgrimage". "After 1 to 2 days, the visitors' phone battery exhausts and we are helpless, we feel sorry for them but with this solar power this would not be the case", he said excitedly.

Karma Wangchuk, Project Manager, Nawang Builders Private Limited said, "We are really trying our best to complete the project before time and we have finished all civil works and installation of solar panels. We are at the testing phase and we are confident that we would be able to handover the project by first week of October". He further added, "We have been employing locals here for human resources and using materials available for the project as much as possible at all three project sites". However he also added, transportation was challenging in absence of motor vehicle roads at these three project sites.
Galey, Project Manager, DRE said that the autonomy days have been designed for 2 days in idle case, which means the battery storage can source the power supply for two days even if there is no sunlight. However, it will also depend on if batteries remained fully charged during the good irradiation days prior to such extreme weather events.

The solar powered energy users can experience the same convenience like regular grid electricity sourced through hydro. The energy is fed with regular alternative current (ac) supply and which is used directly for all kinds of appliances and gadgets at homes. The risk of using this energy is same as the hydro-electricity which needs to be handled with same respect by the users.

There is no fallout anticipated from the solar power system of this scale. Galey said that the only concern is with batteries and the department has already worked out how batteries will be stored and transported back once its life expires or in case of damages. The project of this scale entailed minimum excavation works and no environmental exploitation during the construction and installation phase as well.

"Solar technology is in the evolving stage and we can definitely have access to lots of improved technologies and adequate field experiences for future projects," he added.

On behalf of the villagers, chairman expressed their gratitude and satisfaction and said, "Soon the project will be commissioned and they will be able to cook just like people in the towns with solar power electricity".

Currently, Bhutan is entirely depends on single source of energy and faces huge challenges during the lean seasons as energy generation drastically drops and often the country has to import electricity. Perhaps, a mix-energy source system could be answer supplement deficit energy during the lean seasons for the country. As is the case here, the solar PV system is at its peak of energy generation in the winter while hydro power energy generation dips.
The project was funded by Bhutan for Life and Bhutan Foundation. The internal house wirings are implemented by Bhutan Ecological Society under SGP-UNDP funding.

For dispersed communities without electricity, solar technology offers best and immediate solution than to construct dam or lay grids. Moreover, it entails minimal environmental exploitation and its source of energy is reliable.