There was a general consensus among the participants at the two-day national conference on Women in Politics, leadership and Governance held in Thimphu earlier this week.
The agreement is that there should be enabling environment for women to have more space in politics, leadership and governance and that gender stereotyping and biasness should be vanished.
Women participants shared their stories of struggles against the social stigma on gender issues at the national conference. Through the hurdles of multiple challenges, women in the country who raced in the last three elections discussed the various structural barriers and stereotype mindsets of the people.
The World Economic Forum's Global Gender Gap Report 2017, Bhutan ranks 124 out of 144 countries due to its economic participation and political empowerment indicators. The report indicates that women in Bhutan are spending more time on household and caregiving activities. According to the Election Commission of Bhutan (2017), it is reported that the proportion of seats by women in parliament and Local Government are 8.3 percent and 11.6 percent respectively. The country has seven members in the National Assembly and three in the National Council as of now.
Director of National Commission for Women and Children (NCWC), Kunzang Lhamu said that according to studies on women's participation in politics, factors contributing to its lesser numbers are stereotypes and prejudices, lower self-confidence, and literary levels, triple burden of women and the lack of enabling environment.
UN Women Country Representative in Nepal, Wenny Kusuma said that the awareness alone cannot do the trick, men must consider stepping aside to support women and women must consider stepping in to support women.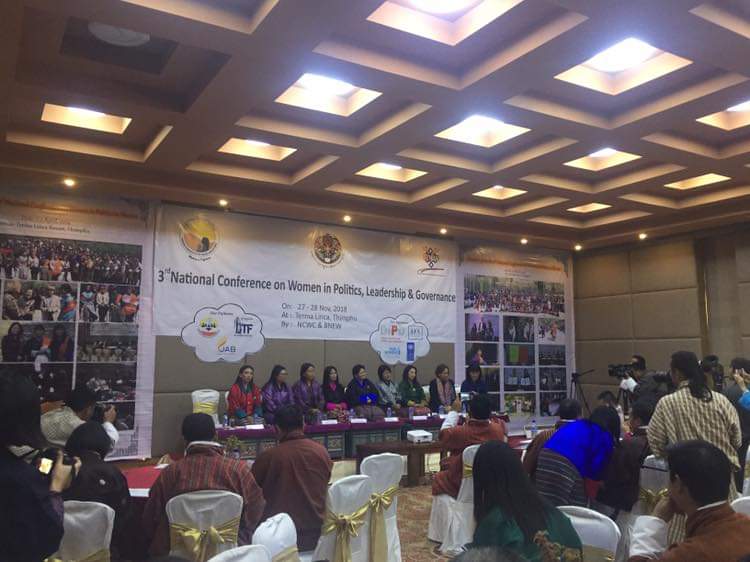 Minister of Foreign Affairs Lyonpo (Dr.) Tandi Dorji said there are social and cultural barriers for women in the country. He added that women are expected to be at home, take care of the children and do household chores. "These mindsets affect the women in the country, limiting their choices before their interest
United Nation (UN) Coordinator in Bhutan, Gerald Daly said that democracy needs women in order to be truly democratic and women need democracy. "In Bhutan, despite advances in women's level of education and participation in the private sector, women can also make progress in the executive levels within the civil servants," he said. "Without the perspective of women at all level of decision making, the goal of equality, development and peace remains a horizon to climb."
The conference held panel discussions on gender issues in Bhutan discussing the need for quotas for women and measures to increase the number of women participants in the parliament. Participants in the conference included members of parliaments, civil servants, Civil Society Organization (CSO), political parties and media houses with foreign delegates among others.
Organized by Bhutan Network for Empowering (BNEW) and NCWC at Terma Linca, the conference awarded the Voice and Visibility of Women Awards for the first time to political parties, media and individuals in recognition for their active participation and efforts in pushing forward the gender issue in politics, leadership and governance.
By Kinley Wangchuk