In collaboration with Thimphu Thromde, the Embassy of India launched the celebrations of the 8 th International Day of Yoga with a Curtain Raiser event at the Lungtenzampa Middle Secondary School, Thimphu on June 1, 2022.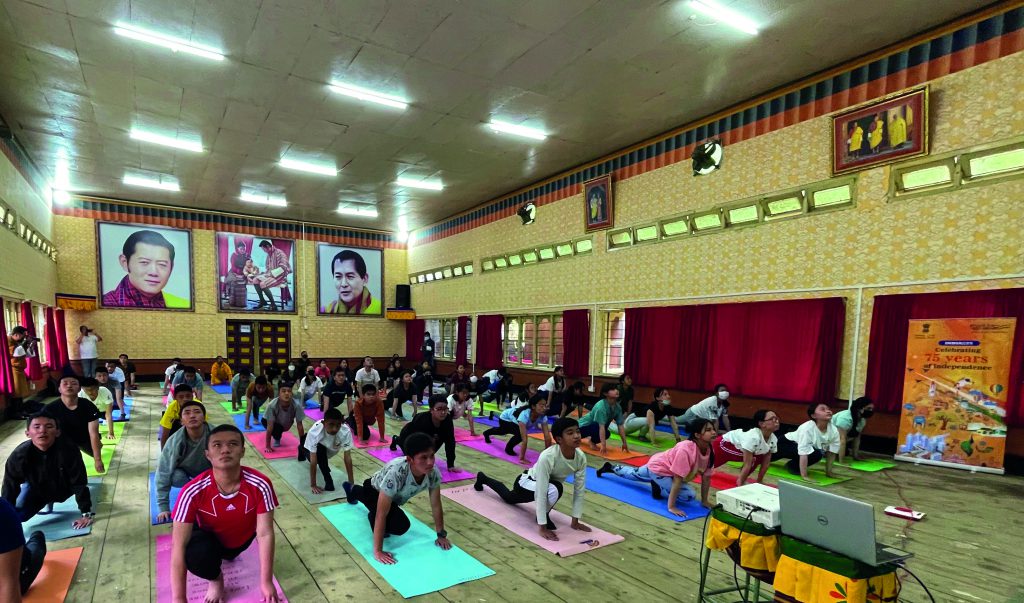 The first International Day of Yoga was observed around the world on June 21, 2015.
The theme of the 8th International Day of Yoga is 'Yoga for Humanity' and thus the Curtain Raiser event of #IDY2022 was hosted by the Embassy with the youth of Bhutan at Lungtenzampa MSS.
More than sixty students and a few teachers of the School participated in a Yoga Session conducted by Shri KVSSN Murthy, Yoga Guru of the Culture Centre of the Embassy of India.
They demonstrated 10 different Yoga Asanas as well as 12 Asanas or postures of the 'Surya Namaskar' i.e. Sun Salutation.
Speaking at the event, Ambassador Ruchira Kamboj mentioned that ancient Indian scriptures state that "efficiency in action is Yoga". She added that over a billion people across the globe see Yoga as an enhancer of their physical, mental, spiritual and intellectual wellbeing.
A Jingle Competition for Bhutanese nationals belonging to all age groups
was also publicized at the Curtain Raiser event of the 8th International Day of
Yoga.