…𝒂𝒍𝒕𝒉𝒐𝒖𝒈𝒉 𝒘𝒆 𝒎𝒊𝒈𝒉𝒕 𝒉𝒂𝒗𝒆 𝒎𝒐𝒗𝒆𝒅 𝒇𝒐𝒓 𝒆𝒅𝒖𝒄𝒂𝒕𝒊𝒐𝒏𝒂𝒍, 𝒇𝒊𝒏𝒂𝒏𝒄𝒊𝒂𝒍 𝒐𝒓 𝒔𝒑𝒊𝒓𝒊𝒕𝒖𝒂𝒍 𝒓𝒆𝒂𝒔𝒐𝒏 𝒔𝒐 𝒕𝒐 𝒔𝒂𝒚, 𝒃𝒖𝒕 𝒂𝒕 𝒕𝒉𝒆 𝒄𝒐𝒓𝒆 𝒘𝒆 𝒂𝒍𝒍 𝒇𝒆𝒆𝒍 𝒓𝒐𝒐𝒕𝒆𝒅 𝒕𝒐 𝒐𝒖𝒓 𝒗𝒂𝒍𝒖𝒆𝒔, 𝒃𝒆𝒍𝒊𝒆𝒗𝒆𝒔 𝒂𝒏𝒅 𝒔𝒑𝒊𝒓𝒊𝒕𝒔 𝒐𝒇 𝑩𝒉𝒖𝒕𝒂𝒏𝒆𝒔𝒆, 𝒔𝒂𝒚 𝑩𝒉𝒖𝒕𝒂𝒏𝒆𝒔𝒆 𝒍𝒊𝒗𝒊𝒏𝒈 𝒂𝒃𝒓𝒐𝒂𝒅
Sonam Deki

One of the National Key Result Areas (NKRA) has been designated to preserve and advance culture and tradition in order to strengthen the nation's identity and sovereignty.

Even though the threat of more individuals moving abroad exists, culture and tradition are unaffected by this trend. The Bhutanese residing abroad appear to be more keen and enthusiastic about the cultures than those who reside in Bhutan.

Bhutanese residing overseas assert that distance really makes things closer. Even if they may reside in other countries, they resonant, "Bhutan is always in our hearts."

Kuenga Wangmo who lives in Canberra said, "I always make sure to attend Bhutanese celebrities' concerts whenever they are in town. It lessens the longing I have for my family and my house ".

Yoezer, the resident of Perth in Australia said, "On special occasions, we dress in our traditional attire to celebrate, and frequently, onlookers are astounded by our attire. They get pretty intrigued about where we are from and inquire about the clothing, so I proudly share with them about our traditional attire."

She added, "I have a friend named Marie who adores our traditional clothing and frequently asks for my assistance when it comes to wearing Kira. She is already picking it up fairly well. She even ordered a set of traditional Bhutanese clothing from Bhutan, which will shortly arrive. This is the least we can do to maintain and promote our culture, even though we were unable to do so on a large scale ".

Kinzang Dema who resides in Brisbane said, "Chilli is what we refer to when discussing culture in Bhutan. Without chili, no dish is complete. After I made my Australian-born spouse develop for a chili obsession similar to mine, I frequently make Bhutanese food for family gatherings, and now everyone is obsessed with it and enjoy it."

Alu Passa, Founder/Organizer of Druk Hybrid Archery Tournament in Canberra said, "We have Dzongkha Teaching Institute, spiritual personnel's who initiates choe shoe layrem (religious rituals), frequent visits of lamas and Lopen's, which somehow triggers these young minds to appreciate where they really come from. As mentioned earlier, in different forms; community gatherings such as Losar, National Day and through concerts encouraging younger generations to embrace the beats of the home country, sporting events, and also in my case organizing archery tournament like "Druk Hybrid", an annual event is in a way to promote our culture and keep us intact to our root, and also expanding our network to the outside world".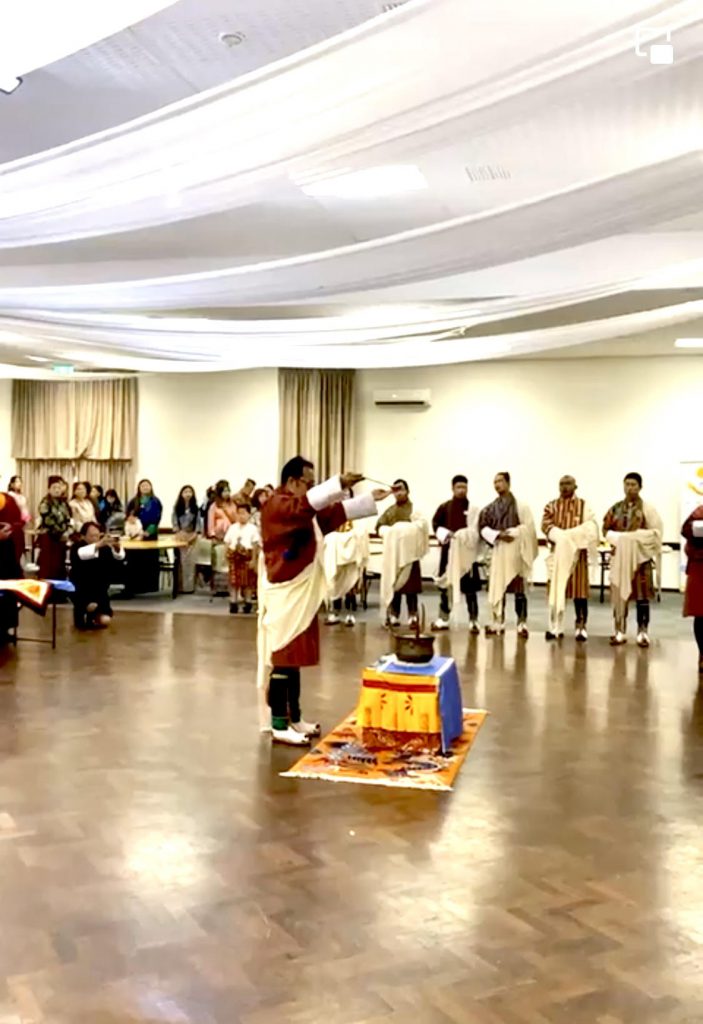 He added, "Druk Hybrid Archery Championship, Australia is the biggest ever Bhutanese style Archery Competition ever held in Australia. We are hosting an event annually to encourage young talents and also encouraging the younger generations to be in touch with their roots, as in promoting and preserving our unique tradition and culture and also celebrating the ancestral legacy in the form of these sports. These kinds of events help us promote and up-hold our ethos as Bhutanese, with its unique style and etiquette and also bringing in diverse talented personalities at one stage".
He further added, "Although we might have moved for educational, financial or spiritual reason so to say, but at the deepest core we all feel rooted and our values, believes and spirits still remain Bhutanese. Having said that also almost over 90 percent of Bhutanese living in Australia are born and brought up in Bhutan and still have those experiences and culture bondage strongly intact. We never miss an opportunity to wear Bhutanese national dress, speak our language and that Bhutanese etiquette and culture is still in practice. In fact these unique culture and etiquettes are the ones which make us apart from everyone here and people here really appreciate and celebrate what we have to offer".

Bhutanese residing as far from Perth (4.5 hours journey by Air), Brisbane (13.5 hours by road), Melbourne(7hours by road) and Armidale (9 hours by road) come to Canberra to participate in the Hybrid tournament.

Urban Archery said, "We are an archery store in Melbourne and while we are not Bhutanese we very much do everything we can to assist the community with their archery and do what we can to help them grow their sport here. We even sell gear to many of their members and also, to all other states. We also sponsored the event too."

Alu Passa said, "Although, we see a slight shift in social attitudes and aspects especially with younger generations who are born and brought up here, their ways of life, believes and values are swaying from the norm. But I believe there are still some parents despite challenges try and inculcate those important cultural values in their younger minds.
However, in order for these young minds to really be Bhutanese would be little challenging in the coming years. With the frequency of a language usage, parents-children bonding, transferring of knowledge and message through storytelling and conversation is seen deteriorating, although community in their own capacity is trying to keep it alive through events, rituals and other co-curricular activities".

Tshering, mother of a daughter said, "Since my daughter started here kindergarten and schooling here in Australia, she is more attuned to life here. Sometimes, my husband and I find it difficult to explain our culture and tradition to her but we make a point to celebrate all national events with her and speak to her in our national language".

With new generations the sentiments and values could be different particularly, the generation who has no physical or direct link to the country however, it would be a moral responsibility of older generation to pass-down Bhutanese culture and values to their children.