BMF launches news website and Apps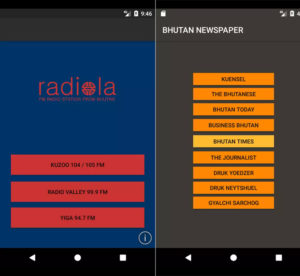 By Kinley Yonten
Bhutanese who wants to stay up to date with current affairs and issues in the country can now do so with the launch of news websites and Apps.
Two apps-Bhutan news and Radiola were launched on June 29, on both android and iSO platform for free.
With the launch of the websites and Apps for print and Radio in the capital, news consumer can be informed and entertained anytime through their smart mobile devices.
People with access to internet or mobile devices can access the different private media website to update on the news and currents affairs. Likewise, people can listen to live programs aired on three private FM radio stations based in Thimphu.
According to a press release from Bhutan Media Foundation (BMF), the websites and Apps would bring the print and radio world directly into in the palm of the users' hand.
Meanwhile, BMF supported nine print and three radio stations to develop and upgrade their online platforms by developing websites and apps with the sole objective to grow media's reach and its audience not just nationally but also internationally.
At the same time, BMF hopes that it would also bring additional revenue for the media organisation. BMF dedicated almost a year and spend about one million ngultrum in developing these platforms with the help in financial support from the Swiss Development Corporation and Gross National Happiness Commission for the project.
The Executive Director of BMF, Dawa Penjor said that the initiative is to make media in Bhutan strong and vibrant and it was timely as the advantages of going online are manifolds.
"An active, mobile friendly digital presence is more important than ever for media to continue to grow and gain exposure to new and potential clients, who in turn will also help in revenue generation," he said.
Besides, developing the websites and apps, BMF has already provided the media houses with workshop in skills and knowledge to maintain and upload content.