…….𝒏𝒖𝒎𝒆𝒓𝒐𝒖𝒔 𝒅𝒊𝒔𝒈𝒓𝒖𝒏𝒕𝒍𝒆𝒅 𝒄𝒊𝒕𝒊𝒛𝒆𝒏𝒔 𝒍𝒂𝒎𝒆𝒏𝒕 𝒕𝒉𝒆 𝒑𝒖𝒃𝒍𝒊𝒄 𝒔𝒆𝒓𝒗𝒊𝒄𝒆 𝒑𝒓𝒐𝒗𝒊𝒅𝒆𝒓𝒔' 𝒔𝒍𝒐𝒘 𝒂𝒏𝒅 𝒊𝒏𝒆𝒇𝒇𝒆𝒄𝒕𝒊𝒗𝒆 𝒐𝒏-𝒍𝒊𝒏𝒆 𝒔𝒆𝒓𝒗𝒊𝒄𝒆𝒔
Sonam Deki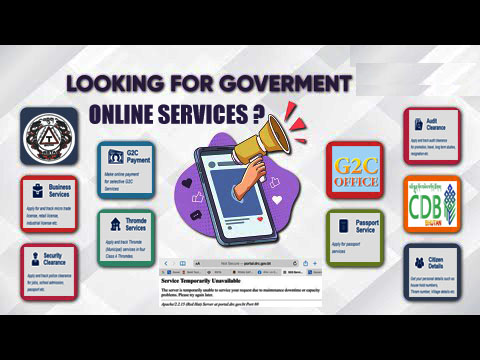 The government services going into digitization is attuned to global transformation of digitization which has eased and proved to be convenient for the service provider (Government) and for those who avail services (citizens). With E-governance, it is intended to make services simpler, effective and more accessible for readily internet services available with smartphones in the country.

The government initiated many of its services to digitization with the same purpose and objective of accessibility and ease for the citizens. RAMIS (Revenue Administration Management Information System), mRSTA , G2C, No Objective Certificate (NOC), Electronic Government Procurement (e-GP), and others included under this initiative of the government. However, numerous disgruntled citizens lament the public service providers' slow and ineffective digital services.

Many taxpayers have grievances with the RAMIS online tax filing system. The taxpayer reported that while accessing the application (app) (RAMIS) to file their taxes online, the app remain unresponsive. "The app would not respond even after several minutes of waiting after clicking on the app so, we now have to go in person to the Department of Revenue and Customs (DRC) office to file taxes", said one of the business owners. "I don't have much patience for long queue, and the time spent there has an impact on my business," she added.

Sithup said "You can't think of other works if the government takes weeks to accept our papers. If a taxpayer is late, they levy a penalty; if they are unable to provide the services, they say conveniently, "sorry for the inconvenience."
Tshering Phuntsho said "It's been so long since they introduced this app. The agencies must fully comprehend why we frequently have this system blockage. Given a fair time since its implementation so, there is no exception for lack of capacity or such system blockage."

Anonymous user said, "Wondering what this Department has been up to for so long. Their sole responsibility is to make sure Personal Income Tax/ Business Income Tax/ Corporate Income Tax are filed on time, however they continue to be negligent of this responsibility every year with online system failure. For their failure, we pay the penalty of not filing tax on time when this late is caused by their available online system failure".

The mRSTA app cannot be relied either, according to Karma Wangdi (Name changed). "This app's server is constantly unavailable so, what good is it if it can't be utilized at all. They should remove the app and not fool people. Then, we are more prepared to follow the old procedure by going to their office personally," he added.

"With these online apps, tasks have grown more complicated and need to do it manually as well", say one of the users. The user said, "I downloaded this app thinking that I wouldn't have to personally travel there but the app was not working at all, it just used up all of my mobile data."

The Electronic Government Procurement (e-GP) System of the Royal Government of Bhutan facilitates all Procuring Agencies to publish tenders and notifications of contract. The primary objective of this portal is to provide a single point of access to the information on procurements made across various government procuring agencies.

A contractor availing the e-GP system said, "Till date I haven't encounter any challenges with this system. We face problem only when there is slow internet connection and I am sure it has nothing to do with the e-GP app".

Department of Procurement and Properties said, "Ten ministries (pre-civil service reforms), twenty dzongkhags, eleven autonomous agencies, all Department of Road (DoR) regional offices, and a Drungkhag have been using e-GP to procure goods, works, and other services since it was introduced in July 2017. It is implemented gradually, and on the basis of input from bidders and procuring agencies, there has been continuous improvement of the system. The primary goals of e-GP are to standardize the application of procedures, lower operational costs, and ease administrative burden on both parties. An estimated 18% of GDP is spent on government purchases, with 11% coming from the current budget and 70% from the capital budget".

One of the security clearance app users said, "It is easier for us to apply for a security clearance through online service. It normally functions, but occasionally it fails. It's only short period of time before the app responses. I even assisted some of my friends in using it to register ".

While other online services receive fewer complaints, several users have complained about RAMIS services. One of the users claims that the RAMIS service never seems to get better and that the same problems persist even after years of its launch.

According to the Department of Revenue and Custom (DRC), "The RAMIS system would automatically lock after five tries. To open the system, the person must seek support from the office but since, there are just two agents covering more than 100 calls in a day, one must have patience before we attend them".

DRC added, "Last weekend on January 25, the system was moved from a private vendor's server to the Thimphu TechPark at a government data center. We believe that the difficulties will soon be fixed with the help of the Government Data Centre (GDC) ".

"We can appreciate the effort that the government is making to digitize but the government should also focus on the quality of its services and develop more experienced IT personnel competent to handle the system," another user added.

Bhutan is pursuing to achieve technologically advanced country by embracing and transforming its system into digital and online. Making use of new technologies to profit from its advancements. Although end-to-end integrated online facilities are predicted to make it simpler for the public to access services provided by the government. This appears to be little farfetched idea considering the case in practice. However, the country seems to be on the right track to leverage the technological innovations and advancements having many digitization projects initiated. Buildup team-trained, experienced and competent Information Technology human resources with right equipment the country should not be too far to achieve the status of technologically advanced country as long as the government invests and understands its imperativeness, and acts now.

As per the E-government survey 2022 "The number of Member States in the very high EGDI (E-Government Development Index) group (with values ranging from 0.75 to 1.00) rose from 57 to 60, representing a 5 percent increase between 2020 and 2022. The total number of countries in the high EGDI group rose from 69 to 73 between 2020 and 2022. Even the Bhutan is included in the High EGDI group. The number of countries in the middle EGDI group (with values ranging from 0.25 to 0.50) decreased from 59 in 2020 to 53 in 2022; this decline is positive, given that eight countries moved up to the high EGDI group and two countries shifted from the low to the middle EGDI group during this period. The number of countries with low EGDI values (below 0.25) dropped from eight in 2020 to seven in 2022".