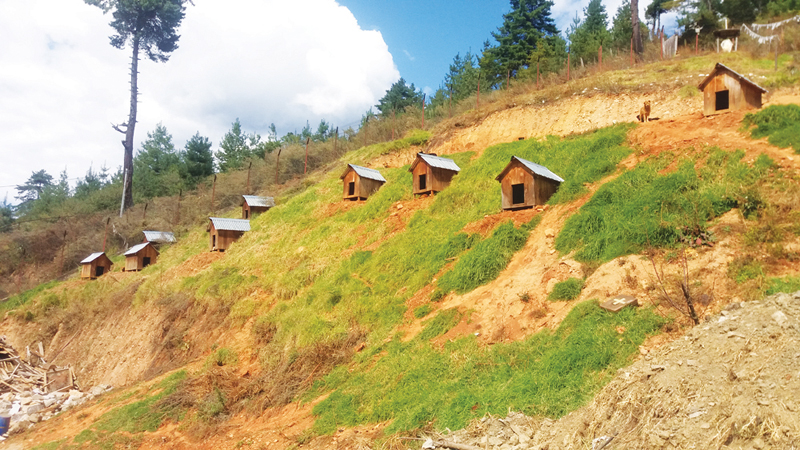 By Dhicksha Darnal
Animals cannot talk nor reason but they do suffer as much we human do. Even though Bhutanese advocate Kindness and compassion toward all living beings, many fail to practice it in real life. Being a Buddhist country there is nothing as exploiting animals for experiment or leather, but we have some how become so heartless and ignorant about those suffering in front of our own eyes.
Amid this pitiless and ignorance society, Jangsa Animal Saving Trust, a registered non-profit organization (NGO) was formed to save animal lives, rescuing injured and sick animals, providing medical intervention and care and shelter for homeless animals by Lama Kunzang Gorjee Rimpoche in 2000.
To further add to its cause of saving animals, an intensive care unit (ICU) was opened on November 2. It was funded by Foundation Brigitte Bardot, which is the leading animal protection in France started by French Actress Brigitte Bardot to protect animals from exploitation and cruelty.
Brigitte Auloy, the international Project Coordinator of the Foundation said, "We aim to protect all animals, domestic or wild and bring animals here and give medical care. We also hope to educate people through awareness programs."
"We are working in 60 countries and have been working in Bhutan since last 10 years. In future we are also planning to work in collaboration between Sikkim and Bhutan to build proper clinic and animal care unit to keep animals for long duration."
Volunteer of Jangsa claimed that the ICU will benefit many animals.
"It is an important milestone for Jangsa. Before, we had small cage and the place was overcrowded. We were not able to give proper care to animals. Now with the opening of the ICU, we hope to provide much needed care to injured and infected dogs in particular. Further we are planning to recruit a full-time vet," the volunteer added.
The Jangsa Animal Shelter is cleaned in daily bases and shelters 16 pigs, 78 dogs and a cow. They are feed three times a day. Foods for the animals are provided by Royal Thimphu College and some hotels.
"Most of the animals brought are either sick or those injured in traffic accidents. We keep infected dogs in separate cage with medical treatment provided every week," said one of the staff.
"People do come here to volunteer, but hardly any one turns up to adopt them" he added.
Hendrik Visser who came to Bhutan in 1997 and started NGO named Bhutan Animal Rescue and Care (BARC) said that, "So many animals, we are over whelmed but we are running out of space as shelters are getting over crowded. To control their population we sterilize them and try to give preference to those in need of medical care."
Stray dogs continue to be societal challenge in Bhutan. In addition to significant health and welfare problem of the animals themselves, there are public health and safety concerns with free- roaming animals. It is everyone's duty to taking initiate by providing shelter to homeless animals rather than buying high breed ones.