Tshewang Ugyen commonly known as Charlie is the first Bhutanese dancer to participate in Dance plus TV reality show audition in India and Everest Jam held in Nepal. In total, Charlie won as many as nine major trophies since 2003 till date. Tshewang is 25 year old from Phuntsholing and graduated from Gaeddu College of Business Studies and currently working in Tashi Bank, Thimphu. He started dancing since the age of 7 and is currently team up with Break Vibes team and Seven Star crew. Bhutan Today's Chimmi Rinzin asked Tshewang few questions on his dancing journey.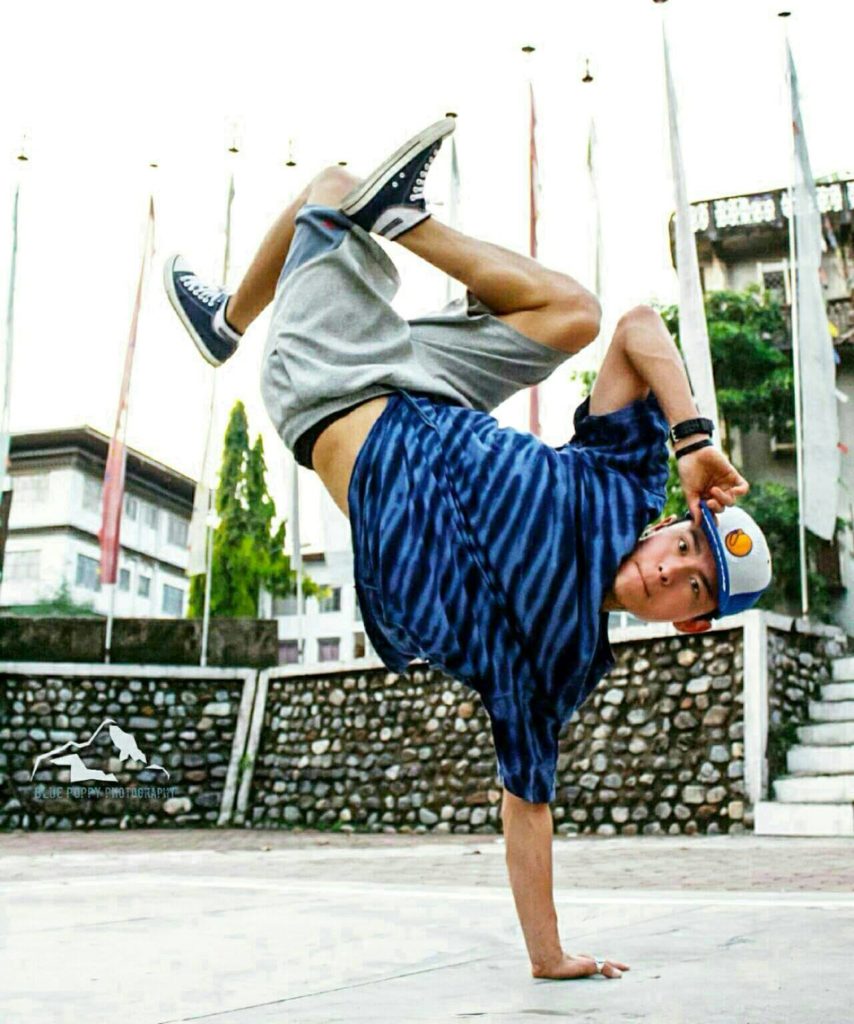 When did you start dancing and how dancing inspired you?
Dancing was the last thing I ever thought I would get into. I was just 7 years old when I saw my late uncle Dorji wearing snap back and sliding his feet backward, which was known as air-walk than. At that very moment I urged my uncle to teach me that grooves. Thereafter, I slowly started dancing acquiring steps and skills as I grew.
What type of dance do you do? Do you have crew?
I am all style dancer and most probably I train BPOP rigser, boedra, locking and popping, BBoying, krumping, wacking, tutting, house, urban, lyrical pop, animation, and dub steps.
My former crew was Druk dream team (DDT) and currently I represent Break Vibes team and Seven Star crew.
Did you ever come across criticism and challenges while performing?
My foremost challenges and criticism could be people always trying to discourage by saying that dancing has no future. They say dancing is only for kids and dancing can't make living. What I hate the most is that when people say dancers dance only to gain attention.
Dancers are looked down as gangster and people think we don't take any social responsibilities. They think we have no work and loiter around the town.
Do you have any idol or you as a dancer, whom do you look up to?
I like Chris Brown after I watched the movie "Storm the Yard". Everything he does always seems effortless. I started sliding everywhere I go, always practicing the moves from his music videos. I can still see some of his style in my choreography today.
Do you think that dancing can be taken as profession or do you think our youths have future in dancing?
I think our country is not ready to take dancing as a profession and moreover it is really challenging task for every artist to make their leaving through it because of lack of opportunities in our country.
Though I feel there is no future in dancing but as of now after watching the crowd and supporter who were always keen to support other talented artist and provides opportunities to talented youths in Bhutan, I feel new generation dancer can have better future and can step to next level.
What has dance taught you and what is your favorite part about dancing?
It taught me that dance is not just a "Dance", it is a life style and it is a culture. When a dancer leaves the bogie circle, the hip hop in him/her does not stop.
There are rules and regulations, and guideline that you have to follow to keep the dance culture in perfect Harmony. And dancing is one of the whole universal languages in the world and the most Beautiful Part about dancing is we are able to communicate with everyone without making verbal communication.
Do you have any specific goals?
My goals is to educate and convince the people of Bhutan that it is the right era to promote dancing and urge them to invite international dancers and organize workshops. Also to take part and witness in world class dance battles.
I also have a dream to organise live telecast dance reality show, to open one dance academy and to set the mind of people that dancing can be "profession" as well.
Do you plan to do something with dance later in life or is it just a hobby?
Like I said earlier, of course I have a huge plan to feed my new generation the right way of this Art form as well as to recognize this art form as a main source of income for living in near coming future.
What are your achievements as a dancer?
My first major achievement was winning a trophy in Pasakha dance youth competition in 2003. In 2013 I won the solo dance competition in Ugyen Academy, Kidney Foundation Dance competition held in Geddu College and first prize in India-Bhutan Collaboration dance battle. Also won the first prize and second in all style (1-on-1) organized by Gokab Vol-1/2 in 2016/17. My international participation was in the Everest Jam in Nepal 2016 where I won the second place and gave audition in Dance Plus reality show in India
Who sponsors you when you go for Jams and Events?
Till now I have represented my country in some parts of India and Nepal with my own fund, but I could not perform well. However, there are some immensely wonderful people, to whom I owe a lot for funding me time and again. Firstly my Parents, Information and Communication Minister D.N Dhungyal , Mrs.Indra ,Miss Thinley Lhamo and families, Miss Cat Orawaa(Thailand), Ahzhi Namzey, Sherab Thai (abit studio), Break Vibes community, sevenstar (IMWD), Dentist Tenzin, Mr.Toephaga, Druk dream team and many other dancing crews.
What is your message to youths of today?
My life is a dance and dance is my life and I love what I do. It takes a lot of inspirations, time, discipline and dedication to become a "Good Dancer". Always try to produce in your mind that who you are and it's about being able to find your true inner self.
We all have our inner battle and the difference we can't find it is because we don't dedicate and do hardwork. Winning is not only the way to success, sometimes loosing can be a great step towards IMPROVEMENT. So Guys don't get dishearten when you can't achieve, chill out and practice hard to show what you have got.