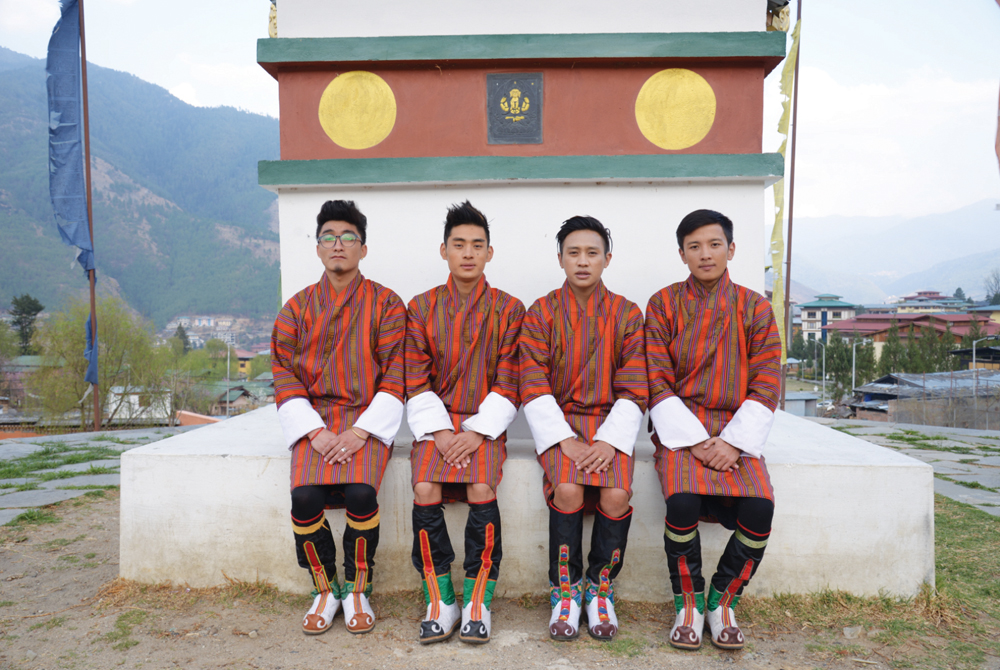 By Tshering
Tell us something about the band? How was it formed?  Tell us something about the band? How was it formed?
Forming the band was a bit tough. I tried to form with my close friends but it didn't work out. I tried to work with other friends but unfortunately it didn't work out too. I was bit disheartened. But in early 2017, while recording 'Choe Ghi Doen Dha' I asked three of my friends (Tandin Wangchuk, Palden Wangchuk and Jamyang Chophel) to join my band and they agreed readily. So I stopped recording and request the music director to include them in my song and that's how the story started.CROWNERS was formed in March 2017 and my close friend, Tashi Yaso Dendup ('Kanjay' singer) also joined the band few months later. 
How did you come up with such a unique band name? 
Our band name was inspired from the lines of His Majesty The Fourth Druk Gyalpo's speech, "future of our country lies in the hand of our youth". So we decided to dedicate our band name to our great monarchs and we will always be there to serve our TSAWA SUM.
What is your first song and MTV produced?
Our first song is "Choe Ghi Doen Dha" which is a sad song specially dedicated to those who take love for granted and our first music video is also made on the same song and released this year.
What challenges do you face to keep the band going? 
Obviously, financial issue has been the most difficult hurdle that every band faces because in order to record songs, we have to pay more than Nu 5,000 to the music studios. And making music videos demands even more investments i.e. lots of cash. Secondly, is the harsh reality. Every parent wants their child to be employed and get settled in life. This is where our dreams get shattered. People think there is no scope in singing and dancing and this is the very reason many bands get dissolved.
How do you see music industry in Bhutanese market?
I won't say that there is no market but I would rather say there is a limited platform and fewer opportunities compared to other countries. Technology is the biggest obstacle in the market, as people prefer to download then to buy.It's difficult to sustain just by singing and being an artist but we feel we can sustain if we are ready to work harder and be smart users of modern gadgets and technologies. Through these technologies, we can not only connect our audience within Bhutan but we can also connect to music lovers outside the country too. 
After all this difficulties, why do you think your band must keep going?
Passion and love for the music is the major reason for any band to sustain and the way to link with the audiences and entertain them.
What kind of music genre does your band perform?
Well, we perform all kind of music genre as general but we are more into B-POP where we can sing and dance at the same time. We change our genre by looking at the market status. Nowadays, rap songs are getting popular among the youths so we came up with it in the song 'Sem Ghi Sung'. Currently we are focusing on 90's songs, so that we can connect both with our youths and older generations.
What are your future plans?
Recently, we have started our office, which will support youths who are interested in film making, singing and dancing. Our office will try to create platform for the youths and help them to reach their dreams through their passion.
Our support will include basic training in acting, singing, teach them how to groom their self as an artist, and moreover we are coming up with a BM videos award with cash prize. We will nominate the best upcoming singers, best actor, best actress, best director, best music video of the year and many more. And we are also focusing on learning Hindi song, English song, Nepali songs and our old traditional songs through which we will get chance to perform in international stages. We are also planning to come up with our own studio.
Any shows performed in and outside country? 
We received two invitations to perform in Singapore and Bangkok and soon will be going for the trip. And inside the country, we have performed twenty three shows till date.
Your band greatest achievement and total number of songs and MTV videos?
As a band our greatest achievement was when we got personal audience with Her Majesty The Gyaltsuen Jetsun Pema Wangchuck at the camp raven.So far we had produced around 8 songs and four MTV videos.
Your message to your fans and music lover?
Firstly, we would like to thank all our fans and supporters for their love and support for our band. Please "never stop in believing in your dreams and passions" and always follow your heart. We would also like to request everyone to please subscribe our Youtube channel "Crowners production" for our music videos, sound cloud  "Crowners" for our songs' and know more about us by liking our Page "Crowners" on face book. Once again thank you all for your love and support.