Local claims authorities are turning a blind eye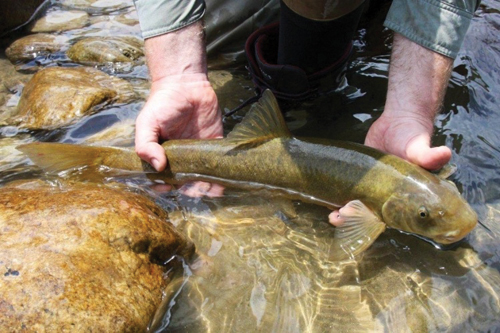 By Tshering
There is a hotel at Bondey, Paro that sells an item that is not available in many hotels. It is not on the menu, but they sell it by the kilogramme.
Inside the kitchen, in a big refrigerator, there are local fish. Many call it Rainbow trout, a species that is unique to Bhutan and its clean rivers.
However, fishing is illegal in Bhutan. You need a permit to fish and commercial fishing is strictly prohibited. But that is on the paper only. The hotel's customers are people from all walks of life – customers who work in agencies that should restrict it.
Authorities and even journalists know that the hotel sells local fish, says a town's resident who challenged the paper when asked about the business.
Many allege that authorities like the police and forestry officials are aware of the hotel selling local fish, but nobody cares to question. In a kilogram of fish are both big and small fishes. Some say that is an indication of using net, which they say will not spare the smallest fish that is bigger than the hole of the net.
A local of Bondey, Pema (name changed) said everyone in the little town is aware of the business, but nobody is reporting it to authorities.
A meat shop owner said the illegal business had hampered his business. "Many prefer the local fish over imported fish," he said.
A meat shop owner in Paro town said he heard about the sale of local fish years ago and was expecting authorities to catch them, but they are still selling it.
Dorji, a local resident said the cost between the local and those imported from India has a difference of of 300 percent. The trout are sold for Nu 600- to 800 a kg.
A seller of local fish, Tashi (name changed) said they have "contacts" who bring local fishes in large quantity (20 – 40 kg) and they bring whenever the demand is high. People come from as far as Thimphu to buy the fishes.
Speaking to Bhutan Today, the Chief Forestry Officer Kaka Tshering of Paro said they were aware of the sale of Illegal fish in and around the town but the challenges is getting search warrant from the court. "BY the time we get the order, the fishes disappear and the effort goes in vain," he said.
He however said that forestry officials are monitoring the situation 24/7 from Drukgyal till Chunzom trying to stop illegal fishing. "It's a joint effort from the government and individual citizen to stop of sale of illegal fish," he said.
Between October and January is considered the breeding season for fishes and fishing permits are issued depending on the people requirement like on daily basis, monthly and quarterly (6 months).Penalty ranges on occasion day, use of net or trap, use of live bait and snare.
Passes cost around Nu 500 per day and Nu 1,000 for the foreigners.
Some allege that there is collusion between forestry officials and the sellers. "That is why the incident is not reported," said a local who requested not to be named. "Everybody knows about the business which is going on for years, but nobody had taken the responsibility to question."
An elderly man when asked about the business encouraged the paper to investigate the case. "You will gain merit if you can stop this sinful business," he said.
Meanwhile, a total of 51 cases were reported for illegal fishing between March and June 20??? and collected an amount of Nu 358,000 under Paro.