"…. 𝑮𝒐𝒏𝒆 𝒂𝒓𝒆 𝒕𝒉𝒆 𝒅𝒂𝒚𝒔 𝒘𝒉𝒆𝒓𝒆 𝒎𝒐𝒓𝒆 𝒕𝒉𝒂𝒏 10 𝒂𝒑𝒑𝒍𝒊𝒄𝒂𝒏𝒕𝒔 𝒄𝒐𝒎𝒆 𝒇𝒐𝒓 𝒂𝒏 𝒊𝒏𝒕𝒆𝒓𝒗𝒊𝒆𝒘 𝒕𝒐 𝒇𝒊𝒍𝒍 𝒂 𝒑𝒐𝒔𝒕"
By Sonam Deki
According to the report, the first high unemployment rate of 5 percent was observed in 2020, which could be attributed to COVID-19 pandemic where it has greatly reduced the employment opportunities for those unemployed as the businesses and service sectors remained at halt.

It was further aggravated by the oversea returnees and those lay-off employees of affected sectors.
Despite the fact that there are numerous open positions, the unemployment rate is the second highest recorded with 5.9 percent in 2022.

Recently, there are around 95 vacancies announced in online portal of Youth Engagement and Livelihood Program excluding the vacancies announced in other agencies' Facebook pages.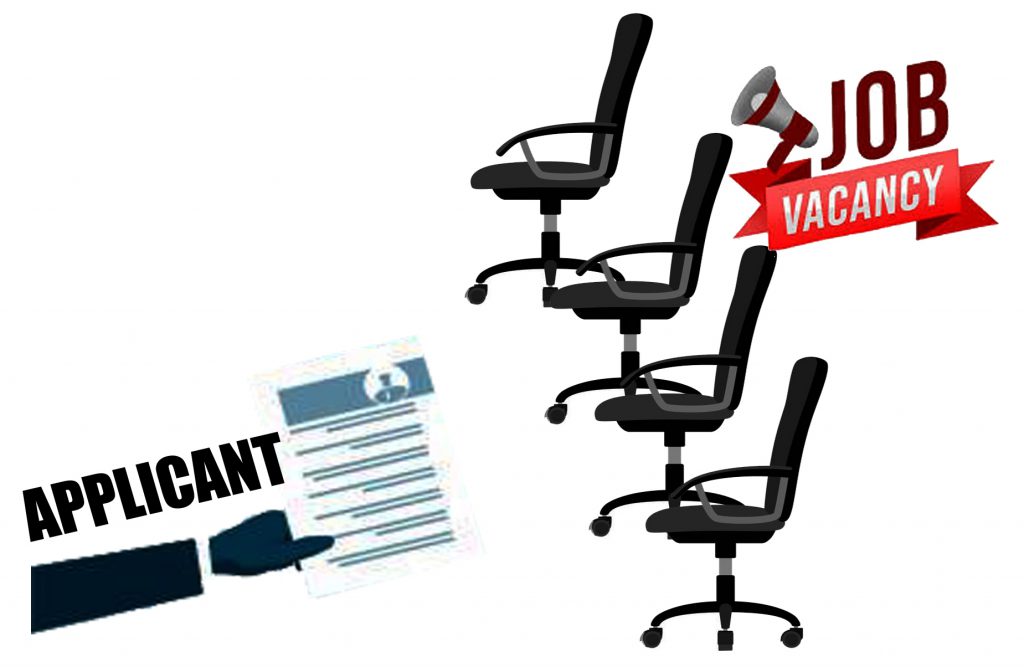 Lyonpo Karma Dorji, Ministry of Commerce, Industry and Employment said, "When the people with experience or civil servants leave, the gap is created as immediately it will not be considered as vacancy to any job seekers. Whoever the job seekers may be, since they don't have experienced they won't be able to fill that up. This could be the reason how the people leaving abroad is affecting the unemployment rate. Most people wish to go overseas; there are people who are voluntarily unemployed. Though there are more jobs available, people don't take up as they are waiting to go outside. If the person is unemployed for more than 1 week, National Statistics Bureau considered it to be unemployed".

Kinga Yueden who has recently graduated said, "Though there are many vacancies available in the country but I feel it is right choice to leave abroad for better income. I have already started my documentation to leave abroad".

Like Kinga Yueden, many others are awaiting their visa to travel abroad. They believe that traveling overseas is the only way to enhance their financial status and be employed there.

However, the Minister argued that as they are not being surveyed, people who are employed overseas will not be counted as employed in our records.

Minister continued, "When a person is of age and able to work but does not have a paid job, they are considered to be unemployed. The proportion of unemployed people in the labor force is known as the unemployment rate. As a result, figuring out who is employed is necessary for calculating the unemployment rate. Those who are either employed or jobless make up the labor force. It is very important to record actual number of employed and unemployed workforce of the market in making pragmatic decisions to address issues".

He further added, "To fill that gap, we are targeting to give more training and skilling programs but it will take some time. One measure could be opening of more contracts and also getting expertise and professional from outside. This is how we are managing right now".

Many agencies agreed that most of the applicants for the job are fresh graduates. "We want someone who can do the work right away, rather than wasting our time in training them when at the end, their preference always remain to go abroad", they said.

Some agencies have to re-announce vacancies as they are only few applicants and sometimes, there are applicants but they can't recruit them as they do not fit the requirement.

Human resource officer of Druk Holding and Investments (DHI) said, "There are quite a number of applicant for the vacancy but to get as per the requirement is tough, which is why we had to re-upload few vacancies".

A private company similarly stated, "We have been re-announcing the vacancies for quite a number since we are not able to acquire the right person for the work."

Another organization stated, "Gone are the days where more than 10 applicants come for an interview to fill a post. Currently, there are seldom 10 applicants when we have 5 to 10 vacancies, and even from those 10, we hardly ever find one worthy applicant".

In a recent year, country has witnessed high attrition in the public, corporates and private sectors leaving behind vacuum to fill with same caliber of skills, knowledge and experience in the field. While these skilled and experienced workforce pursuits for greener pasture abroad. Meanwhile, the vacuum left by these people will not be accounted as vacant at least for some time.