Drug abuse and illicit trafficking of controlled substances is a growing issue in the country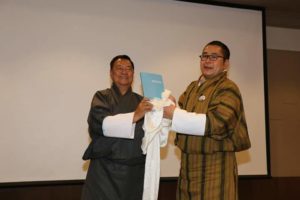 By Kinley Yonten
Bhutan is facing rising cases of cannabis users, while pharmaceutical opioids remain the second most commonly used drug in Bhutan, according to the World Drug Report.
This is recognized as Bhutan joined the international community in observing the Day against Drug Abuse and Illicit Trafficking, health minister Tandin Wangchuk said that drug abuse and illicit trafficking of controlled substances is a growing issue in the country. "It needs to be addressed before it gets late," Lyonpo Tandin Wangchuk said.
Youth drug abuse is on the rise around the world. "It is high time now to redefine the roles of parents and teachers. They must work hand in hand in nurturing and monitoring the younger generation." Lyonpo Tandin Wangchuk said.
Studies show that when parents monitor their adolescents closely and have good knowledge about their whereabouts, adolescents are 20 percent less likely to use harmful drugs, Lyonpo said.
The children of parents that have a warm parenting style and know where their children are and what they are doing, are five times less likely to experiment the use of stimulants or controlled substances. "Parents and teachers must work hand in hand in nurturing and monitoring younger generation," Lyonpo said.
"Even in difficult circumstances, children who are in school and feel a sense of belonging are less vulnerable to risky behaviors. Teacher should provide non-judgmental counseling to children and youth that need it," he added.
The World drug report estimates that one in 20 adults between the ages of 15 and 64 years, which add up to a quarter of billion people, used at least one drug in 2014. This year, the day is observed every year to raise awareness on the impact of drug abuse and illicit trafficking of drugs.
Coinciding with the Anti-Drug Day, World No Tobacco Day, which is usually observed on May 31 every year, was also observed.
Lyonpo Tandin Wangchuk said that every year, World Health Organisation (WHO) and partners mark the day on May 31 to highlight the health and additional risks associated with tobacco use, advocating for effective policies to reduce tobacco consumption.
Likewise, WHO is calling on countries to prioritise and accelerate tobacco control efforts as part of their response to the 2030 Agenda for Sustainable Development.
Strengthening the implementation of the WHO Framework Convention on Tobacco in all countries is an additional target to be met by governments developing national sustainable development responses, Lyonpo added.
"It is important to highlight the bitter facts of ill effects of tobacco and its adverse consequences to the economy," he said.
WHO report states that more than seven million people die from tobacco use every year, of which 1.3 million deaths are from South-East Asia alone.
The report also states that tobacco use costs national economies enormously through increased health-care costs and decreased productivity.
Lyonpo said that an increasing number of countries are now creating firewalls to defend against interference from the tobacco industry in government tobacco control policy.