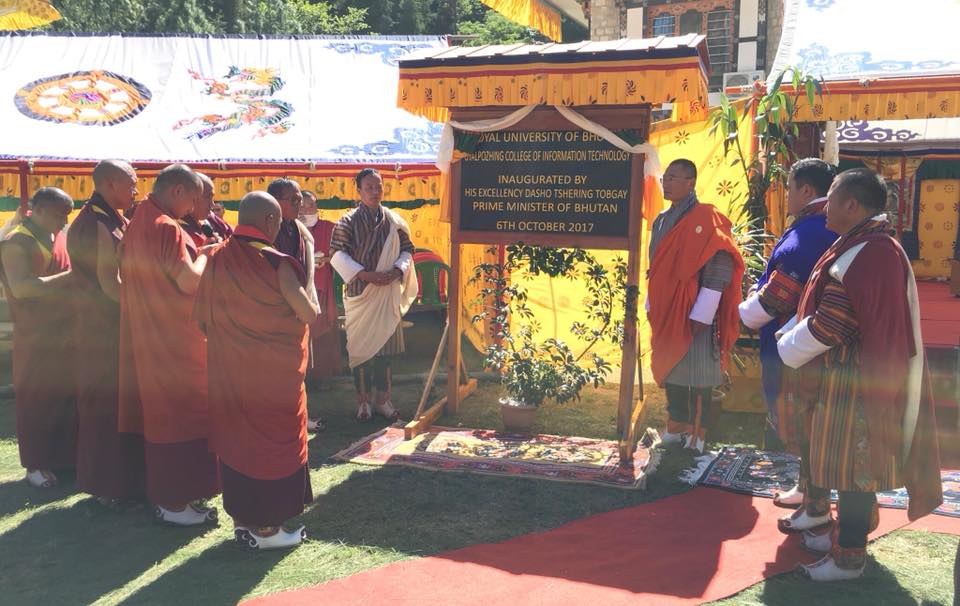 By K Namgay
With the vision to be the 'center of Excellence in Information Technology steeped in GNH values', the Gyalpozhing College of Information Technology (GCIT) was formally inaugurated by Lyonchoen Dasho Tshering Tobgay on October 6.
National Council member from Mongar, Sonam Wangchuk, Vice Chancellor of the Royal University of Bhutan, Nidup Dorji and Lhatu Jamba, President of GCIT were also present for the inaugural.
Lyonchhen said that a seed (GCIT) had been sown and that it will benefit the students and the country a lot.
IT, he said is evolving and will continue to grow with its essence felt strongly in the world. He added that the students in GCIT will be 'Learning by doing' and explained that the students will not only study but practically develop skills.
"In this ever evolving world, IT is an equalizer."
Wishing the students, Lyonchoen urged the tutors to provide the best education possible.
The decision to establish Gyalpozhing College was made during the meeting held on February 2, 2017 at the Prime Minister's Office in Thimphu. In line with the decision, the Tertiary Education Board issued an executive order to establish ICT-based programmes at Gyalpozhing from July 2017.
GCIT took its first batch of 79 students early this year and started the classes from July 12 pursuing Bachelors in Computer Application.
The college stretching in an area of 62 acres of land engulfed by lush green mountains, located in Gyalpozhing, Mongar is one of the three new colleges established in eastern Bhutan. The college aspires to be a center of excellence in the field of ICT based programmes to meet the changing needs in this era of modern technologies.
The college at its initial stage offers undergraduate programme in Bachelors of computer applications thereby emphasizing mainly on ICT based subjects. Furthermore, the college aims to diversify the programmes by including more practical and job-oriented programmes based on ICT in long-run.
Lyonchhen also inaugurated Yoezer homemade food products stall in the College which aims to cater homemade local products to the students and faculty to reduce consumption of junk food.