Barnyard Bhutan provides shelter and attends to more than 350 animals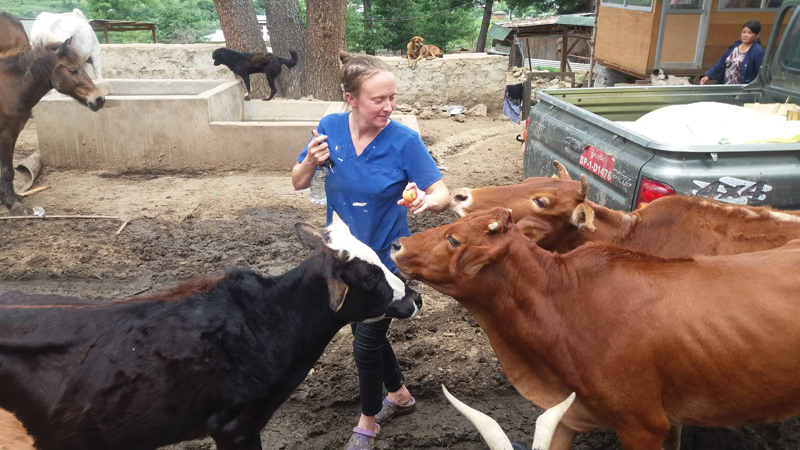 By Tshering
It is 1 am, Jamie Vaughen is still awake attending to Kaia, a three-legged horse. Kaia had not been well.
Jamie Vaughen will sleep after ensuring Kaia falls asleep. Jamie is surrounded by animals. There are cats, roosters and even mice in her room, in all the rooms.
The 34-year-old takes care of sick animals, and that has been her routine for several years. Jamie Vaughen is from United States of America, but she lives in Paro tending to sick animals. She first came to Bhutan in 2006 as a tourist. She fell in love with the country and returned to run the Barnyard Bhutan, an animal rescue and sanctuary. She started Barnyard with dogs but quickly evolved to all kinds of domestic animals brought by the community.
She collects food from the vegetable market and the Paro airport. During occasions, people from Paro and Thimphu come to Barnyard to help with food supplies, old clothes and help. But most of the time, people bring injured or orphaned animals.
It is a scene when Jamie Vaughen returns from shopping. Like kids following their mother, all the animals follow Jamie from the barnyard gate till she come out of the vehicle. The bigger animals like cows and sheep lick her, as dogs jump all over her. Each animal has a name.
Speaking to Bhutan today, Jamie said animals came there when they are in critical condition. "Therefore, it is not uncommon for them to spend their first few nights, if not weeks, including the large animals, in the bedroom or elsewhere in the house with me," she said. "Once they are well, however, they go back to their ideal environment."
There is no fix time to attend to the sick animals. It is 24/7. The most challenging is getting labour and resources, infrastructure and foods for the animals. "I hope there is more volunteer's especially veterinary specialist," she said.
Jamie Vaughen is planning to re-arrange the barnyard and make it a better place for animals.
Barnyard Bhutan is spread across a two and a half acre land in Paro, on the way to Sangchoekhor monastery. Barnyard Bhutan has animals rescued as far as from Gasa and today has about 350 animals. There are more than 250 dogs, 25 horses, 20 cats, 20 cows and bulls, 13 equines, 50 goats, 16 pig, rooster and 2 mice. Its residents are typically found, brought, or referred by members of the Paro community suffering from malnutrition, illness, injury, orphaned, or plain neglect.
Barnyard Bhutan operates under the name of The Maya Foundation and it's totally a self funded non-profit organization and employed 13 staffs.
The Maya Foundation is U.S. registered 501(c)(3) non-profit organization and exists with the humble goal to help those less fortunate – animals and humans alike – through promoting and influencing more compassionate, comprehensive, and innovative health and veterinary care within Bhutan.
The Foundation is named in loving memory of an abandoned horse later named Maya, rescued from severe injuries in 2011 whose life was saved by the help and expertise provided collaboratively by people locally and abroad, including technologies never seen before in Bhutan. Unfortunately though, she later passed away when this same help and similar technological capabilities were not again available.
The dogs spend their days outdoors, playing or simply basking in the sun – there are no cages here. But at night everyone goes back to their respective kennels or rooms: at present, we have 18 outdoor kennels and buildings, plus 7 other designated dog rooms inside the garage and staff buildings. The main house is also generally full with animals in every room, but is typically reserved for the most serious cases, elderly animals, and young.
The large animals too spend their day outside, mingling with visitors, the dogs, and each other – this includes Mr. Piggy who roams freely and greets everyone with a loving snort, hoping for biscuits.
Barnyard have three barns that the cows and bulls often share with the donkey and mules and the existing pig house also holds the three female goats at night.