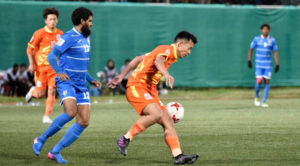 By Tshering
The Bhutanese National Football team lost to Maldives 2-0 in the second game of the 2019 AFC Asian Cup qualifiers on Tuesday at the Changlimithang Stadium.
Bhutanese fans were yet again disappointed with some raising eyebrows at the authority.
Speaking to Bhutan Today, a resort manager in Paro, Sangay Dendup said we always see the same players against different countries. "Both the coach and Bhutan Football Federation (BFF) have not learnt anything from the previous defeats."
It's a time to change players and form a new team with new strategy, he added.
Dorji Drukpa, a private employee in Phunentsholing said it's very disappointing match. We play with same style, there is no change.
Pelden Wangchuk a government employee said it's a time to select players from all 20 dzongkhags rather than playing with the players with the same result. We have many talented youths who are waiting for their chance.
Sonam Lhamo, a student said our players party, drink, smoke and are not being able to live up to the standard of professional players.
Bhutan was trashed by 14 goals in their first game in 2019 AFC Asian Cup qualification against Oman on June 13 this year.
Some said favoritism prevails during selection process.
Bhutan will host 85th FIFA ranked, Palastine at the Changlimithang Stadium on September 5.
The 2019 AFC Asian Cup qualification is the qualification process organized by the Asian Football Confederation (AFC) to determine the participating teams for the 2019 AFC Asian Cup, the 17th edition of the international men's football championship of Asia.
For the first time, the Asian Cup final tournament will be contested by 24 teams, having been expanded from the 16-team format that had been used since 2004.
The qualification process will involve four rounds, where the first two doubled as the 2018 FIFA World Cup qualification for Asian teams.