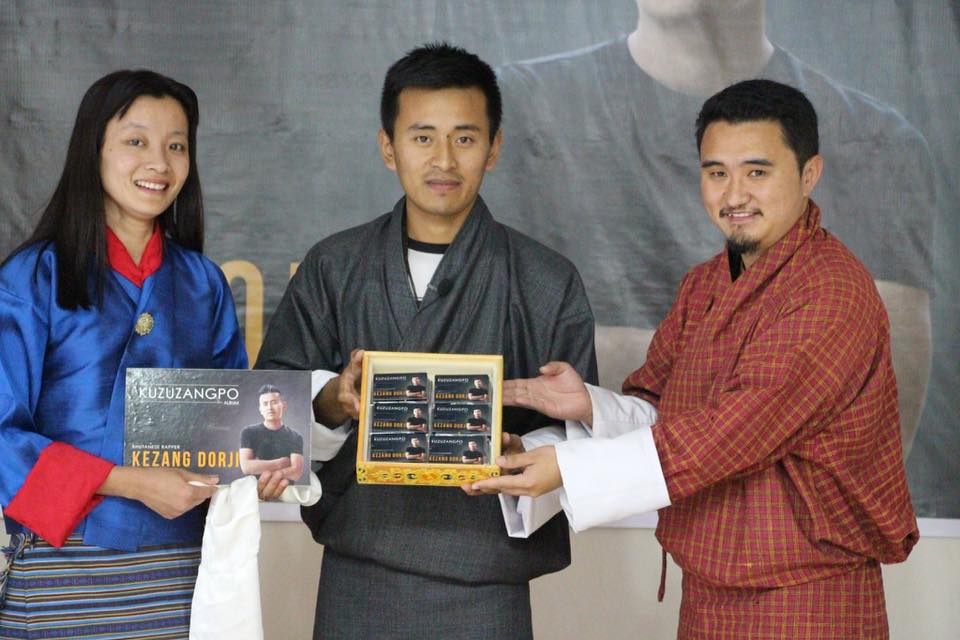 By Tshering
It was 2011, when Kezang Dorji started making rap music and till date he had produced more than 30 songs.
On Thursday, Kezang became the first Bhutanese rapper to release music album titled 'The KUZUZANGPO Album" on a 2GB USB Drive containing 16 songs. It is compilation album of 16 rap songs. The songs are in Dzongkha, English and Tshanglakha (Sharchop).
He was also the first Bhutanese rapper to tour the first music tour connecting with his audience and fans in September last year. He hosted it in 12 venues in nine different Dzongkhags.
Kezang, 28, is from Wooling, Orong under SandrupJongkhar. He was only 6 year old when his parents were separated. He lived with his mother with his three siblings.
He started singing since 2005 and fall into rapping world when he heard the Eminem show songs at his friends place.
During his college days, he released album titled 'Sherubtse Rockers Vol #1- Make a Difference' with his friends. The album had three songs. He collected more than Nu 230,000 selling the album and donated the money to charity.
Apart from singing, he also published a poetry booklet titled 'Wings for a Flight' with his best friend.
After graduation, Kezang came to Thimphu and recorded number of songs with M-Studio. He got his first break in the Bhutanese movie, Baeyul-The Hidden Paradise, where he did two songs.
He featured on CNN's, The Wonder list with Bill Weir, which was aired in April 2016.
Kezang also went to Mongolia to attend a Youth Summit called LEAD Alliance 2017 in which he was one of the speakers of the Lighting Talks.
During the event, Kezang urged younger generation to make more music videos and to gain popularity and show cast their talents. He also urged media to give more focus and promote young talents.
During his free time Kezang dedicates himself to community service.