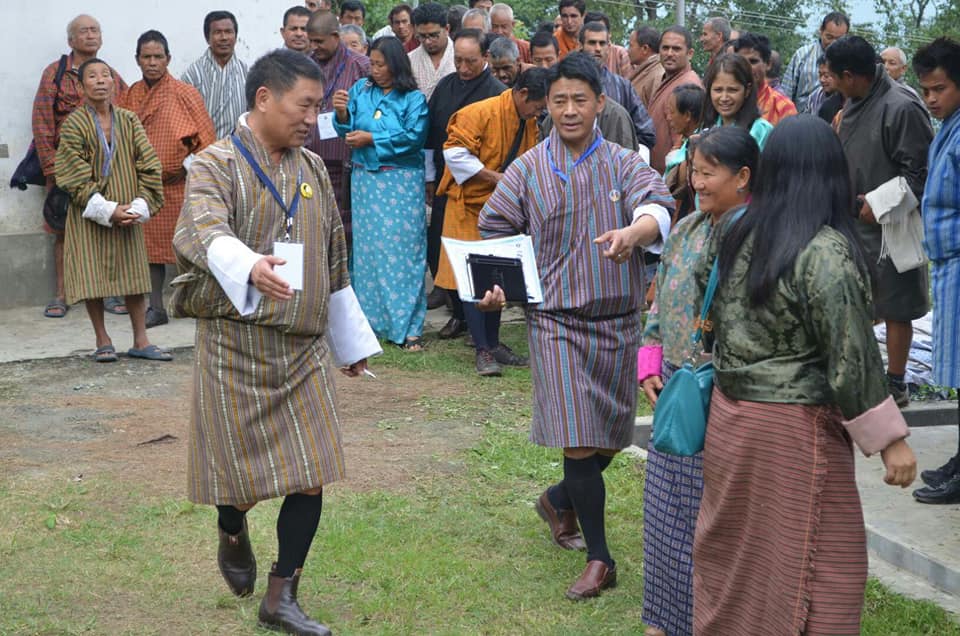 By Sangay Rabten, Thimphu
The presidents of the two
political parties are in
constituencies where they
have performed not so well
during the primary round.
Druk Phuensum
Tshogpa's (DPT) President
Pema Gyamtsho is trying to
make ground in the south
and Nyamrup Tshogpa's
President Lotey Tshering
is in the east to convince
where it didn't win.
DPT started its first
campaign from Dagana on
24 September where the
party met with people of
Drujeygang, Tshangkha
and Goshi gewogs. When he
met the people of Sunkosh,
DPT president pledged
to construct the Sunkosh
Hydro Project, one of three
mega hydro projects which
are their priorities.
In Tsirang, the president
met the people of Kana,
Tsendagang and Tseza
advising people to vote
wisely without getting
influenced by negative
influences.
In upper Tsirang,
president interacted
with public and business
community of Damphu
town. Emphasizing on
education, the president
pledged to upgrade Damphu
Higher Secondary School
to a college, review central
school policy and provide
mid-day meal in remote
schools.
DPT president arrived at
Gelephu on 27th evening
and pledged to revive the southern internal highway
from Tashichhoeling,
Samtse to Jomotshangkha,
Samdrup Jongkhar where
Mao river bridge will
be included in the plan.
The president said that
constructing bridge of Mao
river was included in 11th
five-year plan and even
budget was allocated but
couldn't start to a public
gathered in Gelegphu Lower
Secondary School. He also
talked about commercial
scope of Gelegphu town.
The President also met
with people of Doban,
Chhokhorling, Singye,
Gakidling and Sompangkha
gewogs where he shared the
views of party's experience
in the parliament and
have good blend of young
and old candidate. While
meeting with people of Umling gewog, president
said that the DPT will focus
in achieving the goal of
economic self-reliant by 2025
if they are given the chance
to serve. President said that
BHU-I will be constructed
Jigmechoeling gewog and
expedite the establishment
of Industrial Estate.
Pema Tashi, DPT
candidate of Gelegphu
constituency, is convincing
the public that if DPT
becomes ruling party,
they will focus in giving
24×7 water supply, safety
and security in the border
area, to boost Gelegphu as
commercial hub and review
immigration policy of Indian
day worker.The party,
he said will
promote sport
centres and build
indoor basketball
court. "Though
construction of
Mao river Bridge
was there in 11th
five-year plan,
DPT couldn't
continue it and
if people choose
DPT as ruling
party, for sure the
party will fulfill the pledge," he told Bhutan
Today. He said that with
reviving of southern internal
high way, Chuzegang,
Tareythang, Sershong and
Umling gewogs will benefit
where Langar Khola bridge
will be constructed between
Umling and Tareythang.
His priorities will also be developing Dorjitse
settlement and black
topping all the roads. The
party has plans to construct
retention wall in Umling
garden and retention
hall in Zomleythang
and Sheteykheri while
Shetakheri mandhir will
be enhanced. Immediate
road will be constructed
in Jigmechoeling before
orange season begins. The
candidate also pledged to
review the greenbelt buffer
place and in all to make selfreliant
country.
Back in Tsirang,
the president and the
representative met with
the people of Mendrelgang
gewog. Closing the
campaign in Tsirang, the
party met with people of
Kamichu and Gaselo in
Wangduephodrang.