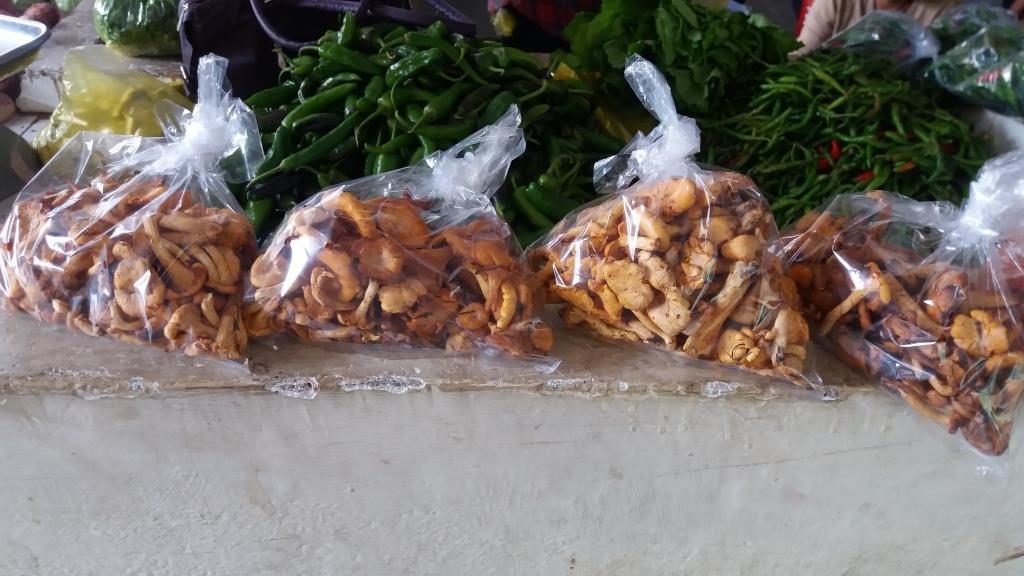 By Tshering
There is an army of mushroom collectors in the jungles of Thimphu and Paro. The location may be different, but the aim is same – collect Sese Shamu as much as possible.
With the rain abundant, it is a good season for Sese Shamu (Cantharellus cf cibarius). This is evident from the yellow delicacy available at markets, sold from door to door and on roadsides. Sese Shamu is a local delicacy. Unlike other edible mushrooms, it is cleaner, not infected with pests and has a good aroma. Le Meridian, a five star hotel in Thimphu has one of its restaurants named after the mushroom.
Farmers, those unemployed and office goers compose the army of collectors that forage the forest floor. If it is delicious, it also fetches a good price in the market. About 250 gram of Sese Shamu cost Nu 200- 250. It is cheaper in Paro with the same pack costing Nu 100 less.
But the popularity of the mushroom could one day leave no Sese Shamu in the forest. According to experts, the unsustainable harvesting of Sese Shamu could one day led to extinction of the fungi.
National Mushroom Centre's senior mushroom officer, Norbu said there are chances of Sese shamu getting extinct given the rush. Unlike Shitake, Sese Shamu cannot be grown at homes. Norbu said that commercializing Sese Shamu, growing in farms, is very expensive although not impossible. It is done in a few European countries, he added.
Norbu added that mushroom collectors are being trained on sustainable harvesting. But given the number of people collecting, it will be an uphill task for the centre to manage harvesting.
Even expatriate labouruers are collecting the mushroom given its demand.
The amount of Sese Shamu is already decreasing, according to collectors. Dawala from Khasarapchu who had been depending on the mushroom for some extra cash income said that it is becoming more difficult every year. "The quantity I collect is decreasing every year," he said.
Sonam, 65-year-old from Namseling said Sese shamu was collected only for self consumption in the past, but because of the price it fetches, more and more people are collecting it. A Babesa local said that he would collect enough for a meal in an hour a decade ago. "Now you can't get the same amount in a day," he said. "Sese Shamu is disappearing."
Sese shamu grows in clusters in mossy coniferous forests, but are also often found in mountainous birch forests and among grasses and low-growing herbs.
The mushroom is relatively high in vitamin C, potassium and are among the richest sources of vitamin D. Scientific research has suggested that the golden chanterelle may have potent insecticidal properties that are harmless to humans and yet protect the mushroom body against insects and other potentially harmful organisms.
Chanterelles are common found in northern parts of Europe, North America, Central America, including Mexico, in Asia, including Turkey and the Himalayas (including Kashmir, Nepal, and Bhutan), and in Africa including Zambia Congo and Uganda.