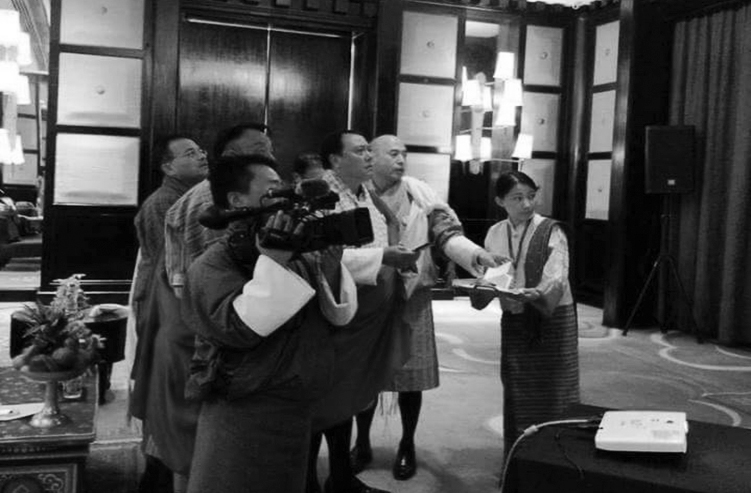 By Phurpa Wangmo
Inline with the national goal to encourage cashless economy and promoting financial inclusion, "Chharo", the first mobile-wallet was launched on Friday by the Bank of Bhutan (BoB) in Thimphu.
Chharo is an e-wallet app allowing anyone – including tourists and visitors with a smart phone to make simple and secure digital payments across devices and channels. The users need not have a bank account to be registered and use the app.
"The main difference between a mobile banking app (like mBoB) and an e-wallet app (like Chharo) is that a mobile banking app is linked to a bank account while an e-wallet is not," the press release from the Bank stated.
"The Chharo app will provide a marketplace model bringing business sellers and buyers on a single platform and advance e-commerce in the Kingdom."
"The app can be downloaded and used immediately after completing a simple registration process based on the registered mobile number of the user. It is available for free download on both Android and iOS platform," added the press release.
The Chief Executive Officer of the Bank, Pema Nadik said that, "Chharo launch is significant as we hope to change the way people shop pay and generally conduct financial transactions with this new digital financial service."
"As the name suggests, Chharo is intended to be a friend to everyone. This is the reason that we have intentionally kept it "brand agnostic" so that it is not identified as a service of any particular bank but of the banking sector of Bhutan," he added.
Chharo is interfaced with the Royal Monetary Authority's (RMA), Bhutan Immediate Payment Services (BIPS) gateway making it interoperable between all banks in the Kingdom. "This is a unique feature of Chharo not usually found in e-wallet apps in other countries."
"This feature enables a user to load money into Chharo from any bank in Bhutan while tourists can load the wallet using their debit or credit cards. A feature to transfer money to any bank account from Chharo is also being developed and will be available soon," according to the press release.
Features in the Chharo app includes online shopping, wallet transfers, mobile top up service (currently B-Mobile and T-Cell to be introduced soon, hotel and table bookings, add money, accept money into wallet, pay money,thumb print authentication for any transaction through wallet app and independent Seller app – separate seller app to upload and sell their products.
Other features such as bus ticket booking, movie ticket booking, paying traffic fines, cash deposit over the counter to the wallet account and bill payments (Cable TV and BPC bills) will also be introduced on Chharo soon. Chharo will also provide payment options for G2C services where possible.
Most importantly, the Chharo app is aimed at promoting financial inclusion in the country and provide a convenient platform for financial services fort the unbanked population thereby bringing them into the financial ecosystem.