… 𝙖 𝙫𝙚𝙧𝙨𝙖𝙩𝙞𝙡𝙚 𝙖𝙣𝙙 𝙥𝙖𝙨𝙨𝙞𝙤𝙣𝙖𝙩𝙚 𝙨𝙞𝙣𝙜𝙚𝙧
Dechen Wangmo, a popular Bhutanese singer who has a large fan base on social media. It all began with the Himalayan music Festival in 2020 with her performance which secured a spotlight in the entertainment industry.
Dechen Wangmo from Bumthang shares her passion as a musician. She pursued Masters Degree in Public Administration from University of Hawaii at Manoa, Hawaii, USA.
She has been on and off music-making since she has been a civil servant till date. "I hope to dedicate more time to music from now on," she said.
Her recent song can be seen on Musical Video with Raju Lama who is also well known Nepali singer and also one of the judges of "The Voice of Nepal".
Her versatile and passionate voice bedazzles listeners with Bhutanese Contemporary, Classical, Hymn, English, Tibetan and Nepali Songs.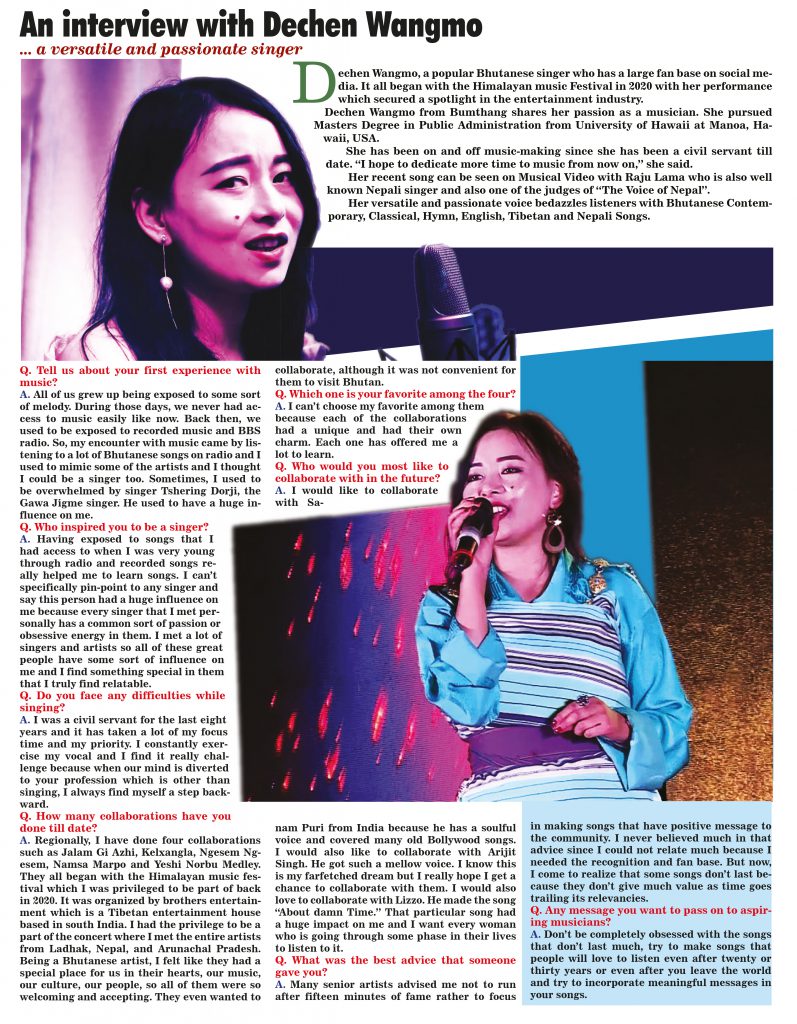 Q. Tell us about your first experience with music?
A. All of us grew up being exposed to some sort of melody. During those days, we never had access to music easily like now. Back then, we used to be exposed to recorded music and BBS radio. So, my encounter with music came by listening to a lot of Bhutanese songs on radio and I used to mimic some of the artists and I thought I could be a singer too. Sometimes, I used to be overwhelmed by singer Tshering Dorji, the Gawa Jigme singer. He used to have a huge influence on me.

Q. Who inspired you to be a singer?
A. Having exposed to songs that I had access to when I was very young through radio and recorded songs really helped me to learn songs. I can't specifically pin-point to any singer and say this person had a huge influence on me because every singer that I met personally has a common sort of passion or obsessive energy in them. I met a lot of singers and artists so all of these great people have some sort of influence on me and I find something special in them that I truly find relatable.

Q. Do you face any difficulties while singing?
A. I was a civil servant for the last eight years and it has taken a lot of my focus time and my priority. I constantly exercise my vocal and I find it really challenge because when our mind is diverted to your profession which is other than singing, I always find myself a step backward.

Q. How many collaborations have you done till date?
A. Regionally, I have done four collaborations such as Jalam Gi Azhi, Kelxangla, Ngesem Ngesem, Namsa Marpo and Yeshi Norbu Medley. They all began with the Himalayan music festival which I was privileged to be part of back in 2020. It was organized by brothers entertainment which is a Tibetan entertainment house based in south India. I had the privilege to be a part of the concert where I met the entire artists from Ladhak, Nepal, and Arunachal Pradesh. Being a Bhutanese artist, I felt like they had a special place for us in their hearts, our music, our culture, our people, so all of them were so welcoming and accepting. They even wanted to collaborate, although it was not convenient for them to visit Bhutan.

Q. Which one is your favorite among the four?
A. I can't choose my favorite among them because each of the collaborations had a unique and had their own charm. Each one has offered me a lot to learn.

Q. Who would you most like to collaborate with in the future?
A. I would like to collaborate with Sanam Puri from India because he has a soulful voice and covered many old Bollywood songs. I would also like to collaborate with Arijit Singh. He got such a mellow voice. I know this is my farfetched dream but I really hope I get a chance to collaborate with them. I would also love to collaborate with Lizzo. He made the song "About damn Time." That particular song had a huge impact on me and I want every woman who is going through some phase in their lives to listen to it.

Q. What was the best advice that someone gave you?
A. Many senior artists advised me not to run after fifteen minutes of fame rather to focus in making songs that have positive message to the community. I never believed much in that advice since I could not relate much because I needed the recognition and fan base. But now, I come to realize that some songs don't last because they don't give much value as time goes trailing its relevancies.

Q. Any message you want to pass on to aspiring musicians?
A. Don't be completely obsessed with the songs that don't last much, try to make songs that people will love to listen even after twenty or thirty years or even after you leave the world and try to incorporate meaningful messages in your songs.