By Tshering
Motorist using the expressway, be careful! There is a trap waiting for you near the Changbandu flyover.
The trap is a huge pothole, about two meters in diameter and 20 centimeter in depth. It can easily damage a car coming at full speed or cause an accident anytime soon. It is a distraction, traffic slower and an accident waiting to happen.
The pothole, at the diversion near the flyover bridge is growing by the day as authorities responsible, many of whom drive the same way are enjoying the honeydew of slumber.
Motorists are eyeballing at each other every morning when they reach the area. Those taking the diversion towards Changbandu indicate to align left, but on seeing the pothole steers slightly to right to avoid the trap. Vehicles coming from behind see the indicator and continue almost banging the tail of the car in front. "It is quite a scene in the morning," says an office goer waiting at the city bus stop near the pothole.
The pothole had been there for months and it is growing by the day. When it rains, it becomes an easy trap. Motorists, especially those coming from outside Thimphu, cannot see it. They can only curse whoever is responsible for the maintenance of the expressway.
Taxi Driver, Tandin says he hates taking the diversion, as it is risky. "We are taxi and cannot help when passengers wants to go towards Changzamtog," he says. "It is an accident in waiting. Mind my words. There will be accidents here."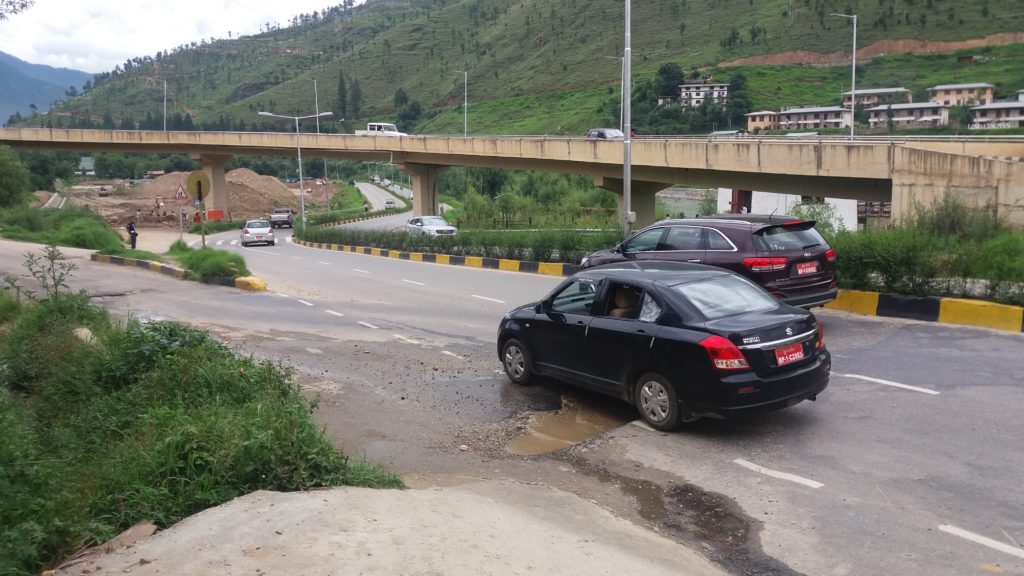 Traffic Official on site said they had informed about the issue to Thromde office few weeks back and we are waiting for their action to take place. The officials said traffic is affected every morning and evening during rush hour. "We cannot penalize drivers for obstruction of traffic as they are saving their cars from getting damaged." So far, he had not seen an accident fortunately.
Another taxi driver said he damaged the bumper of his taxi when he didn't see the pothole.
A hospital employee in Paro on his visit to Thimphu said he didn't see the pothole as it was filled with water and thought it was small hole. "The moment I crossed it, I heard a huge bang and had to stop to see any damages and bend was seen below the car."
Meanwhile, the pothole was temporarily filled with sand and gravel on Friday.