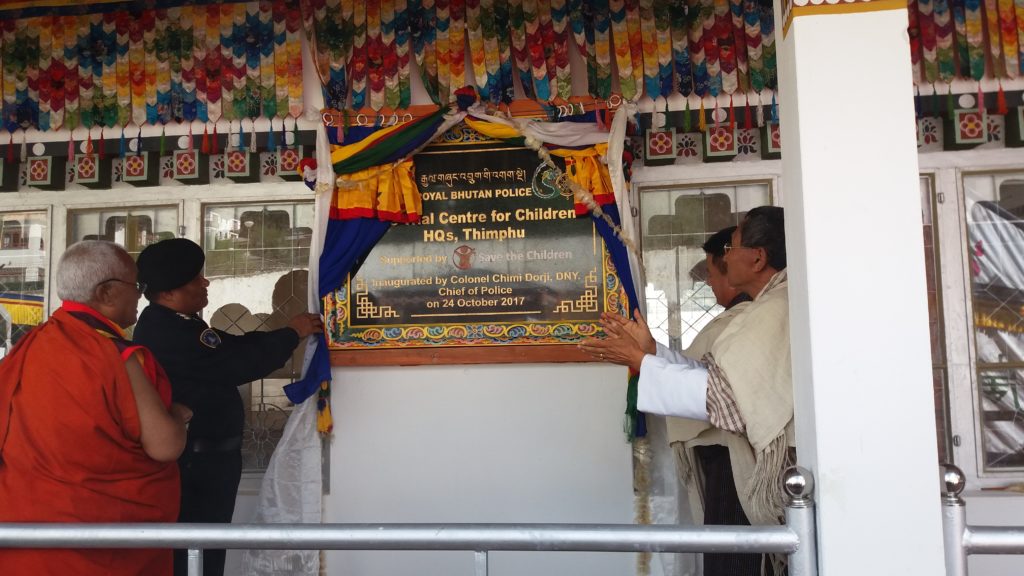 By Dhicksha Darnal
People coming into conflict with the law is increasing every year, which is escalating unavoidable challenges for Royal Bhutan Police (RBP) to mange overcrowding in detention rooms and providing space especially for women and children.
Though, women and children are small minority of the prison population, their needs and rights are hardly fulfilled.
Children who are arrested and detained for alleged wrong doing are often not given the protections they are entitled under the Convention on the Rights of the Child. The international prohibition on detaining children with adults is often violated.
However, the vast majority of juveniles are imprisoned for non-violent offenses, and the system has started working to rehabilitate these youth while they are still young by providing separate pre-trial detention centers.
Save the Children has been working with the Royal Bhutan Police (RBP) to enhance their skills in dealing with children in conflict with the law and in rehabilitating these children and children in difficult circumstances. Children who are kept in the pre-trial centers during the investigation are provided with child friendly atmosphere through safe, comfortable accommodation, separate from adult offenders.
In the inauguration of Pre-Trial Center for Children on 24th in Thimphu, the Chief of Police, Col Chimi Dorji said, "For the first in the history of policing in Bhutan, this generous assistance made it possible for RBP by Save the Children and UNICEF to treat women and children cases separately and for the first time, we were able to give women and children the dignity that they deserve. We have established women and child friendly desk in the division and have specialized officers and men to handle this sensitive issues. "
Juvenile who enter adult prisons, lose more than their freedom, they lose out on the educational and psychological benefits offered by juvenile detention facilities. Worse, they are much more likely to suffer psychological abuse, bully and violence at the hands of other inmates.
"It also exposes children to risk of abuse by adult offenders and children are at high risk of learning more hardened criminal behaviors from the adult offenders if kept together," said Bishal Rai, an official from Save the Children.
"Save the Children also takes initiative to mitigate juvenile crimes by fostering mutual partnerships between the police and youth and to bring about behavioral change specific to their common habits and tendencies that could otherwise lead to conflicts with the law. The ultimate objective is to reduce involvement of children, both as perpetrators of crimes against other children (or adults) and also as victims of crimes," the official added.
Major Karma Rigzin of Women and Child Protection Division (WCPD), Crime and Operation RBP said that institutionalizing a child to any institution should be the last resort. "Unless very necessary, we only detain children. When we detain for minor crime, there is risk of psychological effect on a child."
"We have separate detention centers for juvenile in Thimphu, Puntsholing and Paro as crime rate is high in these areas. If they are convicted, then the court will send the children to Youth Development and Rehabilitation Centre (YDRC) were they are allowed to continue their education with other student so they don't grow with stigmatization that they are criminals."
"RBP in collaboration with National Commission for Women and Children (NCWC) will work for the best interest of a child."
"Though, the child made a mistake, he deserves a second chance. We are trying to mainstream them into the society," the Major added.
The rehabilitative methods that are used in the pre-trial detention center and YDRC which is at Tsimasham, Chukha, include group therapy and family counseling and drug abuse treatment programs. Recreational facilities, vocational and skill training as rehabilitative methods are also provided to help juvenile delinquents re-enter back into society. Access to visits from friends and family and emotional support they can provide has advocated strongly for family involvement.
Juveniles who violate the law need to be held accountable. However, placing them with adult criminal in same shell has shown to do further damage to juveniles and priming them for recidivism. Inaugural of separate pre-trial detention centers is a milestone in bringing positive change in the system.