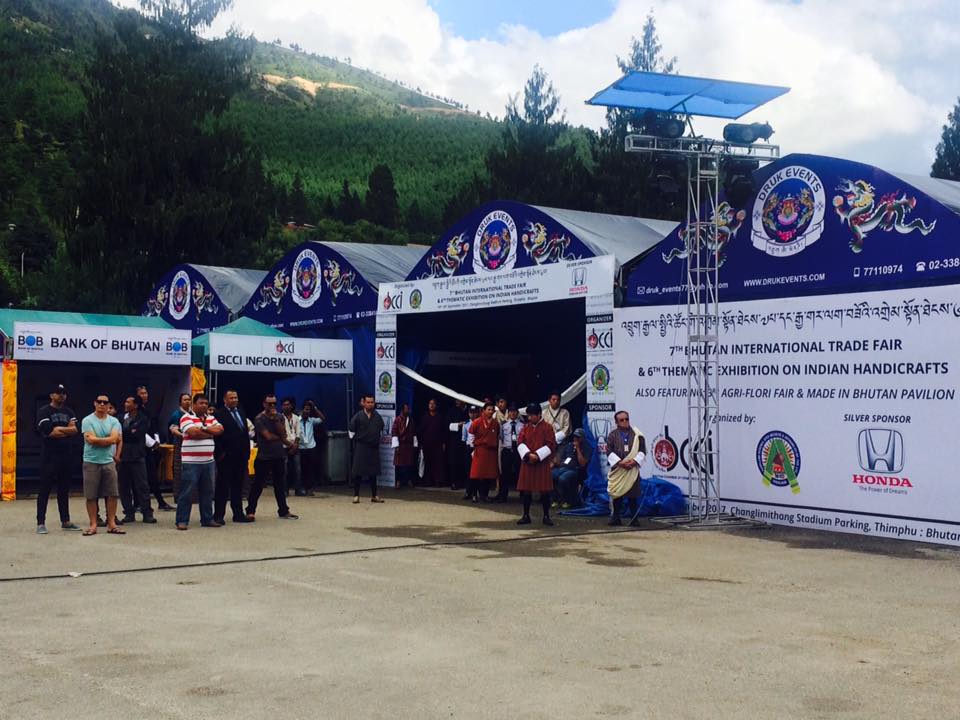 By Tshering
This year for the first time together with the International Fair, Bhutan Chamber of Commerce and Industry (BCCI) is organizing the 'Made in Bhutan' fair to promote the locally produced Bhutanese goods and services to the domestic market and international visitors. The exhibition shall enable the participants as well as the visitors to witness various products and services from the local entrepreneurs.
A total of 234 companies are participating in the 7th International Trade Fair 2017 at the Changlingmithang stadium parking which began on Friday in the capital.
The event has 32 companies from Bhutan, 102 from Nepal, 88 from India and two from Thailand. The fair is showcasing local textiles, arts, handicraft products, agriculture related tools and many more.
Bhutan International Trade Fair is the largest annual event that brings together both local and international exhibitors with a range of products and services under one roof. It is aimed to promote trade and investments opportunities through B2B meet and one to one interactions.
BCCI vice secretary Tandin Wangchuk said that the fair is unique because the thematic exhibition on 'Made in Bhutan' is being organized for the first time by the BCCI with a vision to promote the locally produced Bhutanese Goods and services to the local market and international visitors
In the same platform, third Agri Flori fair themed for Sustainable Growth and Self Reliance will showcase farm machineries, food processing and packaging machinery, meat processing and packaging technologies among others.
With a display of new and high tech plants machinery, it is aimed to enhance agriculture productivity to attain food self-sufficiency and promote food security in the country.
During the fair, Sixth Thematic Exhibition on Indian handicraft will exhibit handicrafts and bamboo products from Assam. The exotic textiles of Assam will be showcased in the fashion show and cultural events in the evening programs. The Bodoland Regional Apex Weavers and Artisan Cooperatives Federation Limited (BRAWFED) is supporting this thematic exhibition.
The fair was graced by Foreign Minister Namgay Dorji and delegates from India.
The Bhutan Chamber of Commerce and Industry (BCCI) is organizing the event along with three thematic exhibitions featuring "Made in Bhutan", "Third Agri Flori Fair" and "Sixth Thematic Exhibition on Indian handicrafts" all under one platform.