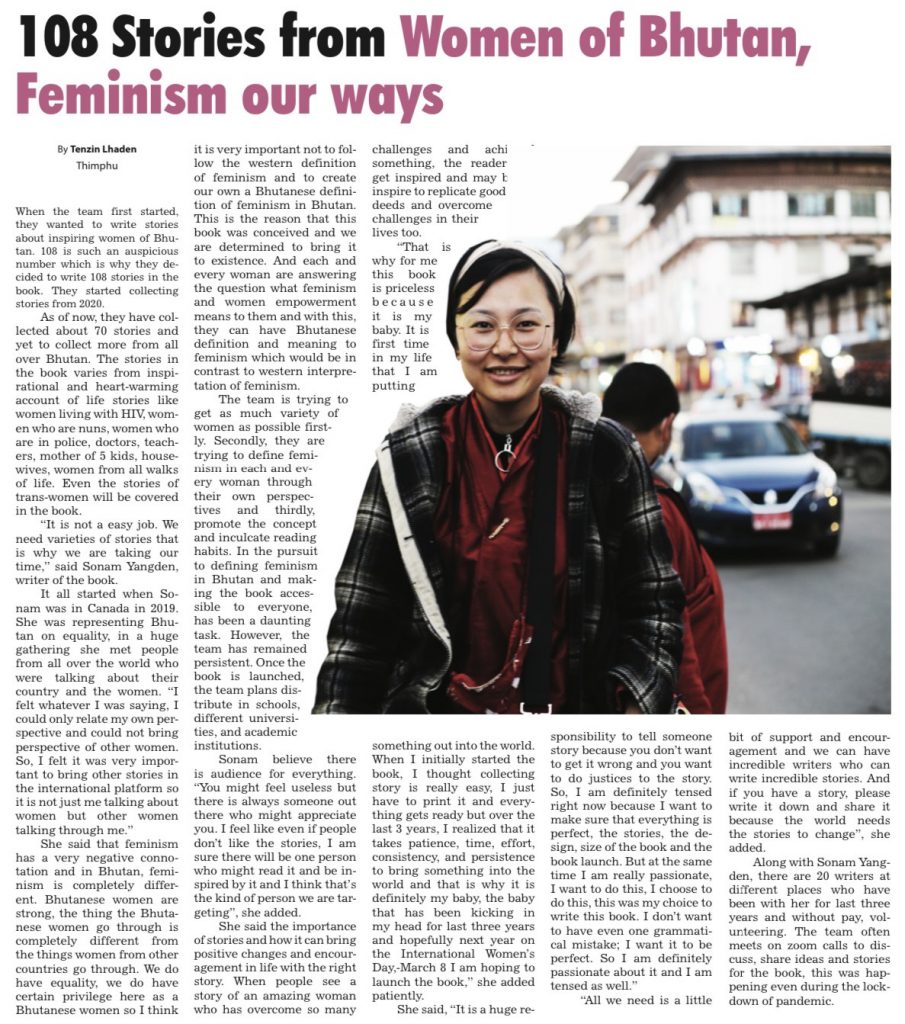 By Tenzin Lhaden
When the team first started, they wanted to write stories about inspiring women of Bhutan. 108 is such an auspicious number which is why they decided to write 108 stories in the book. They started collecting stories from 2020.
As of now, they have collected about 70 stories and yet to collect more from all over Bhutan. The stories in the book varies from inspirational and heart-warming account of life stories like women living with HIV, women who are nuns, women who are in police, doctors, teachers, mother of 5 kids, housewives, women from all walks of life. Even the stories of trans-women will be covered in the book.
"It is not a easy job. We need varieties of stories that is why we are taking our time," said Sonam Yangden, writer of the book.
It all started when Sonam was in Canada in 2019. She was representing Bhutan on equality, in a huge gathering she met people from all over the world who were talking about their country and the women. "I felt whatever I was saying, I could only relate my own perspective and could not bring perspective of other women. So, I felt it was very important to bring other stories in the international platform so it is not just me talking about women but other women talking through me."
She said that feminism has a very negative connotation and in Bhutan, feminism is completely different. Bhutanese women are strong, the thing the Bhutanese women go through is completely different from the things women from other countries go through. We do have equality, we do have certain privilege here as a Bhutanese women so I think it is very important not to follow the western definition of feminism and to create our own a Bhutanese definition of feminism in Bhutan. This is the reason that this book was conceived and we are determined to bring it to existence. And each and every woman are answering the question what feminism and women empowerment means to them and with this, they can have Bhutanese definition and meaning to feminism which would be in contrast to western interpretation of feminism.
The team is trying to get as much variety of women as possible firstly. Secondly, they are trying to define feminism in each and every woman through their own perspectives and thirdly, promote the concept and inculcate reading habits. In the pursuit to defining feminism in Bhutan and making the book accessible to everyone, has been a daunting task. However, the team has remained persistent. Once the book is launched, the team plans distribute in schools, different universities, and academic institutions.
Sonam believe there is audience for everything. "You might feel useless but there is always someone out there who might appreciate you. I feel like even if people don't like the stories, I am sure there will be one person who might read it and be inspired by it and I think that's the kind of person we are targeting", she added.
She said the importance of stories and how it can bring positive changes and encouragement in life with the right story. When people see a story of an amazing woman who has overcome so many challenges and achieved something, the readers do get inspired and may be, inspire to replicate good deeds and overcome challenges in their lives too.
"That is why for me this book is priceless because it is my baby. It is first time in my life that I am putting something out into the world. When I initially started the book, I thought collecting story is really easy, I just have to print it and everything gets ready but over the last 3 years, I realized that it takes patience, time, effort, consistency, and persistence to bring something into the world and that is why it is definitely my baby, the baby that has been kicking in my head for last three years and hopefully next year on the International Women's Day,-March 8 I am hoping to launch the book," she added patiently.
She said, "It is a huge responsibility to tell someone story because you don't want to get it wrong and you want to do justices to the story. So, I am definitely tensed right now because I want to make sure that everything is perfect, the stories, the design, size of the book and the book launch. But at the same time I am really passionate, I want to do this, I choose to do this, this was my choice to write this book. I don't want to have even one grammatical mistake; I want it to be perfect. So I am definitely passionate about it and I am tensed as well."
"All we need is a little bit of support and encouragement and we can have incredible writers who can write incredible stories. And if you have a story, please write it down and share it because the world needs the stories to change", she added.
Along with Sonam Yangden, there are 20 writers at different places who have been with her for last three years and without pay, volunteering. The team often meets on zoom calls to discuss, share ideas and stories for the book, this was happening even during the lockdown of pandemic.