As Chair of the Small States Forum Lyonpo Namgay Tshering delivered the opening statement and moderated the virtual SSF. The Forum shed light on the multifarious challenges confronted by Small States due to the impacts of COVID-19 pandemic, the war in Ukraine and increasing threats from climate change.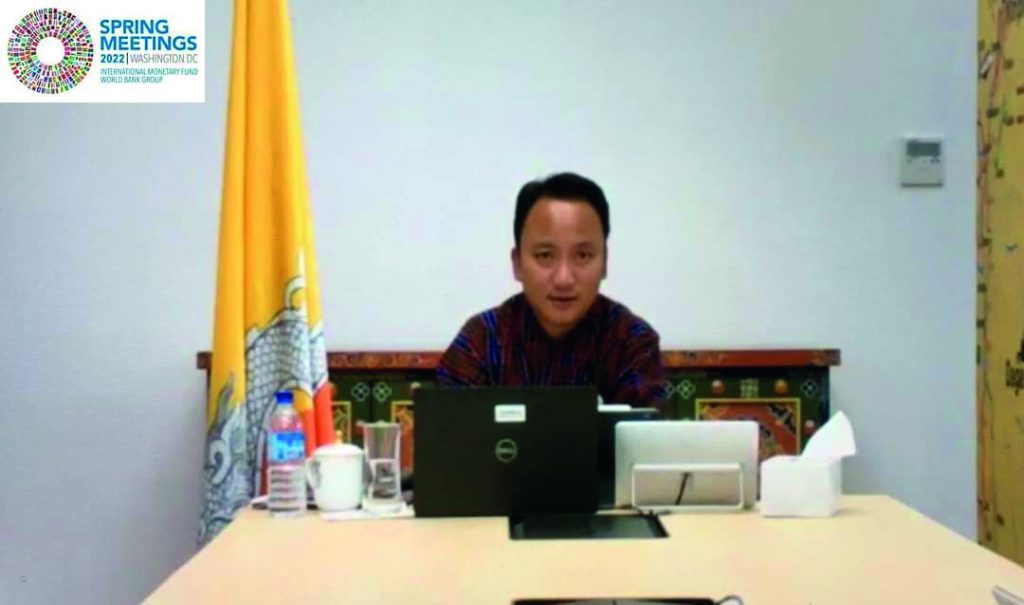 The way forward to build back better and need for development financing were also discussed. Finance Ministers and Central Bank Governors from small states will meet on the sidelines of the World Bank Group, IMF Spring Meetings for the 2022 Small States Forum.
SSF provides an opportunity to exchange experiences and discuss the challenges that members face on the economic front, ways to safely re-opening economies, and how to lay the foundations for sustainable recovery.
Bhutan, for the first time, assumed Chairmanship of the World Bank Group's Small States Forum (SSF). The SSF is an important platform for high-level dialogue in the World Bank to address Small States' special development needs. The SSF comprises 50 members, including 42 countries classified as Small States (those with a population of 1.5 million or less), and eight other members with a population greater than 1.5 million that share similar challenges.
The agenda for the SSF are World Bank Group's support to Small States to address COVID-19 challenges, global economic outlook and prospects for recovery in Small States and overcoming learning losses in Small States and building resilient education systems.
More than one-fifth of World Bank members are countries with a population of less than 1.5 million. These countries—designated as Small States by the World Bank's definition—vary greatly in income levels, geography, and other features. But Small States grapple with common development challenges. Their domestic markets are small and located far away from large international markets. Economic growth is volatile. Financial pressures are massive, resulting in significant debt burden. Some small states are located on hundreds of tiny archipelagos in an open ocean, while others are landlocked. They are particularly prone to natural disasters, such as rising sea levels and extreme climatic events, which leave devastating impacts. A single cyclone or a hurricane can wipe out a small island's annual GDP, with the poor often suffering disproportionately. Tourism, the lifeline of many Small States, is especially vulnerable to the impacts of natural disasters, hurting foreign exchange earnings.
Since the COVID-19 pandemic, international tourism has collapsed, and vital expenditures continue to mount. Governments are struggling to protect people, inject cash into their economies, preserve jobs, and provide unemployment benefits. The year 2020 has brought a sharp decline in GDP and a large increase in poverty numbers in Small States. The World Bank estimates that Small States' contracted by 7.1 percent compared to 1.7 percent for all emerging markets and developing economies. The recovery is expected to be prolonged and extensive.