In an exclusive interview with Bhutan TODAY, Sherab Namgay, the Managing Director of Bhutan Board Products Limited talks about BBPL's Wood Mulch Manure – 'Greenure', its pricing schemes, production capacity and the endeavor to complement the country's National Organic Flagship Project, additionally, the Managing Director also talks about the automation of the plant to blend a greater yield of organic manure in the future.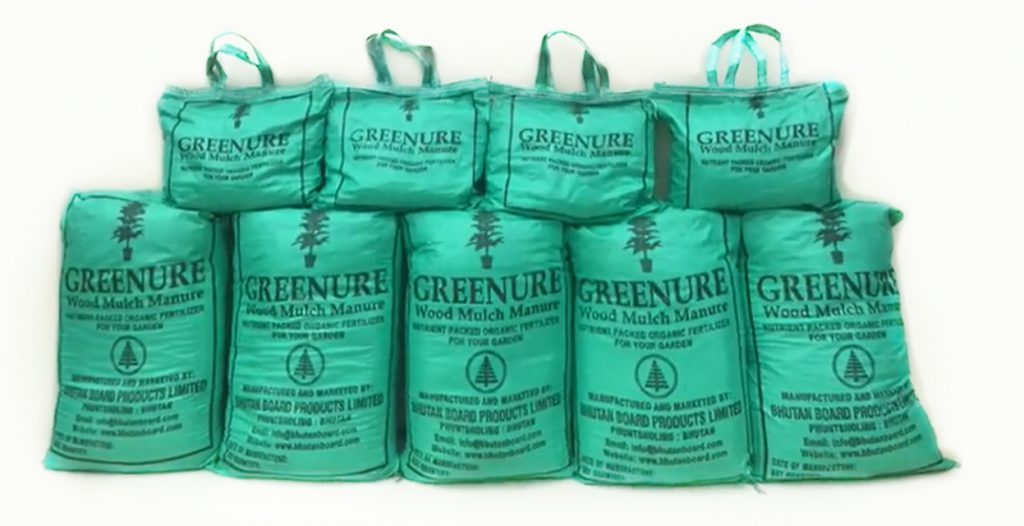 Why choose 'Greenure'?
Greenure is a nutritionally balanced organic fertilizer that is made from the 33-year-old decomposed wood mulch, wood fired boiler ash and natural cow dung. Besides the macronutrient Nitrogen, Phosphorus and Potassium (NPK), Greenure contains other micronutrients such as carbon, zinc, sulphur and magnesium that is generally not available in chemical fertilizers.
Greenure contains organic materials and nutrients that improves the soil texture, allowing it to hold water longer, and increase the bacterial and fungal activity in the soil. So, they not only assist your plants, they help the soil. Synthetic fertilizers, on the other hand, deplete the soil of its nutrients, making it unproductive.
The obvious reason to choose Greenure is that it is produced in our country using our own manpower and natural resources, free of chemicals and synthetic additives that destroys soil fertility. The quality organic manure is available at affordable prices too.
Bhutan has been facing a shortage of fertilizers for a long time, how will Greenure offset the deficit of fertilizers, and how will the establishment of Greenure contribute towards The National Organic Flagship Project?
There are about 19 producers of organic manure in Bhutan with BBPL being the largest and the recent demand estimate of organic manure in Bhutan is in excess of 132,000 metric tons. Given a huge demand and low supply, there is huge deficit most of which is met through import of chemical fertilizers.
BBPL's current capacity is 4 MT daily which is a minuscule given the demand size but we can fill the gap to a certain extent by enhancing the capacity, if there is a demand. However, we can do good service by automating the plant that would increase the output to a great extent. Unlike other domestic producers, BBPL do not have issue with supply of raw materials as we have huge deposits.
Greenure as a pure organic manure will help National Organic Flagship Project in making organic inputs accessible and affordable to organic farmers in the country. Such efforts not only reduce the imports but also ensure that the Government is able to achieve the goal of going organic in the long run.
The price of fertilizers has been a major issue, and as BBPL is set out to help the farmers, will Greenure try to bring down the pricing, and if there are any subsidies from the government to lower the prices of the fertilizers?
BBPL is going ahead with two-pronged pricing strategy, one for urban users who purchases manure in low quantity and other one for rural users who purchases manure in large quantities. As in any business, we will have affordable price point for urban customers, and separate price with steep discount for rural users. The ultimate goal is to help the farmers access the organic manure at affordable price.
BBPL will also welcome the government to provide subsidy to farmers to lower the final delivery price and also encourage the farmers to use such organic manure for the long term. Alternatively, government could help BBPL automate the plant to achieve economies of scale and dive down unit cost, the benefit of which can be passed to farmers. We will be more than happy to collaborate and help in this organic journey.
What is Greenure's manufacturing capacity? With BBPL's distributing repute, how is BBPL planning to distribute Greenure?
Currently, BBPL can produce 4MT of Greenure daily and in the event of good demand from the market, we can increase the production accordingly.
At present, we have distribution outlet in Thimphu, Tala and Phuntsholing and we are discussing with relevant agencies to make the organic manure accessible to farmers throughout the country. If the demand really picks up, we are prepared to make it available through our distributors in Dzongkhags or appoint additional channel partners, if necessary.
Quality is the essence of every product, and service; what are the quality checks for Greenure, and how do you rate Greenure?
BBPL believes in coming up with good quality product for sustainable business. For that to happen, we ensure that only quality inputs go in to get quality output. We have checked the quality of our product in a renowned laboratory in Kolkata which showed that the nutrient content of our manure meets the standards set for organic manure.
Going into the future, we intend to set up an onsite laboratory to check every batch of manure produced so that we are able to maintain the consistency in quality. Service wise, we intend to exceed the customer requirements in terms of delivery and advisory so that customers are able to fully reap the benefits of organic manure.
What is the one strategy, if implemented that would be a game-changer for 'Greenure'?
At present, the manufacturing process is largely carried out manually resulting in higher cost, lower output and more wastage. One strategy that could be a game changer would be 'operational excellence' through full automation of plant, which could significantly enhance the productive capacity. Automation will enable us to achieve economies of scale that would lower the cost structure and make the manure affordable to the general public. If the general public is able to access quality manure at affordable price, then everyone would start using organic manure and that would be very good for the country.
Do you think Greenure will be a sustainable business?
Sustainability of any business is largely dependent on demand and customer satisfaction, which is closely linked to quality, cost and service. If you are not able to satisfy customer needs, the business will die on its own. Given the motivation behind the Greenure business, BBPL is confident that the business will be sustainable. Production wise, BBPL will be able to ensure seamless supplies considering huge raw material deposit that is replaced on a daily basis for use in the future.
Considering that organic agenda is getting traction in Bhutan and around the world, Greenure is assured of its sustainability so long we are able to meet customers' expectation of cost, quality and service.