…zumba, a great way to improve your physical and mental health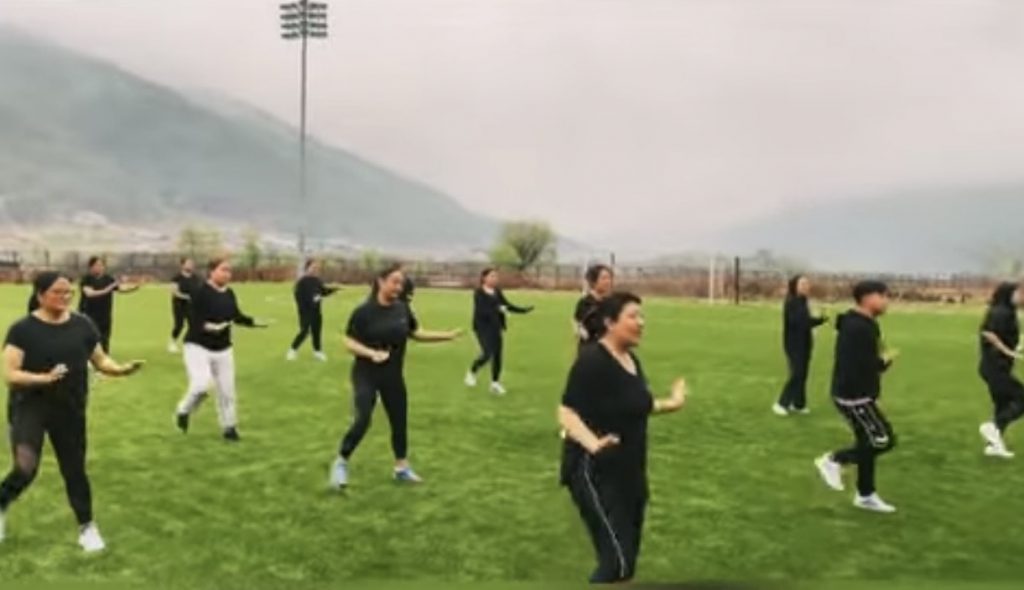 By Tenzin Lhaden
Thimphu
People in the country are taking body fitness in a serious way and it is clear from a rising number of individuals joining the zumba classes not just in Thimphu, but also in other regions.
Pema Wangchuk, Zumba instructor at Step in Fitness in Bumthang expressed that for him, Zumba is not simply a dance exercise program that has caught the attention of dance and fitness freak, yet it is more than that.
"Zumba improves overall mental fitness, as it melts away stress, boosts your mood and makes you joyful. It is more of a recreational thing," he said.
At Step In Fitness, there are 20 clients including morning and evening classes. The classes would begin with a warm-up song to warm-up a body and relax muscles.
According to him, Zumba is perfect for burning calories and will make zumbarers sweat for the entire class, as it is one of the activity programs that can give a full body exercise.
"In any case, the advantage of Zumba likewise includes confidence, better body coordination, and a clear mind," Pema added.
Furthermore, he said that Zumba classes provides judgment-free zone to experiment with movement. Moving with others expands their sense of self and social connectedness.
"On the off chance that you have struggled to come out of your shell to socialise, Zumba may be what you want to build confidence," he added.
Moreover, their dancing skills get to the next level.
Sonam Choden, 45 year-old woman from Jalikhar village, Bumthang is a Zumba student and she shares her experience of joining zumba.
She said that zumba have brought significant changes in her life.
"Eventually after joining Zumba, I felt comfortable with my body unlike before when I used to feel so awkward even to walk. It helped me meet my weight loss goals," she claimed.
Likewise, Tenzin Dema, a Zumba student said, "Before I was unable to go on a pilgrimage as I could not walk. Now, with joining Zumba, I can see certain changes on my body, like weight loss; my body feels lighter and can go everywhere."
Depika Adikari, a certified zumba instructor at Dzomba Fitness, Thimphu who was also an ex-health staff said that the Zumba has physical as well as mental health benefits and it is an excellent cardio workout too.
"In Dzomba fitness, we include cardio where participants are reaping cardiovascular benefits including lowering blood pressure and reducing risk of heart disease, dance moves are designed to enhance flexibility, balance, and strength, which is necessary for any individual to be fit physically," she said.
Moreover, it also has a mental health benefit.
"When an individual is stressed, physical activities serve to reduce stress and cause our bodies to feel calm, happy and optimist," said Depika Adikari.
Dzomba has about 60 students including morning and evening sessions.
She said that Dzomba was mainly created in context of zumba but localized to dzongkha zumba.
"We dance on all types of dzongkha songs to promote local Bhutanese dance and music while maintaining our body," she said.
In this modern world, everyone wants to be fit. "And to be fit, from my personal experience, joining zumba is beneficial as our overall day becomes fresher. I can release my tension. Holistically it helps you physically and mentally", she added.
One of her clients who had joined Dzomba three months back said that she lost a lot of weight and her skin is getting better because she is perspiring while working out in the classes.
Moreover, she said that she now has much more energy and stamina as her entire body is getting stronger and she doesn't feel tired too easily as well.
"I tried to lose weight many times before joining Dzomba. I used to diet as well but some days, I lose a lot of weight and other days, gain a lot. I even tried gym but it was physically demanding and strenuous. But when I joined Dzomba, I realize I am actually working out and in that way it is really fun. I love dancing and as I follow the steps and choreograph, it is enjoyable and it is deigned to lose weight. I have been losing weight from the first month itself. My arms have become so much thinner and fit. I now weight below 60 from 70. Thanks to Dzomba Fitness," she added.
Samten Dema, a certified zumba instructor and the owner of Bajo Zumba, Wangdue Phodrang said, "Even though the pandemic had affected my business, I continued the fitness class because it has so many benefits to the clients. For instance, if your body feels stiff, zumba helps your body get flexible. It also helps reduce pressures. All in all, your body gets comfortable, which is why I am still continuing my fitness class".
Her student Patma Bhonjan said that after joining zumba her body feels so comfortable.
"I joined zumba on August. Since then, I have been losing weight and it feels so comfortable while walking unlike before when I feel so inactive. I was 68 before joining zumba, and I now weigh 61. I am happy about that. All thanks to Zumba," Said Patma.
"Zumba is a physical activity. They have a graded activity from slow to fast and harder exercise. Thus, it certainly improves physical functions of the body-overall body's strength, balance, and coordination will be improved." said Karma Phuntsho, Physiotherapist, Jigme Dorji Wangchuck National Referral Hospital, Thimphu.
"In case of mental wellbeing, it has significant benefit as it helps the physical component of the body; anyone who does Zumba enjoys doing it. So, without any doubt it improves mental function and also improves health of a brain. When brain health is improved, blood supply improves and automatically brain function will improve. This is called cognitive function. That being the case, it ultimately translates to mental wellbeing and mental health." he added.