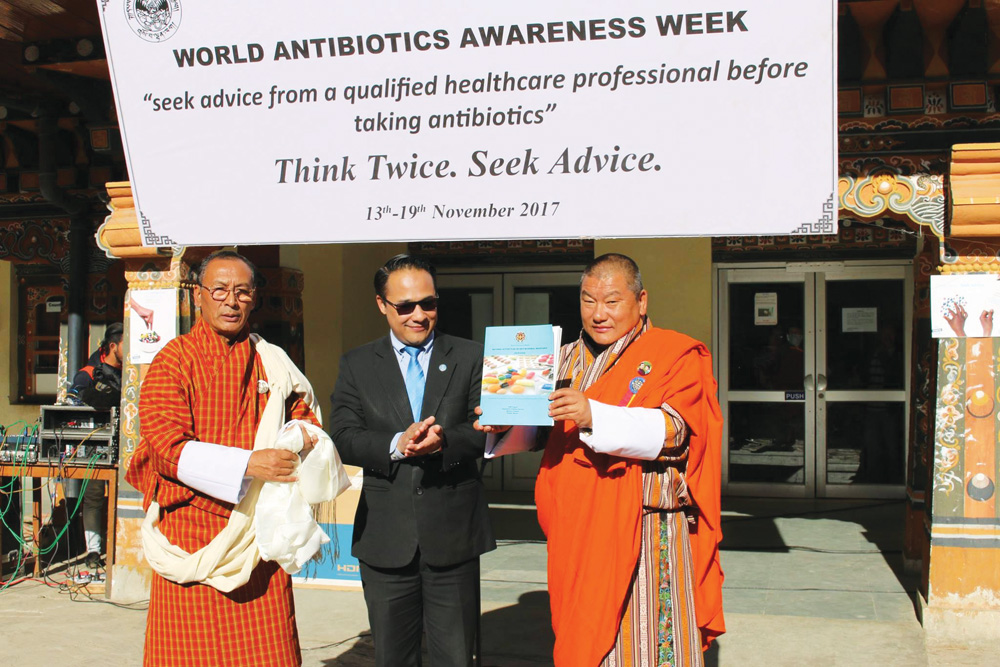 By Staff Reporter
Bhutan joins the global community to observe the World Antibiotics Awareness Week (WAAW) with a theme, 'Seek advice from a qualified healthcare professional before taking antibiotics' by advocating general public on the increasing threat of Antimicrobial Resistance (AMR).
Ministry of Health in collaboration with the World Health Organization observed the World Antibiotics Awareness Week 2017 on Friday at Jigme Dorji Wangchuck National Referral Hospital. The event was graced by Agriculture Minister, Yeshey Dorji. As part of the observation, National Action Plan on Antimicrobial Resistance, 2018-2022 was also launched.
Antibiotics are essential for treating bacterial diseases and have saved millions of lives; however its inappropriate use can lead to resistance with serious implications. AMR is resistance of a microorganism to an antimicrobial drug that was originally effective for treatment of infections caused by it which over the past years has emerged as a global concern for both human and animal health. The economic consequences of AMR constitute a heavy burden mainly to the middle and low-income countries.
A recent report by the World Bank states that a high-impact scenario of AMR could cause low income countries to lose more than 5 percent of their GDP and push up to 28 million people in to poverty by 2050. Misuse of antimicrobials has been recognised as one of the main causes.
It is important to note that the impact of antimicrobial resistance go beyond human health, including animal health, agriculture, food security and economic development. Therefore, the need for an integrated approach at global, regional and national level through 'One Health' approach is crucial.
Recognizing the eminent danger of AMR, several resolutions have been passed by WHO. Jaipur Declaration on AMR to which Bhutan is a signatory reflects the commitment of governments in the South-East Asian region. Although in Bhutan, activities to contain AMR has are being carried out, there is a need to further strengthen and streamline the ongoing activities.
Infections caused by multi-drug resistant pathogens are increasingly becoming untreatable with available arsenal of antimicrobials. In Bhutan, resistance to critical antibiotics reported in some of the pathogens are responsible for a range of life threatening infections. One such example is rise in multi-drug resistant tuberculosis which is a concern.
According to a spokesperson, in Bhutan, the use of antibiotics is mainly restricted to government hospitals and veterinary centers so combating AMR is not difficult as compared to other countries. He added that only a small fraction of antibiotics are sold from the private pharmacies which is well regulated and there is also a minimal use of antibiotics in agriculture sector. 'However, Bhutan needs to ensure the rational use of antibiotics and enhance public awareness,' he added.
In order to align the global efforts, the Ministry of Health (MoH) and the Ministry of Agriculture and Forests jointly with other stakeholders have launched the National Action Plan to combat AMR. The plan to be implemented from 2018 until 2022 will promote rational use of antimicrobials through effective antimicrobial stewardship programs, surveillance of AMR in important pathogens and its monitoring, public education and sound regulation of sale of antibiotics. Both ministries have committed to continue taking the lead role in combating AMR.
Officials from the Drug Regulatory Authority, WHO, FAO and from ministries of health and agriculture and forests attended the WAAW event today organised by MoH and WHO. Similar event was also held in Mongar, Gelephu and Phuentsholing which helped to raise awareness on best practices for antibiotics and how to reduce the risks of bacteria becoming resistant to antibiotics and prolong their effectiveness.