BKP's event see at least a hundred women to show support for the party led by Dasho Neten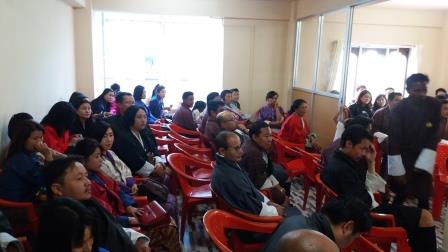 By Tshering
If the number of women who came for the Bhutan Kuen-Nyam Party's (BKP) launch of office bearers was any indication, women power is at play.
One Wednesday, more than 100 women gathered at the launch of BKP's dzongkhag office at Taba, Thimphu.
Jamphelmo, a 75-year-old from Khoma, Lhuentse said she had seen two prime ministers and a first woman prime minister would be exciting before her death. "There is no better option than Dasho Neten Zangmo," she said making her choice open.
She added that in the olden days, woman always stayed at home and left everything to men. "Times have changed, I never thought we would live to see a woman lead the country," said the village elder who is already assuming Dasho Neten to be the next prime minister.
Sangay Om from Trongsa said the contribution of Dasho Neten Zangmo towards the country has not only inspired her but almost all the generation of women. "We know how she worked. She will bring change to this country," she said.
Representing south Bhutan, although informally, Phul Maya from Tsirang said the capabilities and attitude towards nation building has attracted her to the party. "I have come to show my support."
Dr Neopuni a Gelephu resident said that BKP's overall party policy and principles attracted him to support the party since 2013 and will continue to support.
During the launch, the registered member's casted votes to select the party's office bearers and out of 104 votes the former Anti-Corruption Commission (ACC) Chairperson Dasho Neten Zangmo secured 102 votes and was formally elected as the party President.
The founding President, Sonam Tobgay, was elected the Vice President; Thinley Dorji was elected as the General Secretary and Karma Jimba as Treasurer. All elected office bearers were lone candidates. The newly elected office bearers took an oath of allegiance after their election in front of the party members and members of the press.
During the event, Dasho Neten Zangmo thanked all the members and urged for continues support and promised to give 205 percent and work together. She added that BKP will make every effort for not for five years but beyond five years in the best interest of the nation.
She said their work should not benefit individuals. "If you have trust and confident, we should not fear for anything" she said.
The party's website and Facebook page were also launched and BKP was registered in 2013.