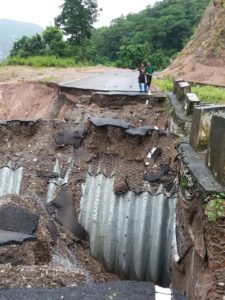 By Tshering
The heavy rain in the past two weeks has damaged irrigation channels, washed away bridges and caused havoc to numerous roads in the country.
While most of the roadblocks were cleared, an assessment by the Department of Disaster Management show that heavy monsoon rains caused major roadblocks around the country affecting the transportation system in all the dzongkhags.
As per the report, most of the irrigation channels damaged were in Punakha, Trashiyangtse and Tsirang. With the help of dzongkhag and gewog office temporary irrigation channel were made using sand bags.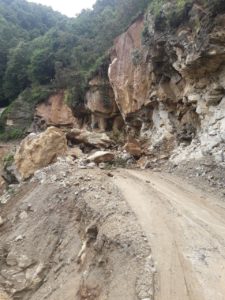 The rain also washed away a RCC bridge and cemented base wooden bridge in Trashiyangtse. The local people constructed a temporary log bridge. An excavator for construction was damaged.
In Dophuchew gewog in Samtse a house was damaged due to landslide and gewog administration office asked to vacate the house and informed BPC regarding the risk of electric pole.
In Tsirang a temporary shelter was damaged by heavy landslide and three family members were evacuated to safer shelter. A house in dzomling chewog under shemjong got collapsed due to mudslide.
In Logchina gewog in Chukha, Chongshing in Pemagatshel and Saliambi in Mongar road were cut off due to landslide. It is expected to take more than 10 days to restore normal transportation.
The many roadblocks that had occurred across the country have been cleared, but due to continuous rain, travellers are requested t be cautious.
The Road Safety and Transport Authority's Chief Transport Officer, Karma Pemba, said there have been several public transport services cancelled due to roadblocks and due to landslides and falling boulders.
He also advice that people living near the mountain slopes and in the low laying areas near rivers systems are advised to be alert for possible flash floods and landslides.
Police Officials said people need to cross check with RSTA or police to travel in and outside during this monsoon season to avoid further incidences.
Dewathang received the highest recorded rainfall at 66.6 mm on July 10. The lowest was recorded in Wangduephodrang at 5.4 mm.