…..𝒏𝒆𝒘 𝒕𝒆𝒄𝒉𝒏𝒐𝒍𝒐𝒈𝒚 𝒎𝒐𝒅𝒖𝒍𝒂𝒓 𝒔𝒕𝒆𝒆𝒍 𝒃𝒓𝒊𝒅𝒈𝒆𝒔 𝒊𝒏 𝑲𝒂𝒏𝒂 𝒂𝒏𝒅 𝑻𝒔𝒉𝒆𝒑𝒉𝒆𝒍 𝒘𝒊𝒍𝒍 𝒃𝒆 𝒕𝒉𝒆 𝒇𝒊𝒓𝒔𝒕 𝒕𝒘𝒐 𝒃𝒓𝒊𝒅𝒈𝒆𝒔 𝒐𝒇 𝒊𝒕𝒔 𝒌𝒊𝒏𝒅 𝒊𝒏 𝑩𝒉𝒖𝒕𝒂𝒏
Sonam Deki

A modular steel bridge using innovative technology has been newly designed to support two-way traffic and has started construction in Kana and Tshephel, Uesu gewog in Haa. The bridges are on two rivers at Kana and Tshephel connecting Chuzom to Haa highway.

The most common bridges constructed in Bhutan today are Bailey, Concrete, Steel truss and Prestressed concrete bridges while these two bridges will be the first of their kinds in Bhutan.

The cost for construction of one bridge including the abutments is estimated at Nu 54.7 million, amounting to total sum of Nu. 109.4 million on two bridges.

A modular steel bridge is designed to carry the weight of vehicles. Strong and lightweight, these bridges allow you to bridge a road over a stream, railroad, or gulch inexpensively and easily. Modular steel bridges are designed to carry standard highway loads and they can be single or multiple lanes.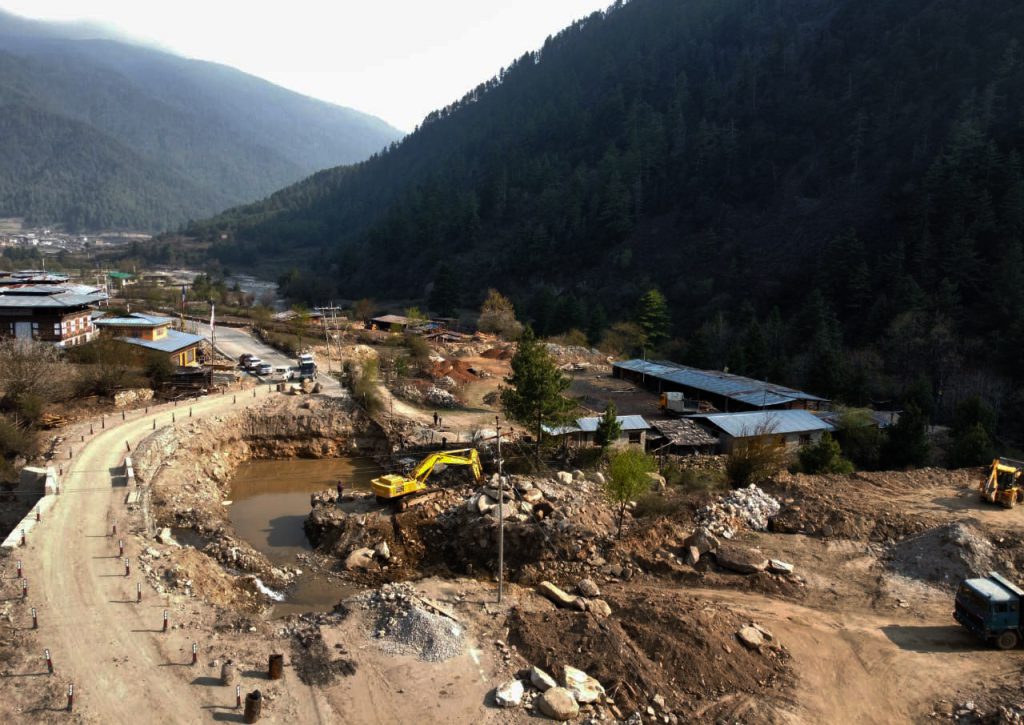 All other Bailey bridges can only accommodate one car per crossing and are solely intended for one-way traffic. These bridges allow multiple vehicles to traverse simultaneously. These bridges have two lanes each, allowing traffic to move in both directions.

Moreover, they are built for loads up to 60 metric tons. The authorized life of a Bailey bridge is 20 to 25 years, whereas the specified line for a modular bridge is 40 to 50 years.

Construction was planned initially in August last year. Maj Swatanter, Officer in charge, Border Roads Organization (BRO) Project Dantak, Paro said, "Due to difficulties encountered by the local authorities in acquiring property for bridges in the planned new location, the construction of two bridges in the villages of Kana and Tshephel was postponed. The decision to build both bridges in the same place as the existing bridges was made based on a collaborative survey conducted with all the stakeholders. The traffic diversion has already been finished, and the preexisting bridges have been destroyed in order to hasten the construction on these bridges. In addition, modern Modular Steel bridges are being built; they will be finished by June of this year."

Gup Tenzin Jamba of Uesu gewog said, "Bhutanese labors have started working and after the construction of these two bridges, it will obviously benefit the people travelling from Chuzom to Haa highway. We are hoping that it would be completed on time"