Gyempo Wangchuk, a 32 years old man from Bum­deling, Trashiyangtse gave up education at a very early age. He later joined in Rig­sum Goenpa and studied Buddhism. Rigsum Goen­pa was the place where he found his destiny to be­come a painter.
He spent six years in National Institute Zhorig Chusum (Thirteen Arts and Crafts) where he practical­ly learnt about traditional paintings. After graduating from Zhorig Chusum, he collaborated with Volun­tary Artist Studio Thimphu (VAST). At VAST, he learnt contemporary knowledge and shared traditional arts to others.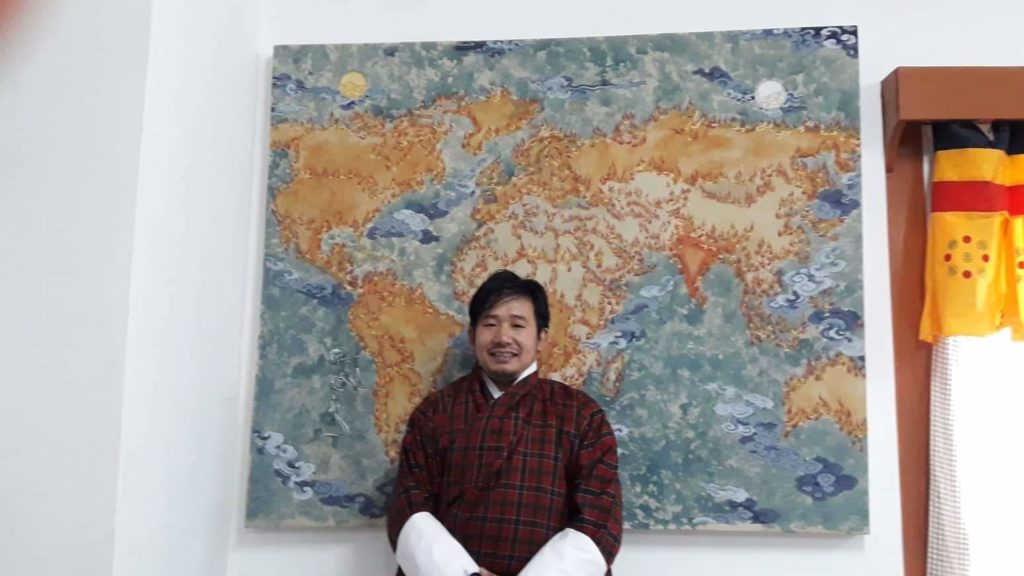 Gyempo now owns an Art Gallery at Changza­mtog, Thimphu which he started six months ago. His concept of art is based on amalgamation of both contemporary and tradi­tional. He said," Art gallery runs as per my expectation which gives more impor­tance to the culture and traditions of our country rather than profit." I aim at bringing happiness and peace through my paint­ings, he added
Instead of using chemi­cals for paintings in ad­vanced world of today, Gyempo uses traditional methods; natural colors ex­tracted from stones, sands, branches and roots of trees. His paintings are pur­chased by the non-Bhu­tanese and he earns good income. Gyempo sold his highest painting at Nu 5 hundred thousands and the least at Nu 30,000. "The prices of his paintings are less as compared to others ," he said.
Gyempo pointed out, "Art is not given much im­portance in our country." Lack of support from his families and friends demo­tivated him in the begin­ning but later with support from his uncle Karma and from VAST, he could set up the business.
Although there is no competition in Bhutan, Gy­empo works hard to com­pete in international arena with the aim to showcase happiness and peace of the country through his paint­ings and said that he feels proud to represent Bhutan.
In 2012, he received 1st prize in creativity and in­novation skills during the 16th Annual National De­sign and Art competition, organized by Royal Textile Academy. This year he was selected to represent his art in the International Art Competition (I.A.C), orga­nized by Taiwan Interna­tional Artists Association.
Unlike in the past where art was given importance, Gyempo feels that art may deteriorate if there is no support. He said that if support is rendered to tra­ditional artists, then it can stay as well as to promote and preserve the culture and traditions of our coun­try without any uncertain­ties.
By Karma Chezom