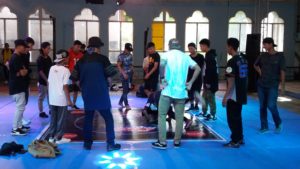 By Tshering
The two-day dance battle, Gokab Volume III, among 400 participants have kicked off on Saturday at the Taekwondo hall in Thimphu.
More than 400 participants registered for the dance battle under the categories of rigsar, boedra, beat boxing, bboying (breakdance) and all-style battle. The main sponsor for the event is Tashi Beverages Limited.
The participants were provided guidance for appropriate dancing, understanding the right exercise, diet and body management.
The rigsar category is for students who are studying in grade VIII and below while the boedra category is for the rest. Winners will receive a cash prize of Nu 30,000 each and the panel has three international judges, Po-Chun Chen (Bojin) from Taiwan, Cat Orawee from Thailand and Shawn Mendes from India. A beat-boxer, Rigden Penjor
The founder of Gokab and a dental surgeon at Paro Hospital, Dr Tenzin, said they received more participants than expected and the crowd is totally amazing in showing their support.
He also added that their main aim is to keep the youth positively engaged during the long summer break and take dance to international level.
Sangay Wangmo, 19, a student from Yangchenphu Higher Secondary School said it will be a tough competition and every participants will give their best and I m here to show my talent.
Penjor, 22, from Paro said their group had been practicing about a month or more. "To win is tough but not impossible and will give the best," he said.
A member from MARINES Group said competition level is high and they have to set a much higher standard and perform the best among the other group. M.C.W (Mos Wanted Crew) captain said the unique and timing will be important factor and our group will perform best of us to the crowd.