Sushi's candles and crafts are a small scale candle and handmade craft manufactur­ing unit founded by 29 years old, Sushanta Sharma in 2016.
The manufacturing unit was initially started in Thim­phu but due to some prob­lem, Sushanta shifted her unit to Sibsoo, Samtse since last year. She graduated from the University of Sikkim in 2014.
Candle making and craft was her hobby when she was young and she never imag­ined to come this far with what she dreamt of. "I took my hobby seriously and I am very happy that it turned into a money making busi­ness," Sushanta said.
Like any other challenges faced by successful business story, initially it was diffi­cult for her to operate the business, for she made very simple candles with ordinary packaging and business did not go as expected.
The Druk Holding and In­vestments (DHI) later spon­sored Sushanta for basic candles making training in India in 2017. "I learnt a lot from the training and discov­ered many flaws in my ways of making candle," Sushanta said.
Ever since she came back from her training, her skills got improved and now she is able to make good qual­ity products. Today she gets good orders from renowned hotels like Bhutan Spiritual Sanctuary and Terma Linca.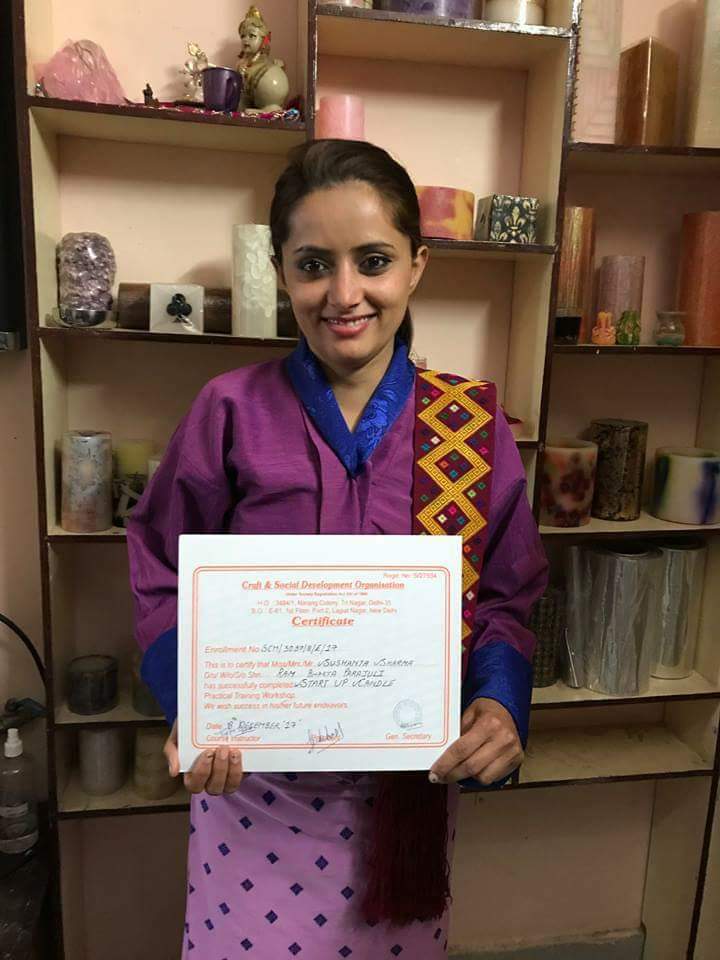 Sushi's Candles and Crafts also have a Facebook page from where she gets or­der for her products. "So now I am very confident about my business," said Sushanta. As of now, she works alone most of the time, and sometimes employ one or two helpers when she gets bulk order.
Sushanta looks ahead for her future where she dreams like any other ordinary per­son. One of her dreams is to make regular white candles in different size for big com­pany like Zimdra Automo­biles. She is also concentrat­ing on making affordable birthday candles with bet­ter designs as many bakery shops are requesting her to do it. "I also have an order of candle making molds as hotels and restaurants are in­terested in it," she said.
Her candles get sold in huge numbers during Diwali festival and earns around Nu.0.1million.
She supplies candles to five dzongkhags; Paro, Thim­phu, Samtse, Phuentsholing, Gelephu and Gomtu.
One of the challenges Su­shanta face is being a woman entrepreneur. She finds it tough to manage home and business together. However, Sushanta enjoys her work. "I feel very proud when young girls and women come up to me, saying that I inspire them to work. More women entrepreneur should come out without fear and take the opportunity,'' she added.
Currently the manufac­turing unit produces scented candles, flower pots and vas­es made from waste cloths, cement and other home­made crafts. She stood third in "Business Idea Competi­tion " in startup category in 2018 and also got support from Department of Cottage and Small Industry.
Her venture is funded by the Loden Foundation and DHI.
By Yeshey Choden