…She expressed her wish to learn more songs in Bhutanese language
Suchetha Satish is a 16-year old Indian girl currently studying in class XII and living in Dubai. She holds two Guinness world records for singing 120 multi-lingual songs in seven hours and 20 minutes. Her recent song 'Toh Dha Tsoem' is her debut Bhutanese song released on July 1 at Indian Embassy in Thimphu.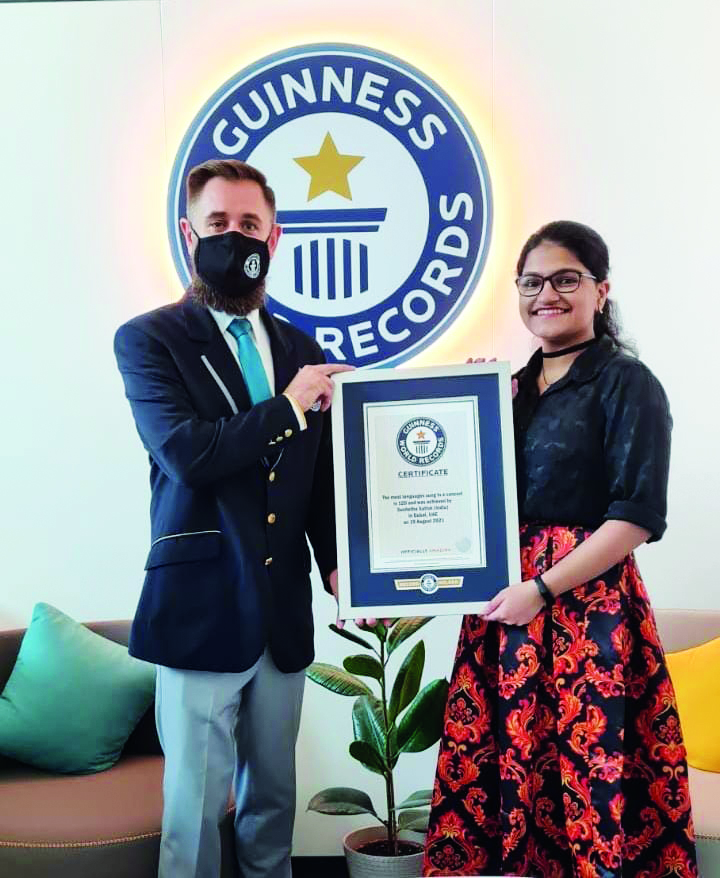 It is a romantic duet composed by Lhab Tshering and sung beautifully by Suchetha Satish from India and Hemlal Darjee from Bhutan. The song represents a unique Indo-Bhutan friendship and cultural collaboration. The song brings the two countries, Bhutan and India closer. While Hemlal Darjee's part is recorded in Bhutan at KJ studio, Suchetha recorded her part in Dubai at Milky Way Audio production. She said,"My favourite Bhutanese song is definitely Toh Dha Tsoem which I sang with Hemlal Darjee and composed by Lhab Tshering." Suchetha Satish gained overnight fame in Bhutan as she sung a Dzongkha song during her Guiness World record breaking concert in Indian Consulate in Dubai. Indeed it was a huge surprise to most of the Bhutanese listeners. She has won Bhutanese people's hearts and in return people of Bhutan showed appreciation for her melodious voice as well as her pronunciation of each word. It gave goosebumps to many Bhutanese listening to her. She assured that the first Bhutanese song she learnt, 'Zung Na' also com[1]posed by Lhab Tshering, will always be very close to her heart. "It is very special to me because this is where this journey started," she said. Suchetha realised her love for music around the age of three or four when she heard her brother, Sushant Satish in his music class. "I started humming along,"she said. That's when her parents; father Dr Thencheri Cheriath Satish and mother Ayilliath Sumitha quickly noticed her interest and enrolled her for music classes too. At the age of nine, she said that her journey of learning songs in different languages start[1]ed off with a Japanese song. The first J a p a n e s e song that she heard from her Japanese friend Dr Mayuko Horigu[1]chi, helped her realise that she can sing in different languages. She was applauded for her grip of diction. "It encouraged me to learn songs in more languages." Subsequently, the number of languages increased and she could sing in 60-65 languages,she then decided to attempt for a world record. Today, she can sing in 132 languages. Initially she said that French and German were difficult to learn. But after she started learning French in school, French songs became easier. And German has also become easier for her. "It's not difficult at all now," she said. However, she said that the time taken in learning songs in each language depends on how much she likes the song. "If I like the song a lot, I can learn it within half an hour, or else it can take up to a day or two." Her routine on week[1]days begins with school. She then makes sure to spend at least an hour on music or music classes. Then she does her school work. She said, " I rarely get time to watch TV but I think it helps since I get extra time." She said, "Time management and prioritizing activities is the key" Her love for languages and music has shown her the path. "I have always believed that music has no boundaries and so when I like a song, the language is never a barrier" She secured her first Guinness world record at the age of 12. And when asked if she plans to break her own Guinness record, she said,"About breaking my own Guinness record, that's something I have not thought yet, I think you have instilled an idea in me" With a lovely and supportive family, Suchetha managed to launch her first original Bhutanese song 'Toh Dha Tsoem' as her father Dr Satish agreed to do a collaboration with Lhab Tshering. Dr Satish, her father, believes that children should be allowed to pursue their passion. He said," Every child will have something special and it's for the parents to identify and nurture it. Motivate them and give them opportunities to blossom." he said. "Teach them to celebrate success and at the same time, take failure in their stride" he added. She practices singing regularly while her parents are supporting her with all they can to shape her bud[1]ding career. Suchetha Satish is keen to pursue a career in music and psychology. She aims to become an international performer. "It has been the support of my parents and my brother that motivated me and keeps me going and of course the blessings of al[1]mighty." she said. She said that she is definitely looking forward to visiting Bhutan someday in near future not only to catch up with her "Toh Dha Tsoem' team but to also meet all the lovely people in Bhutan who have constantly been showering love on her. She said, "I would love to learn more songs in Bhutanese language and sing it for all of you." Suchetha Satish is also looking forward to releasing an Arabic song and a Malayalam song in the upcoming days.