… 𝑰𝒕 𝒘𝒂𝒔 𝒇𝒐𝒖𝒏𝒅 𝒕𝒉𝒂𝒕 78 𝒑𝒆𝒓𝒄𝒆𝒏𝒕 𝒐𝒇 𝒕𝒉𝒆 𝒏𝒆𝒐𝒏𝒂𝒕𝒆𝒔 𝒅𝒆𝒗𝒆𝒍𝒐𝒑𝒆𝒅 𝒋𝒂𝒖𝒏𝒅𝒊𝒄𝒆 𝒘𝒊𝒕𝒉𝒊𝒏 𝒕𝒉𝒆𝒊𝒓 𝒇𝒊𝒓𝒔𝒕 𝒘𝒆𝒆𝒌 𝒐𝒇 𝒍𝒊𝒇𝒆
Phurpa Wangmo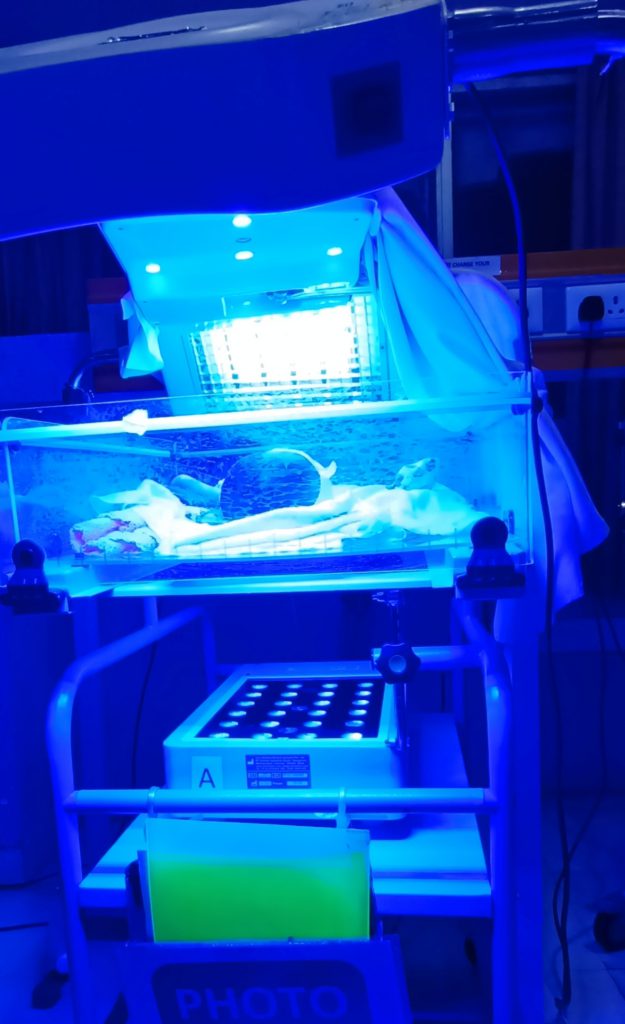 A study has been conducted on neonatal jaundice in Bhutan to determine the clinical profiles and prevalence of pathological jaundice in neonates. The study provides baseline data on the condition, which can help healthcare professionals identify and treat neonatal jaundice cases in Bhutan.

Neonatal jaundice is a common condition that occurs in up to 60% of term and 80% of preterm newborns worldwide. It is one of the main reasons for neonatal admissions and morbidity, particularly during the first week of life. Jaundice in newborns can be physiological or pathological. Physiological jaundice is due to the neonate's immaturity to handle increased bilirubin production, while pathological jaundice requires phototherapy or exchange transfusion for treatment.

Pathological jaundice is defined as any newborns requiring either phototherapy or exchange transfusion for the treatment of jaundice. Severe neonatal jaundice is defined as any pathological jaundice whose Total Serum Bilirubin (TSB) level falls above the exchange transfusion range. The TSB level depends upon the age and gestation age of the baby.

Neonatal jaundice may not be a major cause of mortality but is still an important cause of morbidity especially in developing countries. Severe neonatal jaundice can lead to serious and irreversible neurodevelopment consequences if not treated timely.

According to studies worldwide, the incidence of severe neonatal jaundice is highest in low to middle-income countries like those in the Southeast Asian region.

The study, conducted at the Gyaltsuen Jetsun Pema Neonatal Intensive Care Unit (NICU) of Jigme Dorji Wangchuck National Referral Hospital (JDWNRH) from November 2018 to November 2019, recruited 407 neonates out of 1,587 with pathological jaundice using systematic random sampling. The hospital serves as the National Referral hospital in Bhutan and has 14 beds in the critical care unit and 23 beds in the nursery unit.

Data collection was done using a self- developed case proforma that included demographic details, clinical history, examination, and investigation findings. Neonatal characteristics included age, sex, gestation age, birth weight, ABO and Rh incompatibility, sepsis, cephalohematoma, excessive weight loss, and feeding issues. Maternal characteristics included age and parity of mothers, use of oxytocin for labor, prolonged labor, and comorbidities like Gestational Diabetes Mellitus (GDM), gestational hypertension, and thyroid disorders.

During the study period, 2493 neonates were admitted at the Gyaltsuen Jetsun Pema NICU, JDWNRH, of which 1587 (63.66%) had pathological jaundice. Out of the total admissions, 344 were admitted in the critical care unit, and the remaining 2149 neonates were in the nursery unit. The prevalence of pathological jaundice was calculated by dividing the total number of neonates with pathological jaundice by the total number of neonates admitted in NICU of JDWNRH during the one-year study period.

The study revealed that the median age of neonates with jaundice was four days. The prevalence of pathological jaundice was higher in male neonates, premature neonates, neonates with low birth weight, and those with ABO incompatibility. There was also a statistically significant association between parity and excessive weight loss.
The study found that the most common clinical profile of neonatal jaundice in Bhutan was physiologic jaundice, followed by ABO incompatibility and sepsis. Additionally, the study showed that most neonates with pathological jaundice in Bhutan were treated with phototherapy.

The study has several implications for healthcare professionals in Bhutan. By identifying the clinical profiles and prevalence of pathological jaundice, healthcare professionals can improve their ability to diagnose and treat neonatal jaundice.

As per their research, of 407 neonates recruited, 86.98 percent of them had icterus till lower legs/arms and palms and soles. On admission, 30 (7.37 percent) neonates had fever, 145 (35.63 percent) had feeding issues, 5 (1.23 percent) had cephalohematoma and none had features of neurological dysfunction.

From 407 babies, 360 (88.45 percent) were born at term and 47 (11.55 percent) were born preterm. Out of these neonates, 354 babies (85.01 percent) had birth weight of more than 2500 grams and 10 (2.46 percent) had very low birth weight of less than 1500 grams.

The study found that 78 percent of the neonates developed jaundice within their first week of life and Ninety (22.11 percent) neonates had ABO incompatibility. None had Rh incompatibility nor isoimmune hemolytic disease. One hundred forty five (35.63 percent) newborns had feeding issues like inadequate breast milk production, poor feeding technique, etc.

Excessive weight loss was observed in 122 (29.98 percent) neonates. Sixty-one (31.44 percent) neonates of the 194 multiparous mothers had a history of previous siblings or family history of neonatal jaundice requiring treatment. However, out of these neonates, 16 had ABO incompatibility, 15 had feeding issues and 13 were male babies.

Among the 407 mothers included, 317 (77.88 percent) mothers were between 21 and 34 years of age, 31 (7.62 percent) were teenagers and remaining 59 (14.50 percent) were 35 years of age and above.

Two hundred and thirteen (52.33 percent) mothers were primiparous and the remaining 194(47.67 percent) mothers were multiparous.

The study also found out that 40 percent of primiparous mothers had some sort of feeding issues among which 35 percent of their neonates had excessive weight loss. Among the multiparous mothers, 30 percent of them had feeding issues and 25 percent newborns had excessive weight loss.

The neonates born to primiparous mothers were 1.45 times (95 percent CI 1.07 – 2.00) more likely to suffer from excessive weight loss compared with multiparous mothers and it this association was highly significant (p-value of 0.016)

The majority of newborns (78 percent) in our study were less than 7 days of age at the time of diagnosis of pathological jaundice. Our study finding was consistent to the observation made by a similar study carried out in Ethiopia showing 90 percent of neonates developed jaundice within their first week of life5. This may be because, physiologically, neonatal jaundice peaks between three to seven days of age.

The remaining small percentage were from the NICU which principally manages pre term babies. This corroborates the findings made in India and Nigeria reporting 81 to 92 percent and 83.12 percent respectively of term neonates to have pathological jaundice. ABO incompatibility was found in 22.11 percent of neonates but none had Rh incompatibility in this study. A retrospective study conducted in the central regional referral hospital, Bhutan, in 2018, found that O and A blood group were more common blood groups.

During the study only 0.15 percent of them were found to be Rhesus D negative. Thus, there is a higher chance of ABO incompatibility between the mothers and their newborns in our setting. We did not find any case of Rh incompatibility in our study. The higher prevalence of Rh incompatibility in different studies could be due to the geographical distribution of ABO and Rh grouping.

Moreover other studies showed similar findings as well. A significant association was found between primiparous mothers and excessive weight loss. Excessive weight loss in our neonates born to primiparous mothers could have caused more breastfeeding jaundice or exaggerated physiological jaundice due to increased enterohepatic circulation. Neonates of primipaorus mothers with excessive weight loss could be due to in experienced or little knowledge on good positioning and attachment on breast feeding or could be due to unawareness on feeding adequacy.

A similar prevalence (67 percent) of pathological jaundice was observed in a study done in Kerala10. On the contrary two other studies found out lower prevalence (19 percent and 22 percent) of pathological jaundice.

This disparity in findings could be due to difference in the study center where they have included exclusively neonates from the Critical care unit, whereas we included neonates from both nursery unit and NICU. It could also be due to the difference in size of the neonatal population used for the calculation of prevalence.

The most common clinical profile of neonates with pathological jaundice observed in their study were ABO incompatibility, primiparous mothers with feeding issues and neonates less than one week of age. Significant association was found between primiparity and excessive weight loss. The prevalence of pathological jaundice was found to be 63.66 percent in their settings.