….𝒓𝒆𝒔𝒊𝒅𝒆𝒏𝒕𝒔 𝒐𝒇 𝑷𝒉𝒖𝒏𝒕𝒔𝒉𝒐𝒍𝒊𝒏𝒈 𝒅𝒐 𝒏𝒐𝒕 𝒉𝒂𝒗𝒆 𝒂𝒏𝒚 𝒊𝒔𝒔𝒖𝒆 𝒘𝒊𝒕𝒉 𝒕𝒉𝒆 𝒏𝒐𝒎𝒊𝒏𝒂𝒍 𝒇𝒆𝒆 𝒓𝒂𝒕𝒉𝒆𝒓; 𝒕𝒉𝒆𝒚 𝒔𝒂𝒚 𝒊𝒕 𝒘𝒂𝒔 𝒂 𝒃𝒆𝒔𝒕 𝒄𝒉𝒐𝒊𝒄𝒆
Tenzin Lhaden

A nominal user fee of Nu 10 per individual (Bhutanese and foreigners) entering and exiting through the Pedestrian Terminal in Phuntsholing started levying from November 1, 2022 amidst skepticism and reluctance from netizins. However, pedestrian terminal users have come to terms.

Mindu, a Dessup Deployment Officer, expressed that terminal user fee levied was a good initiative. "Before when a fee was not imposed, people from here as well as across the border would just move to and fro and cause congestion, making other people who need to use for genuine reason stand and wait in a long queue. With levying of Nu. 10 user fee, we are seeing easing of crowd, smooth and easy flow of people across the terminal."

He added that there are doubts among few people regarding the collection of fee. "They ask why we are collecting the fee and for what purpose despite the fact that the notification for the collection of Nu 10 is everywhere on social media".

However, he also added that there are people who think that the collection are abused or misused by the personal on duty and refuse to pay. "So, we clarify their doubts by saying that the money collected are used for the maintenance of the terminal which you all will enjoy the facilities herein".

Many people in Phuntsholing do not have any problem with the idea of paying Nu 10; rather they say it was a best choice.

Kuenga, a businessman in Phuntsholing said, "I don't know whether it is a result of the fee or due to Tshechu in Chukha Dzongkhag, the crowd is controlled. Now people go in line more organized unlike before when people rush to Jaigaon."

Likewise, Kinga Lham, a resident of Phuntsholing feels that the announcement made on the fee was a good decision. "I think that it is one way to help the public authority financially," she said.

Tandin Wangmo, a resident of Phuntsholing stated that some people across the border come in (Phuntsholing) everyday although they don't have any work to do. "They drink alcohol and create scenes in the street destroying the environment. Some of them will not even be in a position to walk whereby the police on duty take them to the station. The next morning they won't even have money to pay". She said, "With the user fee, it has brought in certain order in the town, feels much peaceful and safe".

The Dessup Regional Coordinator said that the fee charged has curtailed unnecessary movements of people on both sides and has helped to keep proper records of passerby because of the less movement. "Since the collection of the fee has deterred people from moving in and out unnecessarily, that had lessen the congestion which had helped to keep record effectively," he said. Besides, he feels that Nu 10 is too less. "People spend a lot of money shopping in Jaigaon. What is available there is also available in Bhutan. I don't understand why Bhutanese people cross the border for shopping instead of helping our own country economy," he added.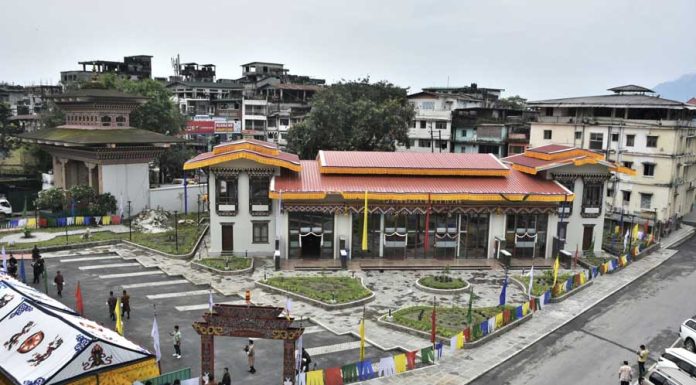 Even the Indians who live in Jaigaon don't have any issue with the fee collection. Ram Babu Yadaf, banana vendor said, "The new system made by the government of Bhutan to use the pedestrian terminal as an entryway is an excellent system not just for Bhutanese but for Indians as well. Everything is well coordinated and even have a better facility like Air Conditioner inside the terminal which is why I don't have any issue with paying the fee".

Another Indian vendor said, "I don't have any arguments on the user fee charged because whatever the government does would be for the benefit of the country".

Jigme Tenzin, Regional Director of Immigration, Phuntsholing said, "The main objective of a nominal user fee collection from people entering and exiting the terminal is to meet the recurrent expenditure for terminal maintenance. Thus, enabling the terminal to function on a self-sustaining mode".

He said that there is no provision for providing money change so, people are urged to bring the exact amount (Nu 10). However, he also added that there is a provision to pay online through mbob, and mpay. "We solicit the support and understanding of all people who use the terminal," he added.