…𝒖𝒏𝒑𝒂𝒗𝒆𝒅, 𝒎𝒖𝒅𝒅𝒚, 𝒂𝒏𝒅 𝒅𝒖𝒔𝒕𝒚 𝒓𝒐𝒖𝒕𝒆 𝒆𝒙𝒂𝒔𝒑𝒆𝒓𝒂𝒕𝒆𝒔 𝒕𝒉𝒆 𝒍𝒐𝒄𝒂𝒍𝒔. 𝑬𝒗𝒆𝒓𝒚𝒕𝒉𝒊𝒏𝒈, 𝒇𝒓𝒐𝒎 𝒈𝒂𝒓𝒅𝒆𝒏𝒊𝒏𝒈 𝒕𝒐 𝒅𝒓𝒚𝒊𝒏𝒈 𝒄𝒍𝒐𝒕𝒉𝒔 𝒔𝒐𝒊𝒍𝒆𝒅 𝒂𝒏𝒅 𝒔𝒑𝒐𝒊𝒍𝒆𝒅
Sonam Deki

The widening of Chuzom (Bitekha) to Haa highway began in the mid of 2019 with cutting and formation of road. It has been four years since cutting and formation of road widening work was carried out without further progress. With only formation cutting, the road remains exposed and barren with dusty roads that lay along the stretch. Blacktopping and base-course works are yet to begin.

The residents and community of Bitekha, Naja gewog in Paro are exasperated with dusty air and dust particles settling everywhere in the area, affecting their lives. Everyone, from students to faculties of Bitekha Middle Secondary School and local residents, has stories to tell hinged on the dusty-unfinished road.

According to the locals, the Chuzom to Haa highway at Bitekha, Naja gewog are in poor shape and remain unattended, no one seems to care.

A civil servant working in Bitekha said, "The road's construction has been delayed for four years. When it's sunny outside, a rough unpaved road draws in a lot of dust that can make residents and students sick with coughs and other ailments. The muddy roads during the summer wet season damage cars and make travel challenging. In the most recent Gewog meeting, they discussed the road problem, but I don't believe they have found a definitive solution."
"The rough unpaved road has prompted me to change my car," Karma, local residents said. "The poor state of the road not only damages my car but also causes problems to the entire neighborhood. Earlier the highway to Haa used to be well-black-topped even though it was a single lane; however, with widening work, these blacktops were removed and new mud cutting has made this road dusty and muddy. I have switched two cars due to pathetic road conditions. When it rains, it is challenging for light vehicles because it's slippery and muddy. These cars often get stuck in the middle of the road and damage it."

He added, "Moreover, it is difficult to dry red chilies in winter as chilies get all dusty. Actually, there is no need to raise this issue since everyone can see this plight."

Mithy, a local resident said, "During the raining season, many students come soiled with mud all over their uniform. The stench of mud might occasionally be difficult to get rid of. Villagers complained about the situation to Tshogpa, who then brought it up with Gup, but as of now, we haven't heard anything further."

Karma Wangdi, resident said, "It is difficult for us to grow vegetables as all crops remain covered in dust, ruining crops and farms. It is difficult for us to dry clothes because they are covered with dust from the road and it has to go back to laundry."

"Transportation became difficult for both travelers and residents along this road," he continued. "We complained to Gup office and all they said in response was that the blacktopping work would begin shortly. We have been waiting for the last four years now."

Dophu, who lives near the School said, "I have seen students suffering from coughs and cold during the summer season. We wish they could at least put in gravel to avoid dust and muddy road. We even asked the gewog to make a routine to sprinkle water nearby the school area as it will reduce dust."

Since it was a request from the villagers, they are not heeding to our request, he continued.

Similarly, a student from Bitekha Middle Secondary school said, "We must always wear masks since the dust makes breathing difficult, and we must bath every day because the dust covers us. It's especially worse during the rainy season since the edge of Kira (dress) gets soiled. It becomes difficult to focus in class because our uniform is soiled and coated in wet-mud."

Gup Chundu Tshering said, "I can't argue with any of this issue since people have been raising their concern from the past three to four years. The highway construction begun in the mid 2019 but owing to lockdown, it was left unfinished and also, in absences of labor the work could not continue. Nonetheless, the issue will soon be resolved as the road widening work has already started and blacktopping will continue after that. Since the work has begun from Haa to Bitekha road (Chuzom) for more than a month, the residents of Bitekha are unaware of it.

"Most of the media have reported that the road would be completed by June or July but when I spoke with the Dantak Project in Paro in the recent meeting, they clarified that it would take longer than a year to complete the road construction", he added.

Maj Swatanter, Officer in charge, Border Roads Organisation (BRO) Project Dantak, Paro said, "The Departmental construction works on the Chuzom HAA road are already in full swing. The completion of work has been delayed due to the frequent lockdown/restrictions imposed by Royal Government of Bhutan (RGoB) for movement of labours/Vehicles and during COVID-19 Pandemic from September 2020 to April 2022 due to which the contracts could not materialize. However, now we have already concluded a contract for surfacing works of 10 km from Bitikha which was awarded to M/s Sonam Construction and one more contract for the surfacing works of 21 Kms which has been awarded to M/s Lotey construction Pvt. Ltd. after which the surfacing of the entire road would be completed. In addition a contract for construction of the bridge has been awarded to M/s Lamlekha Pvt. LTD. To ensure the timely completion of works, all contracts have been given to the local Bhutanese Contractors".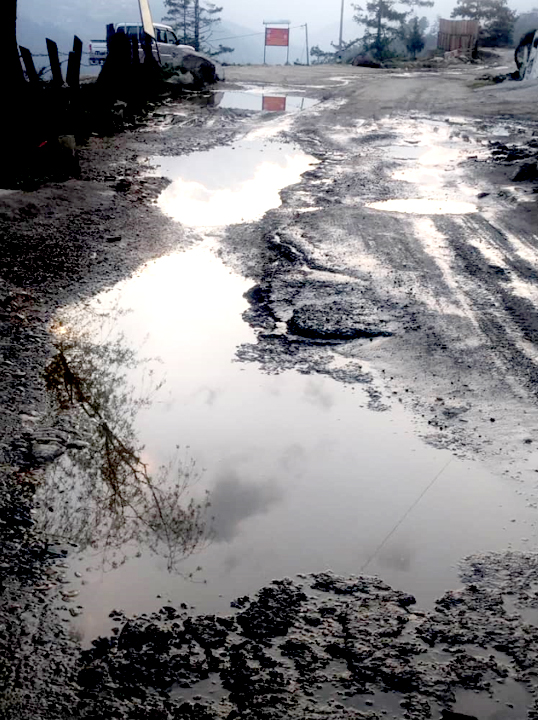 He added, "Also, the construction works of two bridges in villages of Kana and Chappe was delayed due to the issues being faced by local administration in acquisition of land for bridges in the proposed new location. Then based on the joint survey with all the stakeholders it was decided to construct both the bridges in the same location of existing bridges. To expedite the work on these bridges, the diversion has already been completed for traffic and the existing bridges have been demolished. Moreover new technology Modular Steel bridges are being constructed which will be completed by June this year."

"In view of the above facts, it is evident that although project Dantak is leaving no stone unturned to complete the construction as early as possible but due to various setbacks and the pandemic, the completion of this road is likely to be extended by another one or one and half years provided the contractors also support BRO Project Dantak in completion of works. However, all efforts are being made to cause minimum disturbance to local population and avoid any hindrance to traffic due to the ongoing works", he further added.