Not many are aware of the facility and poor Internet is affecting transaction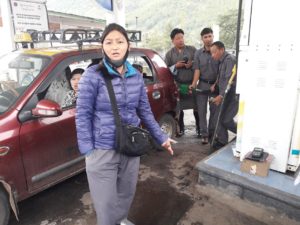 By Kinley Yonten
There is a long line of cars at the fuel station. The lady in front takes out her card from her clutch. She swipes it once and does it again and again. The drivers behind her are losing patience. They let her and the fuel dispenser know it. They honk.
Finally, the card works. She leaves with a wry smile and reply to the irritating honking. The whole scene took about 15 minutes. At another fuel station, the point of sale (PoS) machine is lying near the fuel dispenser machine. The handy boy has a wad of cash in his hand. Not many even bother to ask for the service that was installed a month ago.
The PoS was launched to encourage cashless transaction and improve efficiency and transparency. But the initiative is yet to gain popularity.
"It is absolutely useless and a waste of time," said a private car owner, Namgyel. He went to fuel his car after a week the PoS was launched. "I swipe three times but it didn't work so I had to pay cash," he said.
He added that his bank balance was deducted and he has to enquire if the bank credited the amount. "Physical cash payment is much comfortable rather than digital payment," he said.
Like Namgyel, another customer, Sonam Om was frustrated to use of swipe card to fuel her car. "It was fine when I fuel my car last time but today I have to wait for 30 minutes at the fuel station because PoS machine was not working," she said.
The Royal Monetary Authority (RMA), the department of trade and the banks introduced the PoS.
All the fuel stations have the PoS installed, but going by the usage or popularity, there is a lot to be done to fulfill the objectives.
Bhutan Today waited near the fuels stations to observe for half a day and not many availed the facility. Most are not aware of the facility while some felt it was easier to pay in cash.
Lungtenzampa BOD, Manager, Karma Thinley said that sill people are still not aware of the PoS. "Divers comes with cash and when we tell them about the PoS, they say why use card hen they have cash," he said.
Damchoe Petroleum has sold fuel worth Nu 50,000 only by using the PoS. They still have to go to Bank and deposit cash. "Handling money is much easier then PoS," Manager Chencho said.
He added that to use PoS machines, strong internet-network or connection was necessary.
Meanwhile, fuel attendants are facing problems to give proper services, refueling cars with the use of a swipe card. They said the functioning of the PoS will rely on the speed of Internet connection.
"The use of cash at fuel stations is a complex service with the increasing numbers of vehicles in the capital, but most of us were not trained with PoS machine," he said.
Another fuel attendant said PoS machine is not comfortable to use. "Sometimes there is fluctuation in network and the PoS do not work properly." He said. "Some even get angry at us when the PoS is not working."
He added that most of the private cars and Taxis drivers are not aware of fuel card. "Authority needs to take a responsibility to make people aware of PoS."
Without good Internet service, the initiative will be just another good initiative that will fail if the PoS system is not replacing cash transactions.