…𝒕𝒉𝒓𝒐𝒖𝒈𝒉 𝒐𝒏𝒍𝒊𝒏𝒆 𝒉𝒐𝒎𝒆𝒘𝒐𝒓𝒌, 𝒄𝒉𝒊𝒍𝒅𝒓𝒆𝒏 𝒎𝒊𝒈𝒉𝒕 𝒃𝒆𝒄𝒐𝒎𝒆 𝒎𝒐𝒓𝒆 𝒂𝒅𝒅𝒊𝒄𝒕𝒊𝒗𝒆 𝒕𝒐 𝒑𝒉𝒐𝒏𝒆𝒔 𝒔𝒂𝒚 𝒕𝒉𝒆 𝒄𝒐𝒏𝒄𝒆𝒓𝒏 𝒑𝒂𝒓𝒆𝒏𝒕𝒔
Sonam Deki

With the increasing prevalence of online learning, many schools have shifted to assigning homework online. While this has its advantages, such as providing students with easy access to resources and allowing teachers to track progress more effectively, it has also resulted in an unintended consequence such as students spending too much time on their smartphones with unfettered access to unregulated contents.

Parents are increasingly concerned about the impact that excessive phone usage can have on their children's academic performances and overall well-being.

Smartphones have become an indispensable tool for students. They use it to access homework, assignments, communicate with teachers and collaborate with classmates. However, the convenience of having everything at their fingertips has also led to the rise in addiction and distraction. As a result, many students find themselves spending hours scrolling through social media feeds or playing mobile games instead of utilizing the resources for meaningful gains and focusing on their academic pursuits.

Recently, parents are more aware of the potential downsides of such access and are seeking ways to guide their children balance the benefits of technology with the need for healthy online habits along with physical activities.
"I am worried about how much my children are using their phones for homework," said Tandin Wangmo, a mother of two in Thimphu. "I know they need to use their phones for school work, but I am also worried that they will become too dependent on it and that it will impact their ability to learn and focus."

"My kids take my phone under the pretext of doing their homework" said another parent.

Karma, a 32 -year-old parent said, "It's good that children are going digital with time. Unlike us, they don't even need to be taught but I am afraid they might become addicted to it. They are always engaged with phones that they are no more curious about anything and family gatherings are often considered boring for them."

Thinley Lham, mother of an 8 year-old said, "It's hard to know where to draw the line between necessary use and excessive screen time. I understand that technology is a necessary part of our lives today, but I'm concerned that my child is spending too much time on his phone doing homework and messaging friends. It's important to find a balance so they don't become addicted."

Sangay, a 32 year-old parent said, "I never thought I'd be worried about my child getting addicted to a phone, but with so much of their education, social life, and entertainment happening on a screen, it's becoming a real concern for me. I want them to be able to disconnect and have a healthy relationship with technology."

On the other hand, teachers shared their own side of the story. Teachers believe that sending questions online is more convenient because it keeps parents informed of every activity while keeping tabs on their kids.

One of the teachers said, "Using online applications for homework not only saves paper, but it also allows for easy tracking of assignments, submissions and feedback. Parents can stay in the loop and review their children's progress with just a click of a button: it's a win-win situation for both the children and their parents."

She continued. "Using online applications for homework submission has made communication with parents so much easier and has saved us both time and hassles."

Sangay, teacher of one of the schools in Thimphu said, "I have found that parents appreciate it as they are able to track their child's homework progress online and stay on top of what their children are learning."

One of the teachers from Phekhoma Primary Schools in Dagana Dzongkhag said, "Today, students have no excuses for lost or misplaced homework assignments – using online applications has been a lifesaver for both students and parents."

"With online homework submission, parents can see firsthand what their children are working on and provide support wherever needed" Yoezer (name changed), teacher of Etho Metho school said. "Online homework submission provides a level of transparency and accountability that helps us work with parents to ensure that their children are doing well in the classes" she added.

Thinley, one of the teachers said, "Online platforms have revolutionized the way we communicate with parents and have made it much easier for us to collaborate with students' success."

He further added, "This has helped us create a more collaborative and supportive learning environment, where parents and teachers can work together to help students succeed."

According to a report published by Bhutan Media Foundation on the Social Media Landscape in Bhutan, "The average age where Bhutanese parents would allow their children to use social media is 12 years."

Students who are older than 12 years expressed how much time they spend with their phones and the content that they watch.

Student at one of the schools, Rinchen Dema, said, "My phone has become a vital part of my life, but my parents have scheduled the time with the phone. I only spend one to two hours before my mum takes my phone away."

One of the students said, "I spend a lot of time on my phone, but I try to use it as a tool for learning and connecting with others. I follow educational channels, listen to podcasts, and chat with friends. I love how my phone allows me to pursue my passion and interest on-the-go. I can watch documentaries, read articles, and use tools for learning and self-improvement. I watch educational videos on YouTube and read articles about science and technology. I also use my phone to listen to music and podcasts, which always puts me in a good mood and inspires me."

Another student said, "I'm ashamed to admit how much time I waste scrolling mindlessly on Instagram and TikTok. It's like I can't stop myself from checking every notification and watching every meme. I know I should be studying or doing something more productive, but it's just so easy to get sucked in."

She added, "I feel like my phone addiction is taking over my life. I spend hours and hours every day playing video games and watching bloggers, but I don't feel like I'm gaining anything from it. In fact, I feel like I'm losing touch with the real world and my own goals. It's a vicious cycle that I don't know how to break."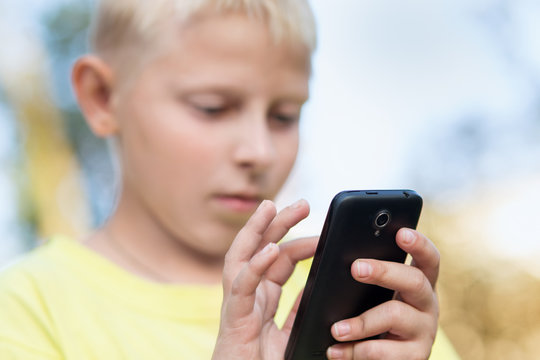 Sonam, mother of three said, "This growing trend of children spending excessive time on smartphones have not only worried ma about their exposure to unregulated contents but also impact on their health-reduced physical activities and importantly, their eyes-where two of my children had to use glasses at very young age due to early exposure to the mobile phones" "However, I am not aware of mental and psychological impact that it would have on them that I remain apprehensive of," she added.

The ministry of education as well as health should look into these adverse effects on children's health and do the needful before it's too late with irreparable damage to their health", she added.

On the other hand, the Ministry of Education and Skill Development declined to comment citing that since it totally depends on parents and teachers' understanding.

According to the recent report by Bhutan Media Foundation, "Penetration of social media is very high in Bhutan both from the perspective of its extensive and intensive usage. About 90% of people are active members of at least one social media. The high penetration rate is supported by widespread ownership of smartphones and greater access to the internet".