…𝒇𝒆𝒔𝒕𝒊𝒗𝒂𝒍𝒔 𝒉𝒂𝒗𝒆 𝒂 𝒘𝒂𝒚 𝒐𝒇 𝒃𝒓𝒊𝒏𝒈𝒊𝒏𝒈 𝒇𝒂𝒎𝒊𝒍𝒊𝒆𝒔 𝒄𝒍𝒐𝒔𝒆𝒓
Tenzin Lhaden

In the National Education Assessment 2021 – Grade III report published in 2023 by the Bhutan Council for School Examinations and Assessment, Ministry of Education and Skills Development, it reports that family bonding over festivals is strong.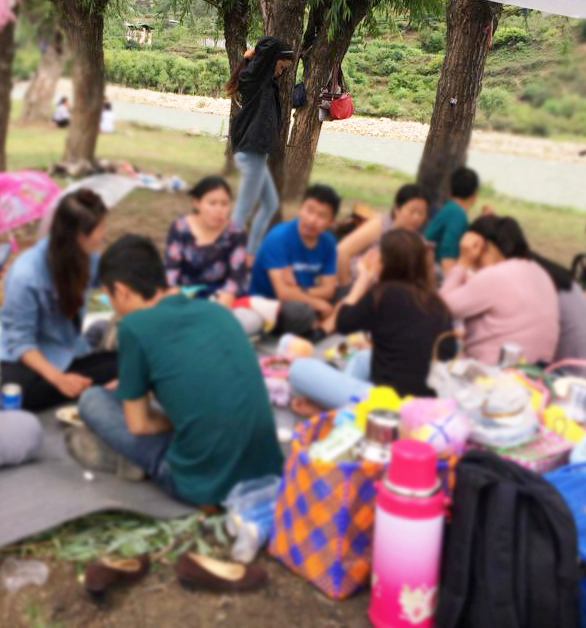 More than 90 percent of students (91%) answered that at least a few times a year; they participated in family activities including visiting temples (91%) and attending Tshechu (86%).

For a majority of the students participating in the survey, the Bhutanese tradition and culture are embedded in their family life. Eighty six percent of students reported that their family members attended Tshechu with them at least a few times in a year.

"When we were young, we did not understand the importance of family getting together. However, over the years we cherish the memories that were made as a family at the festivals and special occasions. These festivals give a reason to bring family together and we want to make this a family tradition," said Sonam and Phuntsho, a newlywed couple.
They said, "There will be a time when those little faces that gaze toward you with admiration will be stunned at the thought of going to a festival with their parents. So I feel that now is our chance to have valuable bonding time with our parents at any event that we'll be sure to have a great time."

Visiting lhakhang is a great experience for all of us, and a better way to bond with family.

"Our comprehensive holiday that we consistently venture is fun without a doubt but a festival with family is sure to be the thing your family remembers for years to come. The children will be super excited to return to school and tell their classmates about the wonderful time they had at a festival with family members," said Kinley, a mother of three children.

Her 15 year old daughter said, "Visiting lhakhang and getting blessings brings peace to my soul. In addition, spending time with my family makes me happy. My family motivates me to be the best version of myself and I like spending time with my family."

Nima Zangmo, "It has been 5 years since we moved to Thimphu. Around the same year, I had my first baby. Needless to say, life has been a roller-coaster from that point forward. We have all of the typical struggles a nuclear family has, adjusting work and life, life and baby, baby and your own needs, your own needs and your passion, and your desire to bring up your baby with everything you remember from your childhood. Furthermore, that is the means by which the wheel turns. In the middle of this hectic life, you need to find those moments of silence when you revisit your core. Also, there is no denying that most of our core is shaped by the special experiences and memories your childhood carried with family."

She continued, "Being a Bhutanese, festivals come with an extraordinary emanation and occupy a special place in our hearts. Normally, you want your child to savor a bit of that emanation of our Bhutanese festivals too. The way we got dressed in traditional clothes to celebrate the special day or the visits to the places of worship, an annual family ritual and religious ceremonies; those are all my memories of the festivals, through my childhood years. And to say that I miss it is an understatement."

"In any case, what worried me more when I moved to Thimphu without any family members or close friends was that I might never be able to recreate this for my children. Festivals confer the special window of bonding time with family, and I wanted to make sure that I somehow kept the traditions alive for my baby even when we are away from home," she added.

"Due to covid pandemic, we could not get to enjoy any festivals, especially Tshechu. However, after the pandemic, I could take my three year old daughter to watch Tshechu. From deciding our clothes to packing lunch for ourselves, in every aspect of it, I involved my little girl. Seeing her harried mother out of her ankle-length dress consisting of a rectangular piece of woven fabric was in itself a novelty for her. I think that involvement helped me to ease the idea of the festival into her," said Kesang.

Likewise, Deki said, "I visited the Ten-chi Kurim Jungwa Chidoe at the Pangrizampa College of Astrology a few days ago with my family. We received our blessings; besides, the time spent with my family was precious as I am leaving Bhutan very soon. I am glad we went to get endowments together that day since we are typically busy with our own work and don't get much time to spend together other than dinner time."

Celebrating and enjoying festivals brings laughter spilling over from every conceivable nook and cranny. Most importantly, it creates a strong family bond, according to our interviewees.